Christmas travel: Holidaymakers heading for Canary Islands may be delayed by space rocket launch
Eurocontrol says the main propulsion stage of a Soyuz rocket is expected to fall in a busy area of Atlantic airspace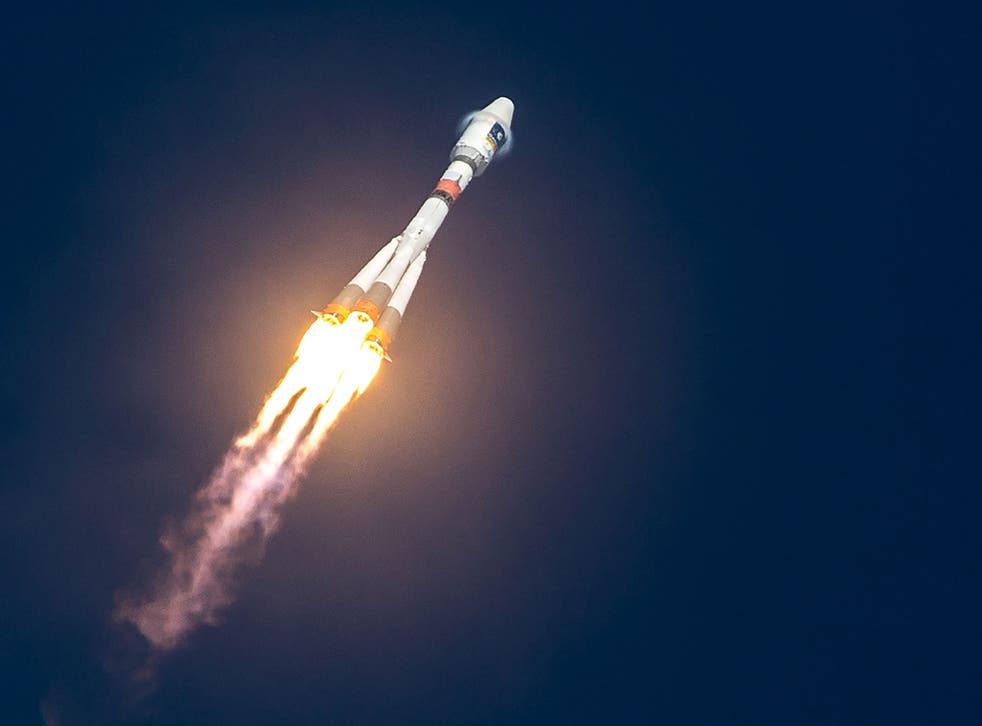 The biggest and most-extended Christmas getaway begins on Friday. More people will travel to more places than ever before - though rail passengers face frustration, and holidaymakers heading for the Canaries may be delayed by a space launch.
On the roads, AA Roadwatch predicts that a combination of mild weather and the cheapest fuel for seven years will persuade motorists to make extra journeys.
Friday is expected to be the busiest day of the holiday period, with 14 million cars travelling more than 20 miles. Traffic delays are expected to peak around 4pm on Friday, with journey times tripled on some stretches of motorway - including the M25, M5 and M4. The roads will also be very busy on Saturday, mostly due to shopping trips.
Highways England is planning pause or complete 148 sets of road works before 23 December. But motorists in eastern Scotland will face delays and disruption because of the closure of the Forth Road Bridge due to structural problems. It will be out of action at least until 4 January.
The loss of the key road connection between Edinburgh and north-east Scotland is extending journeys by at least half-an-hour, and causing extra congestion further west as the 70,000 motorists who normally use it seek alternative routes.
In the coming week, an estimated four million travellers are expected to fly from the UK midwinter to take sun, ski or city breaks.
Airports including Heathrow, Gatwick, Manchester, Birmingham and Edinburgh say it will be their busiest festive season ever, rounding off a record-breaking year.
Britain's biggest budget airline, easyJet, expects to fly 204,000 passengers on Friday - with planes taking off at a rate of one per minute.
With mild weather forecast for the coming week, airlines hope they will be able to keep departures to schedule. But southbound travellers face possible problems as a result of a rocket launch from the European Space Centre in French Guyana - which could take place at any time before the end of the year.
Eurocontrol says the main propulsion stage of a Soyuz rocket is expected to fall in a busy area of Atlantic airspace: "Two out of the three main Oceanic Tango routes which take traffic from the United Kingdom down to the Canaries will be closed.
"A reasonable number of flights could be subjected to restrictions, with possible delays."
As Britain's biggest-ever festive getaway begins, rail passengers on the Great Western line got an early taste of disruption to come. A signalling problem just west of London Paddington delayed services by 45 minutes. From Christmas Day to 28 December, the main line will be closed, with travellers routed via Banbury or Basingstoke - doubling some journey times. The engineering work for Crossrail will also close the Heathrow Express rail service.
As The Independent revealed this week, hundreds of thousands of travellers using Gatwick will face access problems. The main line from London will be blocked at Purley for engineering work, with no direct trains running from 25 December to 3 January.
Register for free to continue reading
Registration is a free and easy way to support our truly independent journalism
By registering, you will also enjoy limited access to Premium articles, exclusive newsletters, commenting, and virtual events with our leading journalists
Already have an account? sign in
Register for free to continue reading
Registration is a free and easy way to support our truly independent journalism
By registering, you will also enjoy limited access to Premium articles, exclusive newsletters, commenting, and virtual events with our leading journalists
Already have an account? sign in
Join our new commenting forum
Join thought-provoking conversations, follow other Independent readers and see their replies