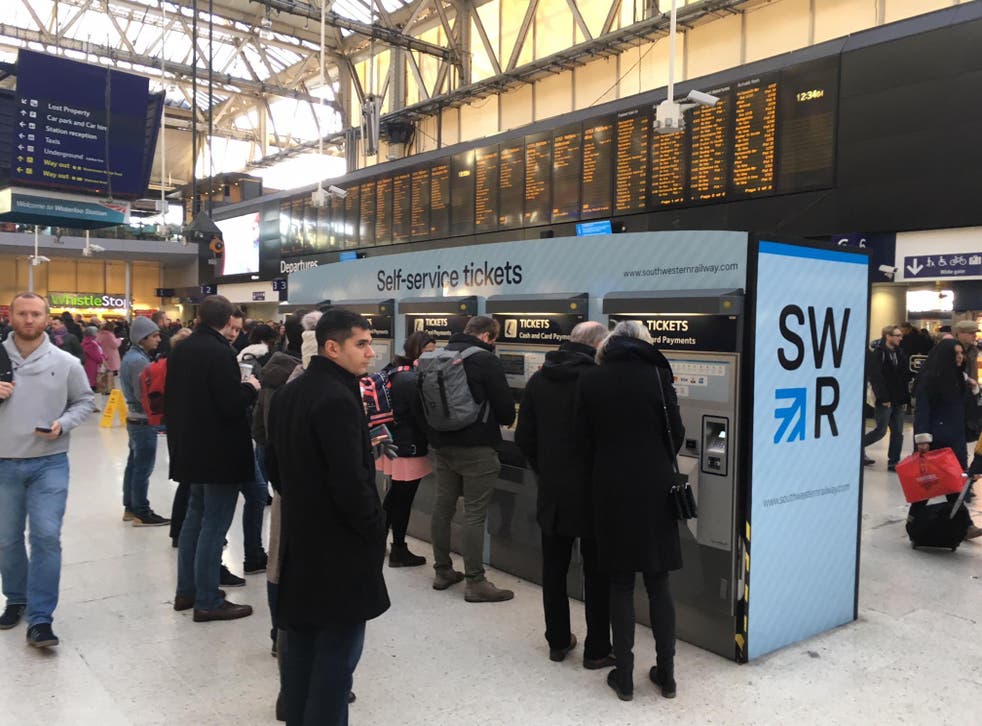 Christmas travel: Greater Anglia and South Western Railway to strike over festive period
Staff on two more train operators call strikes between Christmas and 31 December, with New Year's Eve services jeopardised
The year will end with an unprecedented number of rail strikes across the UK as members of the RMT union take industrial action over a range of grievances.
The union has announced industrial action on on 27 December and South Western Railway (SWR) on New Year's Eve.
Greater Anglia runs trains to London Liverpool Street from Essex, Suffolk and Norfolk. SWR began its franchise from London Waterloo to Surrey, Sussex Hampshire and Dorset in August.
Both disputes are about the principle of driver-only operation and the future role of guards — which has sparked many strikes on Southern, GWR, Northern and Merseyrail over the past two years.
The RMT says the disputes are solely about safety, and accuses the Department for Transport of seeking to force through cost-cutting to the detriment of travellers, particularly disabled passengers.
In a bid to reach agreement on the key issues, the union met the transport secretary, Chris Grayling, and rail minister, Paul Maynard, on Tuesday. But there is a dispute about what was agreed, with the union accusing the employers' side of "chaos and confusion", which it says "makes it almost impossible to negotiate".
The RMT General Secretary Mick Cash said: "It's the continuing failure of the train companies and their political puppet masters in Government to make any attempt whatsoever to resolve these disputes over rail safety that has led us to call action."
For Greater Anglia, the train service delivery director, Richard Dean, said: "Prior to today's announcement, we had arranged talks with the RMT for tomorrow. We will be going ahead with those talks as planned.
"There is already a revised Christmas service in place on Wednesday 27 December, along with alterations due to engineering works. We will be aiming to run that revised service, but will confirm full details nearer the time.
"We value our conductors highly. We have guaranteed their jobs until the end of the franchise in October 2025. In fact, we will be recruiting additional conductors, as we are replacing all of our trains with brand new trains from 2019, which will enable us to run more services."
While the last week in January is relatively quiet on the rail network, SWR normally carries large numbers of shoppers to the London sales, and revellers to the capital for New Year's Eve. In addition, its plans to run a range of trains from London in the early hours of New Year's Day may be jeopardised.
A South Western Railway spokesperson said: "We are extremely disappointed that the RMT executive has decided to inflict more disruption on our passengers by calling more unnecessary industrial action, especially when so many people need to travel to be with friends and family for the New Year celebrations.
"We have repeatedly assured the RMT that we plan to keep guards on our trains. We will put in place contingency plans to keep passengers moving should this strike go ahead."
Driver-only operation has been used on parts of the British railway network for three decades. The Office of Rail and Road says driver-only operation is safe so long as the correct procedures and staff are in place. The Government insists that guards will be freed up to have an expanded role in customer care.
Two unrelated strikes on other train operators will cause problems for long-distance passengers on. On Virgin Trains, a strike by train managers, catering workers and station staff has been called by the RMT union for Friday, with action on some subsequent days.
CrossCountry Trains staff belonging the RMT plan to strike on 23, 24, 27 and 31 December in a dispute about rostering.
Mr Cash accused the train operator of "dishing out cash bungs to a dangerous scab army of under-cooked management recruits to try and break the action".
Join our new commenting forum
Join thought-provoking conversations, follow other Independent readers and see their replies