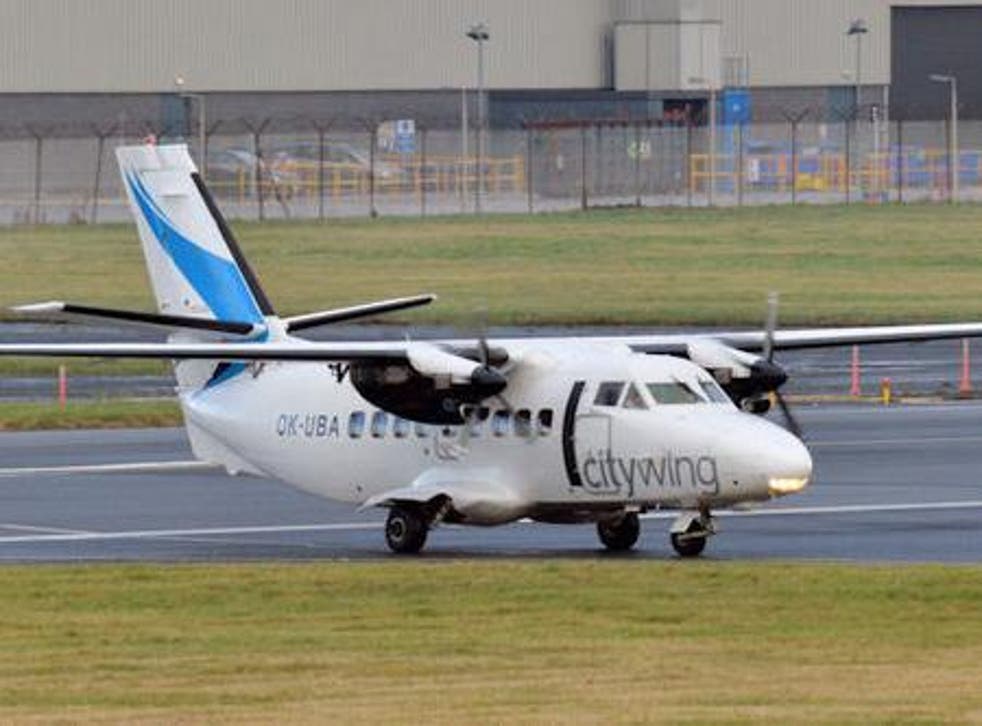 Call for 'virtual airlines' to be outlawed after collapse of Citywing
Carrier flying Wales's only domestic route had no planes or flight crew of its own
Citywing flights ceased on Saturday onwards after going into liquidation. It had no aircraft and employed no flight crew. Instead it sold seats on flights that were operated by another carrier. Until last month, the airline used was Van Air Europe, based in the Czech Republic.
But on 23 February, the day Storm Doris swept across the British Isles, a Van Air plane was involved in what the Civil Aviation Authority (CAA) calls "an incident" at Ronaldsway airport on the Isle of Man. The following day, all Van Air's UK route licences were cancelled.
It is understood the authority was concerned about decisions to attempt landings in weather below safe minima on an Isle of Man-Belfast flight.
After the grounding, Citywing chartered a Danish airline, North Flying Airport Service, to shuttle between Cardiff and Valley airport in Anglesey – a heavily subsidised route connecting the far north-west of Wales with the capital. It also used Spirit Airlines on some routes to and from the Isle of Man.
But after limping on for two weeks, Citywing issued a statement announcing its closure: "The company has tried to offer a service whilst suffering considerable losses but these have proved unfortunately to be commercially unsustainable."
The last fatal accident involving a passenger aircraft in the British Isles involved Citywing's predecessor, Manx2. In February 2011, six people died when flight 7100 from Belfast crashed at Cork airport. The pilots, who worked for a Spanish airline called Flightline, were attempting to "go around" for a third time after two previous aborted landings in heavy fog.
The aviation source, who requested anonymity, said Citywing had exploited gaps in the regulations on the safety and sale of air travel in the UK.
"It's high time the CAA put a stop to anyone else setting up a 'virtual' airline and acting as an unlicensed and unregulated 'ticket seller'. It's a scandal it's been allowed to go on for so long."
A long-established regional carrier, Eastern Airways, has stepped in to replace Citywing on a number of services: the Cardiff-Anglesey link, as well as services connecting the Isle of Man with Newcastle and Belfast City.
Mathew Herzberg, head of commercial for Eastern Airways, said: "This will help to provide continuity for business and leisure travellers."
Initially the Citywing statement told passengers with bookings not to go to the airport, and said tickets on the Welsh internal flight would be valid on the five-hour rail link between Cardiff and Holyhead.
But Ken Skates, the Welsh Cabinet Secretary for Economy and Infrastructure, told Adrian Goldberg on BBC Radio 5 Live: "The flights will operate as usual. No passengers will be left in the lurch. They won't need to re-book."
UK news in pictures

Show all 50
It is not yet clear what rights ticket holders on other Citywing services will have.
Join our new commenting forum
Join thought-provoking conversations, follow other Independent readers and see their replies