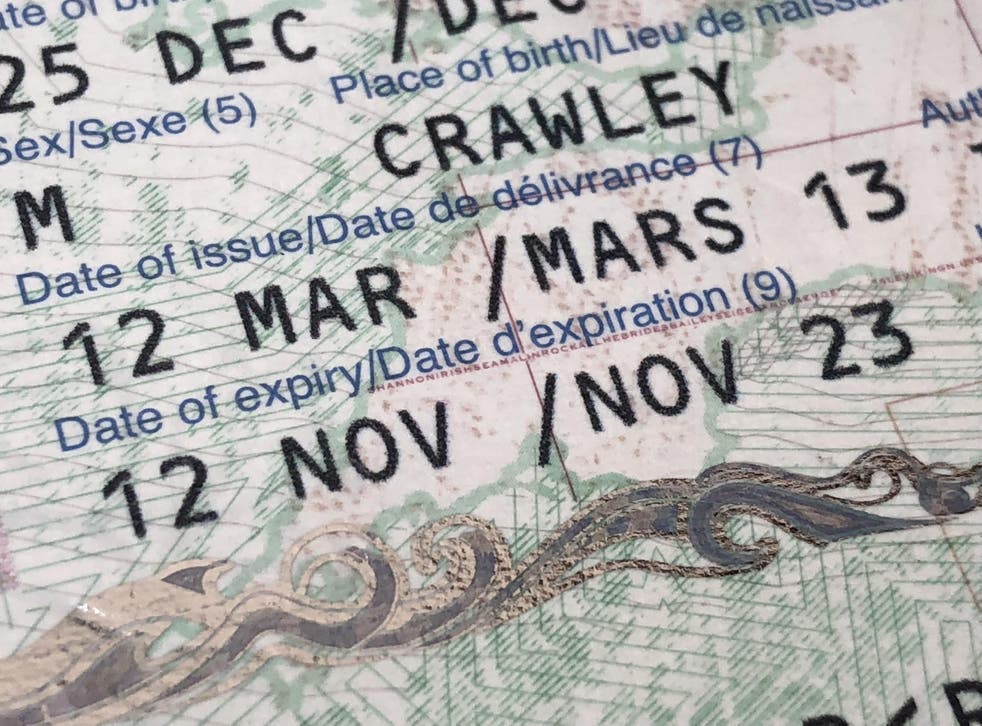 Coronavirus: Millions may have to cancel holidays after lockdown due to expired passports
Exclusive: Half a million passports have expired since UK lockdown began
When lockdown is lifted and overseas travel is once again allowed, millions of British holidaymakers and business travellers may find that they cannot leave the country because their passports have expired.
Normal passport renewals ended on 24 March, when the issuing offices around the UK closed to the public. At present, the Home Office advice to travellers is: "Do not apply unless you need a passport urgently for compassionate reasons, for example if a family member has died, or for government business."
Rachel Cuss of Surrey is booked to travel with her family to Gran Canaria on 8 August, but her passport expires on 28 July.
"If we are able to go on our August holiday I'm concerned about not having a valid passport," she said.
The Independent calculates that in the month since the prime minister announced the UK-wide lockdown, 190,000 children's passports will expire – along with 310,000 adults' travel documents.
For every month that it continues, a similar number are likely to run out.
The UK Passport Office normally issues an average of half-a-million new and replacement passports each month.
Assuming that passport ownership levels are the same for each age group, 19 per cent of overseas travellers are under 16.
But while adults' travel documents are valid for a decade, passports for under-16s last only five years.
The scale of the problem has been exacerbated by a sudden change of policy on renewals in September 2018. Previously, travellers were allowed to carry forward "unspent" validity of up to nine months to their new passports. But that ended abruptly because of Brexit.
Paul Davies of Nottingham told The Independent: "My passport expired in February.
"Pre-Brexit, one would have renewed during the six months in advance of expiry, but now there's no point in doing that.
"I have a holiday booked for mid-June, with the balance due to be paid next week.
"It's highly likely that the holiday will be cancelled. But if it goes ahead, it would be hugely disappointing and expensive if I could not travel because the Passport Office couldn't turn round my application in time."
Until the end of 2020, UK passports are valid for travel anywhere in the European Union up to and including the date of expiry. Visitors to the US need not have any "spare" validity.
But elsewhere,even if a passport has not expired, it may have insufficient validity for the destination country. For both Egypt and Turkey, the Foreign Office warns there must be six months' validity remaining on arrival.
In addition, travellers whose destination requires a visa – such as India and Russia – may not have time to apply.
Cruise virus risks: when to travel to minimise them
Millions of UK holidaymakers have trips booked for the summer to countries across the world.
Britain's biggest holiday companies, Tui and Jet2, have cancelled trips up to 14 May and 16 June respectively. But the presumption is that subsequent trips will go ahead.
Anyone who is unable to travel because their passport has run out or has insufficient validity will not be able to claim on travel insurance.
A Home Office spokesperson said: "Her Majesty's Passport Office is continuing to process standard passport applications, but they are taking longer than usual as a result of changed working practices designed to keep both staff and customers safe.
"We are prioritising those who need our services most, especially applications for compassionate reasons. We would encourage those who can to apply at a later date."
It is not clear what plans the UK Passport Office has for dealing with the surge in applications that seems inevitable after lockdown is lifted.
There is also uncertainty about the proposed roll-out of blue passports, which are replacing the burgundy version. They were designed in France and are being manufactured in Poland.
Register for free to continue reading
Registration is a free and easy way to support our truly independent journalism
By registering, you will also enjoy limited access to Premium articles, exclusive newsletters, commenting, and virtual events with our leading journalists
Already have an account? sign in
Register for free to continue reading
Registration is a free and easy way to support our truly independent journalism
By registering, you will also enjoy limited access to Premium articles, exclusive newsletters, commenting, and virtual events with our leading journalists
Already have an account? sign in
Join our new commenting forum
Join thought-provoking conversations, follow other Independent readers and see their replies