Coronavirus: WHO declares international health emergency over 'unprecedented outbreak'
Man pretends to have coronavirus mid-flight, forcing plane to turn around
Passenger charged with 'mischief'
A man onboard a flight falsely claimed he had coronavirus, forcing the plane to turn around.
The WestJet service had been en route to Montego Bay, Jamaica, from Toronto, Canada, when the 29-year-old Canadian national announced he had the deadly virus, which has so far claimed the lives of more than 400 people.
"A male was causing a disturbance on the flight, saying he had been to China and had the coronavirus," a police spokeswoman told Reuters.
The man was seen taking selfies and announcing that he had the virus, according to other passengers.
Although the pilot believed it to be a hoax, he had no choice but to take the precaution of turning the aircraft around and heading back to Toronto.
Coronavirus: Cases soar of deadly new flu-like virus

Show all 154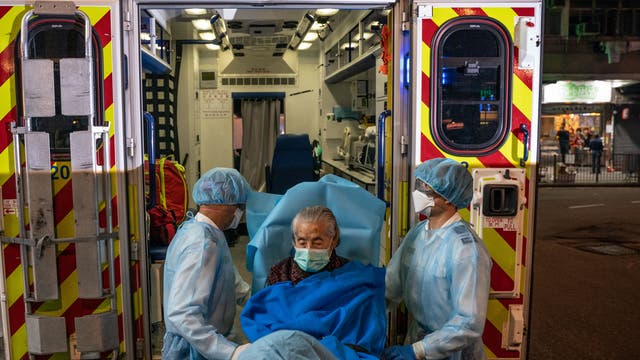 Cabin crew gave the man gloves and a mask to wear and told him to sit at the back of the plane.
He has since been arrested and charged with mischief, according to the Peel police force, located close to Toronto's Pearson Airport.
He will appear in court on 9 March.
A WestJet spokesperson told The Independent: "WestJet flight 2702 from Toronto to Sangster International Airport in Montego Bay, Jamaica diverted back to Toronto due to an unruly guest.
"We sincerely apologise to the 243 guests who were affected by this unfortunate situation. Due to yesterday's subsequent cancellations of flight 2702 and 2703, we added an extra segment flight that departed Toronto today at 6.45 am local and will return from Montego Bay at 11.50am local.
"Law enforcement and EMS personnel were requested to meet the flight upon arrival in Toronto. Out of an abundance of caution, our crew followed all protocols for infectious disease on board, including sequestering an individual who made an unfounded claim regarding Coronavirus.
"Due to the involvement of law enforcement, as well as the privacy of our guests, we are not able to provide additional information about the incident at this time. The authorities will be advising us on next steps."
The first case of coronavirus was recorded in Wuhan, China in December 2019; since then it has spread to 26 countries, with more than 20,000 confirmed cases.
The UK Foreign Office today updated its advice to say all British citizens should leave China immediately.
Join our new commenting forum
Join thought-provoking conversations, follow other Independent readers and see their replies