Three in 10 people say they would not board a cruise again amid coronavirus outbreak, survey says
Exclusive: 'In the past they were famous for food poisoning outbreaks. Now pandemic outbreaks. I have no desire to pay good money to "holiday" in a Petri dish,' said Chris Dore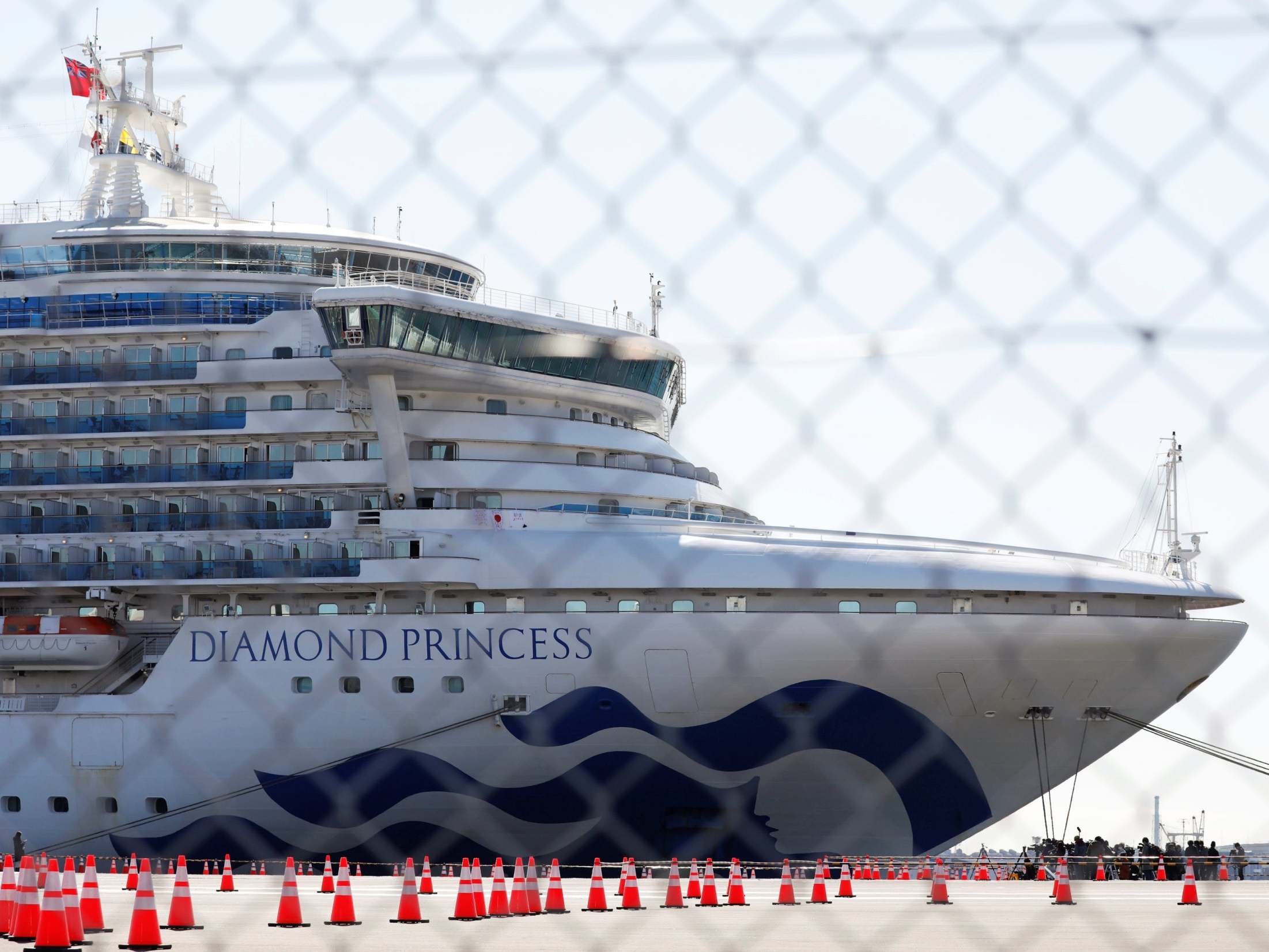 As the last few cruise ships still at sea make for ports that will allow them to dock, the future of the cruising industry looks gloomy.
More than 5,000 people responded to an online survey conducted for The Independent – with almost two-thirds of respondents saying they would not currently consider cruising.
Of those who have previously sailed on a cruise, three in 10 said they would not do so again.
Since the Diamond Princess was quarantined in Yokohama on 4 February, cases of Covid-19 have been reported aboard dozens of vessels, and tragically a number of passengers have died on board cruise ships – with four fatalities aboard Holland America's Zaandam.
In the Twitter survey, travellers were asked if they had previously been on a cruise and whether they would now consider one.
Seven out of 10 respondents said they had never been on a cruise. Those who would not be tempted to take one (56 per cent of the total surveyed) outnumbered those who would (14 per cent) by four to one.
Chris Dore commented: "In the past they were famous for food poisoning outbreaks. Now pandemic outbreaks. I have no desire to pay good money to 'holiday' in a Petri dish."
But Duncan McLellan said: "Due to go on Iona on 25 July 2020 for our first cruise. We shall still go if poss, or use P&O credit to use next year. Will still give it a go and see if cruising suits us, never say never!"
Of the self-selecting respondents, 9 per cent said they had cruised in the past but would not do so in future.
They were easily outnumbered by the 21 per cent who said they were previous cruisers and would gladly continue, despite the coronavirus pandemic
Janice Begley said: "We've cruised four times in seven years, so not serial cruisers, but it's a change and a good way of seeing different places.
"We had our eye on a new itinerary and if it's scheduled for next year will definitely book. No more dangerous infection-wise than an airport."
But the poll results suggest that three out of 10 previous cruisers would not repeat the experience.
A survey conducted in the summer of 2019 ​by the industry's global trade body, the Cruise Lines International Association (CLIA), indicated only 18 per cent would not cruise again. (The two statistics are not directly comparable: the CLIA figure refers to "cruisers likely to book a cruise as their next vacation" while The Independent poll focused on the intention ever to take a cruise again.)
Tony Balmforth said: "We cruise quite bit with Cunard and have a couple more booked later this year and 2021.
"However, it is very difficult to see how we put ourselves in an exposed situation before a vaccine is available widely. We are a long way from that."
The US Centres for Disease Control (CDC) says: "Cruise ship travel exacerbates the spread of Covid-19." It has extended its No Cruise Order for American vessels until 18 July 2020.
The CDC urges: "Older adults and people with serious chronic medical conditions, such as heart disease, diabetes, or lung disease, should especially defer travel on cruise ships, including river cruises, because of their increased risk for severe disease."
High noon in a coronavirus-stricken world
Show all 18
The Foreign Office currently warns: "British nationals aged 70 and over, and those with underlying health conditions like chronic diseases and diabetes, are advised not to travel on cruise ships." The most recent figures from CLIA indicate one in seven cruise passengers worldwide is aged 70 or over.
The P&O ship Arcadia arrived in Southampton on Easter Sunday, after having been turned away from many ports on a southern-hemisphere voyage.
After passengers were not allowed to disembark in Durban, South Africa in late March, she sailed home to the Hampshire port with a brief refuelling stop in Tenerife.
None of the 1,375 passengers nor 836 crew was displaying symptoms of Covid-19 on board.
P&O intends to re-start operations on 17 May, with cruises from Southampton to the Baltic and the Mediterranean.
Pacific Princess, a sister ship of Diamond Princess, is 200 miles southwest of Honolulu on a marathon journey from Fremantle in Western Australia. Most passengers had disembarked in the port and flown home from Perth.
But Princess Cruises said: "Not all guests onboard met the International Air Transport Association (IATA) fitness standards for air travel or were unable to return home by aircraft due to individual medical conditions unrelated to Covid-19.
"There are currently 115 guests onboard sailing back with the ship to Los Angeles." It is understood four of them, all residents of the state of Hawaii, will be allowed off during a refuelling stop in Honolulu.
MSC's Magnifica is currently in the Red Sea, approaching the Suez Canal, with around 3,000 passengers and crew on board. They have not been allowed off the ship for around a month, and hope to be allowed to disembark in Marseille or Genoa.
Last month the Cruise Lines International Association said: "With strict measures in place, as guided by national and international health authorities, CLIA and its member lines do not believe restrictions on the movement of ships are justified."
Before the coronavirus pandemic, almost 600,000 passengers were aboard cruise ships on a typical day.
Plenty of loyal customers remain. Leanne Dean commented: "If they're sailing we're going! Cruise ships are well versed in how to deal with infections on board. They have to be.
"One person with norovirus can rip through a ship. The trouble with corona is they weren't able to follow usual protocols. They were forced to stop at sea."
Join our commenting forum
Join thought-provoking conversations, follow other Independent readers and see their replies