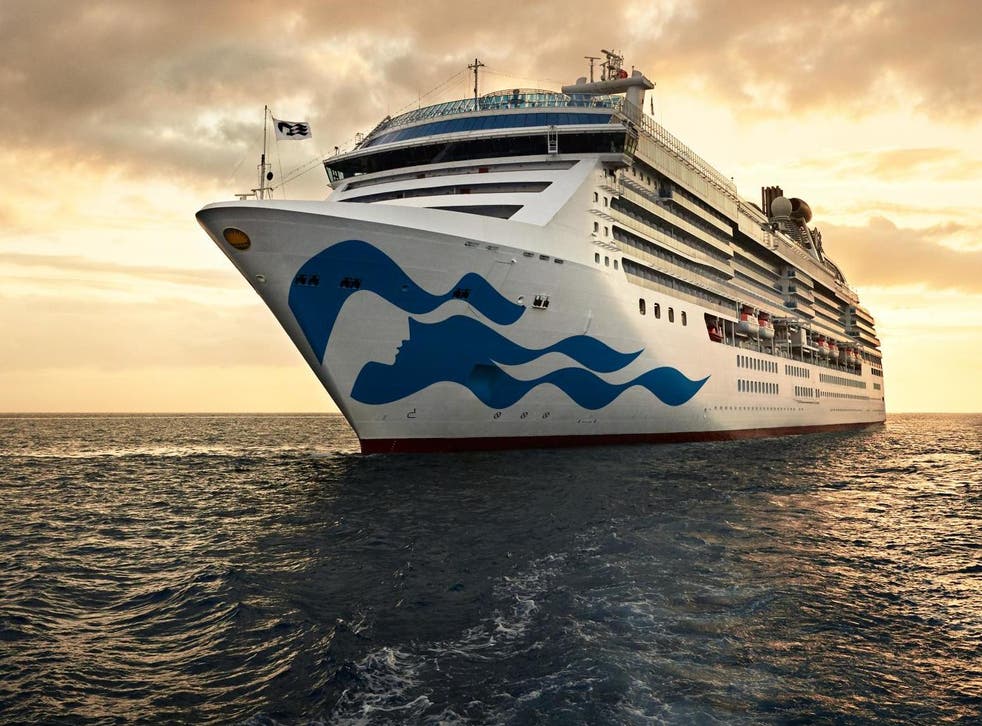 Coronavirus: Cruise ships still being turned away from ports worldwide
Normal operations 'to restart on 12 May' says Royal Caribbean Cruise Line – but some ports will remain closed for months
Simon Calder
Travel Correspondent
Wednesday 25 March 2020 16:43 Comments
As around 20 ships carrying thousands of passengers still seek ports that will accept them for disembarkation, leading cruise lines have pushed back the dates when they intend to restart operations.
One of the longest ordeals has been suffered by passengers aboard Holland America Line's Zaandam – currently off the north coast of South America.
The last time any of the 1,243 passengers and 586 crew were ashore was on 14 March in Punta Arenas, Chile. Thirteen passengers and 29 crew have reported to the medical centre with flu-like symptoms, though with no testing kits it is impossible to say if coronavirus is responsible.
"All ports along Zaandam's route are closed to cruise ships," said Holland America Line in a statement.
Because the ship is running short of supplies, a second vessel, Rotterdam, has been despatched to rendezvous with Zaandam of the coast of Panama on the evening of 26 March. Rotterdam has no passengers but will be carrying extra supplies, staff and Covid-19 test kits.
The intention is for Zaandam to continue to Fort Lauderdale in Florida, arriving four days later.
Fort Lauderdale is also the destination for Coral Princess – which late on Tuesday was turned away from Rio de Janeiro in Brazil.
Diplomats from the UK and other countries with nationals on board had pleaded with the Brazilian health officials to allow passengers with confirmed outbound flights from the city to get off the ship.
On Monday, Princess Cruises had said permission had been secured. But Anvisa, the Brazilian health regulatory agency, denied disembarkation.
"Coral Princess will proceed directly to Fort Lauderdale, with no foreseen need for additional port calls," a spokesperson said.
No known risk of Covid-19 has been identified on board. The ship is expected to take 10 days to sail to the Florida port.
The TUI ship Marella Explorer 2 is currently in port in Barbados after four members of crew tested positive for coronavirus.
Many, but not all, of the passengers were flown back to the UK on Tuesday. But some have been refused permission to fly.
A spokesperson for TUI said: "Although none of our guests have been tested positive for Covid-19, a small number of guests were unable to travel back to the UK as they are showing flu-like symptoms.
"We will continue to work together with the Foreign and Commonwealth Office and local governments to get these guests and any UK crew home as quickly as possible.
"Anyone on board the ship showing symptoms will remain isolated. Our staff onboard are taking care of guests with food and drinks being delivered to cabins."
P&O's Arcadia has been waiting for two days to enter the port in Durban in South Africa to obtain fuel and stores.
A spokesperson for the cruise line said: "Yesterday the authorities in Durban insisted on a local doctor visiting the ship as we have three South African crew who will be leaving Arcadia in Durban.
"The visiting doctor wanted to screen them so they are permitted to travel home."
The doctor arrived by helicopter and was winched down onto the top deck of Arcadia. The ship has now had full clearance from health and port authorities but is still waiting.
The P&O vessel will take on enough supplies to sail nonstop to Southampton, where she is expected to arrive on 12 April.
Meanwhile other cruise lines have pushed back the dates on which they intend to take new passengers on board.
Royal Caribbean Cruise Line now says it will begin operations on 12 May, one month later than originally planned. Its sister company, Celebrity, has followed suit.
But the planned closure of some cruise ports means that some itineraries will be cancelled beyond that date.
Singapore is keeping its cruise port closed until 1 June 2020 at the earliest, while all Canadian ports will remain closed to cruise ships until 1 July.
Register for free to continue reading
Registration is a free and easy way to support our truly independent journalism
By registering, you will also enjoy limited access to Premium articles, exclusive newsletters, commenting, and virtual events with our leading journalists
Already have an account? sign in
Join our new commenting forum
Join thought-provoking conversations, follow other Independent readers and see their replies