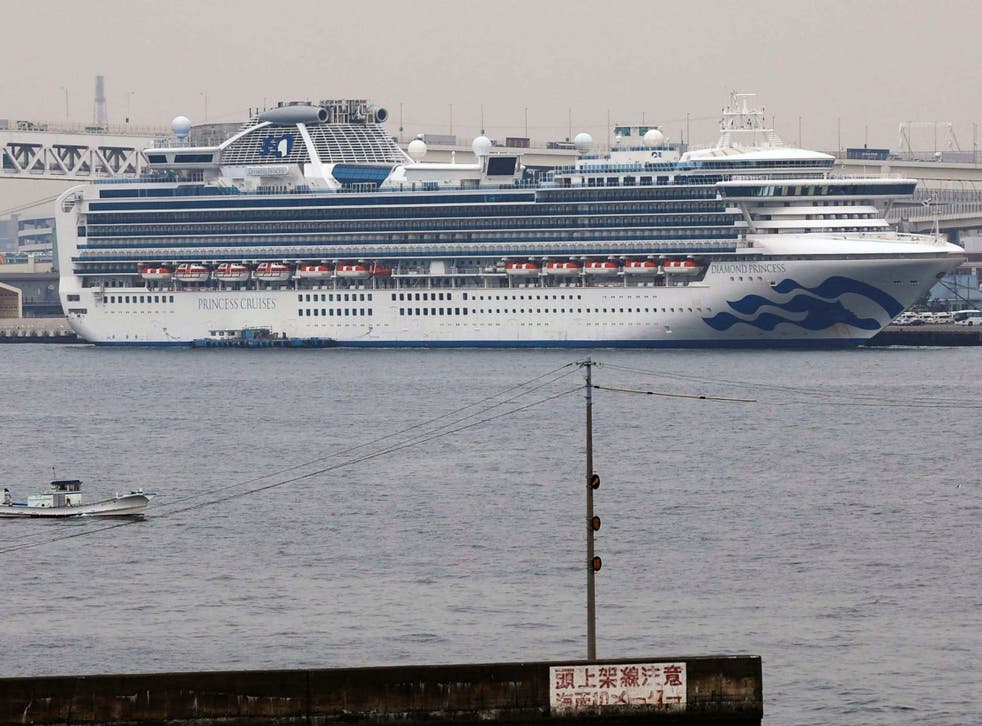 Coronavirus RNA survived in Diamond Princess cruise cabins for 17 days, CDC says
Some cruise passengers still face marathon voyages to get home
Cabins on Diamond Princess harboured the RNA of coronavirus for up to 17 days after passengers left the ship in Yokohama, Japan.
The Princess Cruises ship, carrying 3,700 passengers and crew, was quarantined on 5 February by Japanese officials in the port of Yokohama after Covid-19 was detected. The vessel became a coronavirus hotspot in its own right. Nine people who were on board the ship have died, including one British holidaymaker.
More than 700 other passengers and crew were infected with the virus.
Now research assessed by the US Centers for Disease Control has revealed that surfaces in cabins occupied by infected passengers continued to harbour the RNA (ribonucleic acid) of the virus responsible "for up to 17 days after cabins were vacated on the Diamond Princess".
RNA is material that carries genetic information. It can indicate if the virus was present but does not indicate the virus was still alive.
Cruise ships are often settings for outbreaks of infectious diseases because of their closed environment and contact between travellers from many countries.
The CDC said: "Cruise ships bring diverse populations into proximity for many days, facilitating transmission of respiratory illness
"Outbreaks of Covid-19 on cruise ships pose a risk for rapid spread of disease beyond the voyage.
"Aggressive efforts are required to contain spread. All persons should defer all cruise travel worldwide during the Covid-19 pandemic."
In addition to Diamond Princess, the ship quarantined by Japan, a sister ship – Grand Princess – was forced to remain off the coast of California for days after cases were discovered on board.
The vast majority of the 270 cruise ships that were in service before the coronavirus crisis began are in port, but some are still making their way around the world.
A third Princess Cruises ship, Coral Princess is due to arrive in Rio later on Tuesday to disembark some passenger.
The cruise line said: "Although Brazil has been closed to cruise ship traffic, we are working through diplomatic channels to obtain permission and have received positive responses.
"Guests with confirmed homeward flight arrangements will be permitted to disembark and go directly to the airport."
Before and after photos show impact of coronavirus around the world

Show all 20
But "due to limited flight availability" not all passengers will be be allowed off. They will be kept on board for a 12-day voyage to Fort Lauderdale, Florida.
"This is an unprecedented situation and we thank our guests for their continued patience and understanding," Princess Cruises said.
The P&O ship Arcadia is currently in port in Durban, South Africa, but passengers are not being allowed to disembark.
Instead, supplies are being taken on for a 17-day voyage nonstop to Southampton.
Register for free to continue reading
Registration is a free and easy way to support our truly independent journalism
By registering, you will also enjoy limited access to Premium articles, exclusive newsletters, commenting, and virtual events with our leading journalists
Already have an account? sign in
Register for free to continue reading
Registration is a free and easy way to support our truly independent journalism
By registering, you will also enjoy limited access to Premium articles, exclusive newsletters, commenting, and virtual events with our leading journalists
Already have an account? sign in
Join our new commenting forum
Join thought-provoking conversations, follow other Independent readers and see their replies