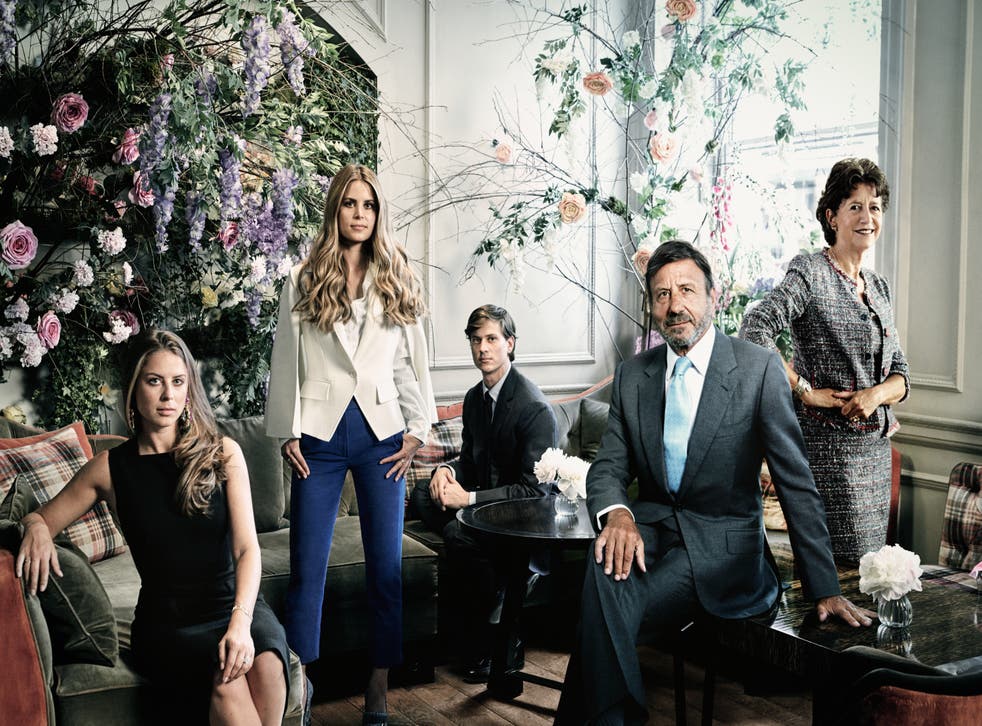 'They've over-reacted': Hotelier Rocco Forte attacks government coronavirus restrictions
The businessman hosted a victory party for Boris Johnson after the 2019 election
The leading hotelier and Conservative Party donor, Sir Rocco Forte, has attacked government restrictions as "completely an overreaction" that has created a "grim situation" for the UK hospitality industry.
Sir Rocco, 75, who has himself had coronavirus, was speaking on the BBC's Today programme. He has previously been a donor to the Conservative Party, and hosted a victory party for Boris Johnson after the 2019 general election. But he now says: "They've over-reacted, they've panicked.
"We're now seeing new forecasts done by the same people who made the mistakes last time round, forecasting Armageddon, and they're starting to panic again."
Sales at his UK hotels, Brown's in London and The Balmoral in Edinburgh, have fallen by 80 per cent.
Sir Rocco said: "We're looking at a significant reduction in our staff unfortunately, as a result of the ending of furlough, and we are talking about 80 people out of a total employee base of 450 in this country."
"The way things are at the moment we're not looking at things improving very much for the next four or five months so we have no option but to take drastic action.
"There's talk now of Tier 3 being imposed across the country. That would mean we have to close the hotels, which will be pretty disastrous."
The current government rules for Tier 3 locations specify: "Hotels in 'very high' alert level areas can remain open and accept overnight bookings, but people must not stay overnight with other people who are not members of the same household or support bubble.
"Food and drink must not be served from 10pm to 5am and hotel restaurants must remain closed during these hours.
"Room service can continue past 10pm provided orders are placed online or over the phone, and alcohol is permitted in room service."
Sir Rocco said: "I'm looking at an outflow of cash for the current financial year of £60-odd million pounds. That's money just gone out of the window, it's money that I won't recover and it's money that won't be invested. So it's a pretty grim situation."
He said 3.2 million people are directly employed in UK hospitality, with 2.8 million others indirectly dependent on the industry.
Tourist, 12, and guide lose limbs in shark attack in Egypt
"Ninety-nine per cent of the people who operate in it are small and medium-sized enterprises.
"We're looking at a very bleak future, and high levels of redundancy and unemployment."
Asked by the presenter, Dominic O'Connell, if he would withhold future donations to the Tory party, Sir Rocco said: "I don't have any money to give them at the moment."
He described his experience of coronavirus as "a rather unpleasant three weeks," but said that he would go through it again "rather than see the country close down".
The government says: "Coronavirus has created serious challenges for UK businesses, across all sizes, locations and sectors.
"The government has made available a full range of business support measures during this time.
"The Department for Business, Energy and Industrial Strategy is committed to businesses getting the support they need to help with the impact of coronavirus."
Register for free to continue reading
Registration is a free and easy way to support our truly independent journalism
By registering, you will also enjoy limited access to Premium articles, exclusive newsletters, commenting, and virtual events with our leading journalists
Already have an account? sign in
Register for free to continue reading
Registration is a free and easy way to support our truly independent journalism
By registering, you will also enjoy limited access to Premium articles, exclusive newsletters, commenting, and virtual events with our leading journalists
Already have an account? sign in
Join our new commenting forum
Join thought-provoking conversations, follow other Independent readers and see their replies