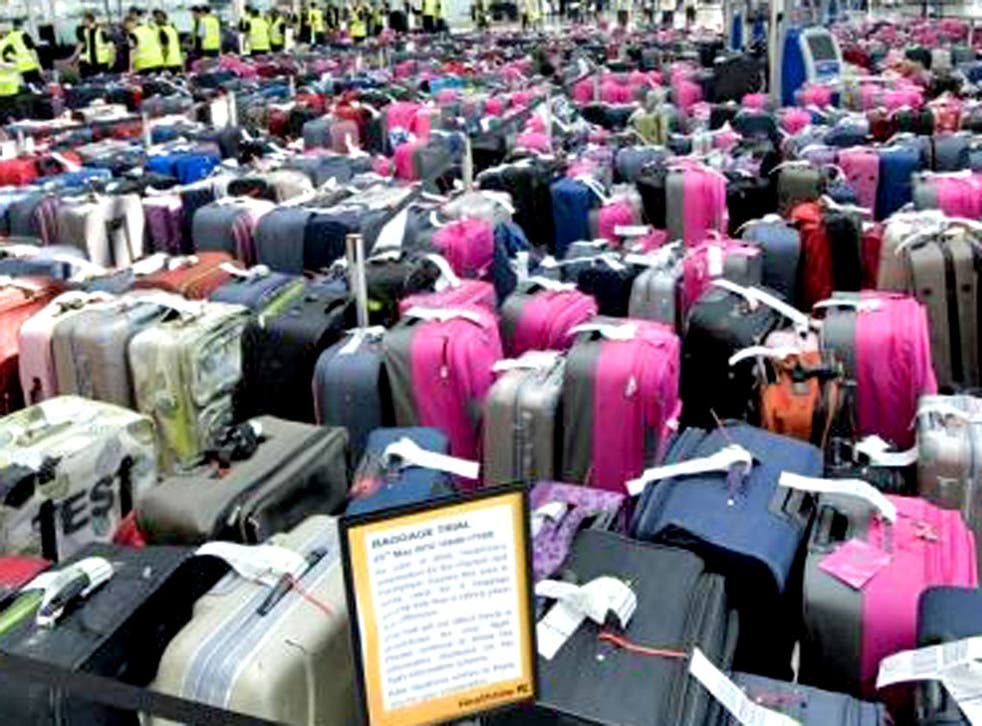 Costs to rise as Heathrow books too many staff...
Bosses banked on extra 10,000 passengers today but real number could be much lower
Today had been billed as the busiest day in Heathrow Airport's history, with thousands of Olympic athletes due to arrive. But The Independent has learnt that the airport's owner, BAA, has been forced to revise down its figures after over-estimating pre-Games passenger numbers by up to 10,000 a day.
The inflated forecasts could mean that too many staff, rather than too few, could be deployed at passport control, with officials twiddling their thumbs at taxpayers' expense.
Six months ago, the owner of the London 2012 host airport specified three key dates before and after the Olympics as "critical peak times", when "passenger and baggage volumes will be the most challenging Heathrow has ever faced".
The first is today, and BAA had predicted that it would see the highest number of inbound competitors and a total of 247,000 arriving and departing passengers. But BAA has cut that forecast by 10,000, to only 1.3 per cent more than the existing record, set a year ago. BAA also claimed that 26 July, the day before the opening ceremony, would top 250,000 passengers for the first time, as inbound media and sponsors reached a peak. But the revised prediction for arrivals on that date has fallen by 11,000 or nearly 10 per cent.
Less than four weeks ago, BAA's chief executive, Colin Matthews, talked of "up to 12 per cent more passengers" than the previous high, but figures obtained by The Independent show that the busiest day will now be no more than 6 per cent higher than 31 July last year, when the current record was set.
While the reduced passenger numbers will mean less strain on Britain's busiest airport, the inaccurate original forecasts could mean that too many "contingency staff" will have been drafted in. The bills for training, travel, accommodation and overtime are met by the taxpayer, not BAA.
A spokeswoman for Heathrow said: "The predictions were made based on the information from Locog, the airlines and various national Olympic committees at the time. It's constantly evolving."
The airport's main focus is on the post-Olympic exodus, the bulk of w hich will take place over three days, and airport planners predict that two-thirds of Olympic visitors will fly out on a single day: 13 August.
The original forecasts for what has been dubbed "Manic Monday" made some questionable assumptions, including that every seat on every departing flight would be filled. John Strickland, an aviation consultant, said that was "highly unlikely". On Heathrow's current record date for departures, 29 July last year, less than 90 per cent of seats were filled.
The bills for training, travel, rooms and overtime are met by the taxpayer, not BAA
...but hopefully baggage reclaim is covered
By Sam Masters
Britain's busiest airport was inundated by Olympic baggage as canoes, javelins, sails and firearms arrived with athletes and coaches for the Games.
Handlers at Heathrow reported a 27 per cent increase in arriving passengers, together with all manner of equipment, ahead of the opening of the athletes' village at the Olympic Park today. The airport held "test" events in March to check Olympic baggage could be processed. "We are expecting a lot of teams and a lot of bags," said Nick Cole, who heads the Olympic project for Heathrow. But he added: "We've got into our battle rhythm."
An estimated 980 firearms with ammunition entered Heathrow over the weekend. A service by the Channel Tunnel operators, Eurotunnel, will transport the 1,000 horses expected for the equestrian events in Greenwich Park.
Today, there will be a team of 1,000 volunteers clad in bright pink to help process the baggage at Heathrow. The day after the Games ends on August 13, an extra 43,000 passengers carrying 58,000 more bags than usual are expected to depart through the airport.
Register for free to continue reading
Registration is a free and easy way to support our truly independent journalism
By registering, you will also enjoy limited access to Premium articles, exclusive newsletters, commenting, and virtual events with our leading journalists
Already have an account? sign in
Register for free to continue reading
Registration is a free and easy way to support our truly independent journalism
By registering, you will also enjoy limited access to Premium articles, exclusive newsletters, commenting, and virtual events with our leading journalists
Already have an account? sign in
Join our new commenting forum
Join thought-provoking conversations, follow other Independent readers and see their replies