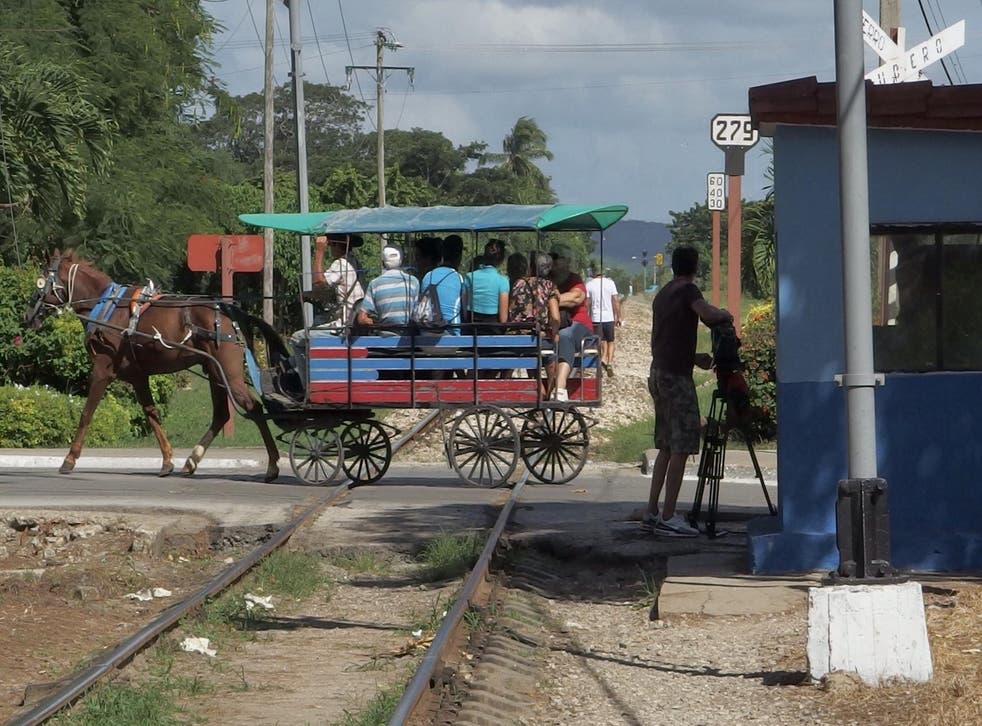 New trains herald rail revolution for Cuba
The Man Who Pays His Way: For the first time since the dawn of Fidel Castro, 'brand-new trains' and 'Cuban railways' can be used in the same sentence
"There are no timetables, only rumours." Charles Nicholl's assessment of Latin American travel happens to describe the railways of Colombia, but it sums up trains in Bolivia, Panama and all stations to Havana Central equally well.
At least Ferrocarilles de Cuba, the state railway of the Caribbean's biggest island, has an excuse for the woeful state of the network: it has been crippled after six decades of the US economic embargo.
Rail travel in the tropics always has an arbitrary quality, but trains in Cuba are exquisitely unpredictable: lumbering old diesel locomotives haul cast-off carriages. Rolling stock that had become obsolete in Germany or Mexico was shipped to the island as a charitable alternative to the scrapheap.
As the train wafts past sugar plantations and nameless villages, air conditioning is mainly of the natural variety – aided by the absence of many windows and, sometimes, doors. Meanwhile dubious snacks of uncertain provenance are purveyed by freelance caterers.
Travel destinations: 52 places to go in 2019

Show all 52
The main line between the Cuban capital and the second city, Santiago, is in terrible shape. The horse-drawn buses crossing the track in the central city of Santa Clara look plausibly faster than the trains that ply the length of the island.
Even buying a ticket requires reserves of patience, optimism and small bribes. Bookings open only five days before departure, and often close abruptly. "Offering the stationmaster (jefe) a small gift of cigarettes or chocolate may enhance your chances of success," says my guidebook, which adds: "If your principal concern is speed or reliability, you should probably fly."
Anyone expecting punctuality is in the wrong country: one sunny morning I had to clamber down from an overnight "express" that had stalled many miles outside Havana, then hitch a ride to the capital's airport for my flight home.
So I was delighted to learn that this weekend a rail revolution takes place in Cuba. The news comes from Mark Smith, himself a former jefe – though he was stationmaster on commuter lines in Kent rather than on the trans-Cuban railway.
You may know Mr Smith as The Man In Seat Sixty-One. He runs the Seat61.com website, named for his favourite location on Eurostar trains (first class, solo seat). On Thursday, he excitedly posted the prospect of "A new dawn for rail travel in Cuba?".
For the first time since Fidel Castro's revolution, "brand-new trains" and "Cuban railways" can be used in the same sentence.
Chinese-built carriages are entering service on the island's main line. They have arrived fresh from the factory with air conditioning and even a buffet car.
The speed and frequency have increased, but don't expect miracles: Train No 1 from Havana to Santiago averages a sedate 36mph, and runs only on alternate days.
Support free-thinking journalism and attend Independent events
It is, though, a start. You can even book the new trains up to a month in advance, reports Mr Smith.
Cuban and foreign travellers alike must hope that the new dawn heralds comprehensive changes on the island's railways – especially on the westbound line from Havana to Pinar del Río, which is a distance of less than 100 miles.
My guidebook reports: "The journey can take anything from five to 10 hours and derailments are unusually common." By comparison, even the worst British rail journey looks a delight.
Join our new commenting forum
Join thought-provoking conversations, follow other Independent readers and see their replies