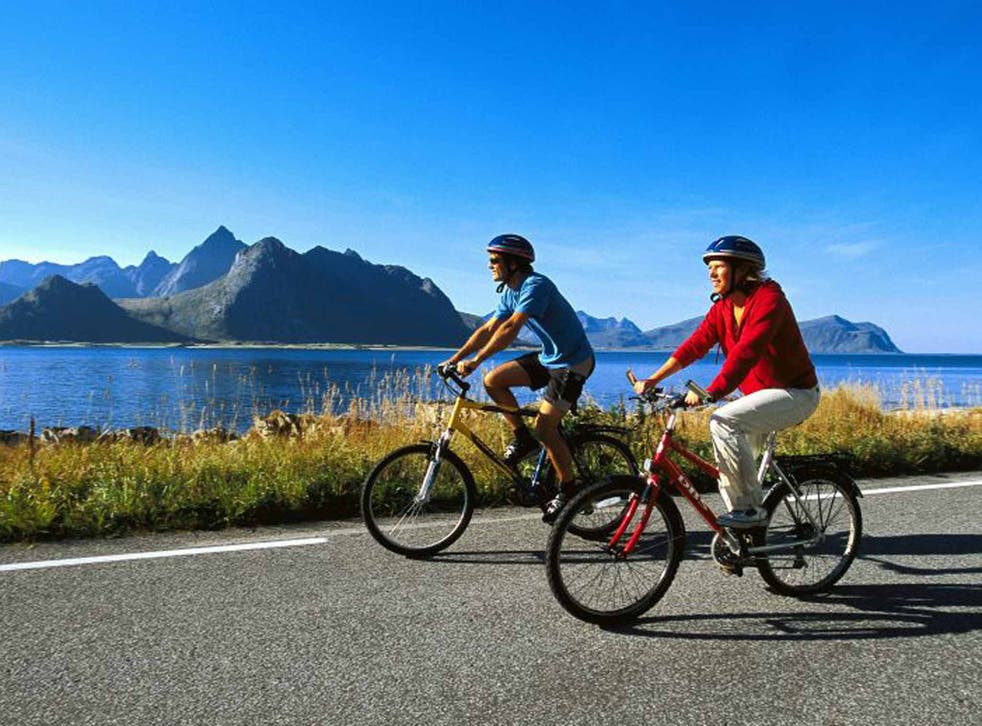 Cycling holidays: Take a family jaunt or follow in the tracks of the Tour de France
Exploring on two wheels offers a close-up experience. Laura Holt saddles up
Watching the world unfurl from the saddle of a bicycle offers the chance to get up close to things you might miss in a car; to pause for lunch in a quiet square, legs aching, body content in the knowledge that it has earned that meal.
From freewheeling through Arctic scenery on Norway's Lofoten Islands to cycling close to the crater of Sicily's Mount Etna, the opportunities are endless, whether you're a Lycra-clad roadie, a mud-ready mountain biker or a more leisurely cyclist. With a network of well-established cycling trails, plus many safe roads, it's easy to explore Europe on two wheels.
Of course, there will be those who want to go it alone, touring the Continent with a lightweight tent strapped to their pannier. And for those who do, there's the European cycling network, EuroVelo (eurovelo.com), which details 17 long-distance routes across Europe, including the Sun Route, which takes you from the Land of the Midnight Sun in Norway to the Mediterranean; and the Iron Curtain Trail, which snakes through historic Cold War sights.
France is one of the best options for independent cyclists, with miles of integrated greenways, or Voies Vertes (voiesvertes.com), offering traffic-free trails. The France Vélo Tourisme website (en.francevelotourisme.com), shows the scope of the network in full. One of the most popular is the Loire à Vélo route, which follows the course of France's longest river (loireavelo.fr).
For those who don't want to carry their own gear, specialist operators offer both self-guided trips to group tours. The benefit of the former is that luggage transfers, B&B and bike hire are often included, but you still get the freedom of travelling alone, while group tours offer security, comfort and camaraderie. A third widely-available option is a bike-and-boat trip, where you can cruise along a coastline or river, stopping to cycle each day, before re-joining the vessel at night.
Headwater (01606 828156; headwater.com) sells self-guided holidays aimed at – in the words of managing director Tina James – "fair-weather cyclists". Difficulty ratings range from 1 to 2+, with distances normally around 35km a day; the company even offers e-bikes on certain trips. Hybrid bikes, panniers, pumps, locks and maps are provided, as well as a puncture-repair kit and a demonstration in case you're a little rusty. As with most cycling holidays, you'll need to bring your own helmets and clothing.
For something more varied, UTracks (0845 241 7599; utracks.com) offers self-guided, guided and bike-and-boat trips, with difficulty ratings from 1 to 5. Gordon Steer, the company's UK manager, says: "Level 1 is for a total novice, where apart from being able to ride a bike, you need only have a reasonable level of fitness. Level 3 is moderate cycling, covering 65km a day, over more undulating terrain. Level 5s are our most challenging trips, riding for 90km a day, with sustained steep hills."
For UTracks, bike-and-boat trips are currently proving popular, and as you only have to unpack once, they're ideal for families, says Steer. In terms of preparing for a cycling holiday, he says: "It's important to have a degree of confidence. Familiarise yourself with the distances. You don't need to be Miguel Indurain, but having experience is definitely useful."
All operators provide a 24-hour emergency number, but with any luck, your trip will be hiccup-free, spent cycling through majestic scenery, as the sights and sounds of Europe flick by.
Go it alone
If the idea of a self-guided trip appeals more than a group tour, Magnetic North Travel (0845 5195 242; magneticnorthtravel.com) has an itinerary around Norway's Lofoten Islands. The eight-day adventure gives cyclists the chance to ride beneath the Midnight Sun, leaving more hours to admire the archipelago's peaks and beaches.
Cyclists follow a designated national tourist route from Svolvaer to the village of "A". Available from June to August, the week costs from £1,595pp, including hotels, luggage transfers, most meals and ferries; flights not included.
Further south, Flexi-treks (01273 410550; flexitreks.com) has a journey around the sun-soaked French region of Provence, taking you from Avignon and Aix-en-Provence, to the seaside commune of Cassis.
You'll also cycle the so-called Cézanne Route, through the foothills of Mont Sainte Victoire, to see why the post-Impressionist, and so many other artists, fell for this corner of France. With departures until October, the week starts at £728pp, including B&B accommodation and luggage transfers. Flights are not included; bike hire costs extra (£67).
As a family
Cycling as a family is a great way to keep everyone active. Particularly good for a mixed-aged group is the Netherlands, with its largely flat landscape. Freedom Treks (01273 224066; freedomtreks.co.uk) has a family holiday, designed for children aged seven to 11, around the IJsselmeer – a coastal lake in the north. You'll spend a week visiting villages, nature reserves and beaches, with plenty of ice-cream stops. It starts and ends in Amsterdam and includes accommodation on a barge, all meals and several trips: departs July and August and costs £393pp, excluding flights or Eurostar.
Velo Vercors (00 33 4 75 71 35 50; velovercors.com) operates from France's Vercors Natural Park, gateway to the Alps. It organises family trips and doesn't charge extra in school holidays. From 23 July to 11 September, for example, a family of four can stay for seven nights in a gîte, with bike and helmet hire, mapped cycling routes, transfers from Valance TGV station, and one dinner, for £1,400 in total; international travel not included.
For Lycra lovers
As this year's Tour de France (2-24 July; letour.com) gets set to showcase Andorra between 10 and 12 July, it's a great time for serious cyclists to test their mettle against the tiny principality's towering peaks. Official tour operator, Sports Tours International (0161 703 8161; sportstoursinternational.co.uk) has a six-night Tour de France – French Pyrenees and Andorra itinerary from 7-13 July, with half board, all transfers and VIP access to the race, for £1,099pp. Those who want to bring their bikes (hire not included) will be able to ride the Pyrenean climbs in between watching the stages.
In the Canaries, Tenerife has long been a favourite winter training ground for seasoned riders, thanks to its benign climate and 3,700m-plus elevation.
Mollydoo (0333 222 5912; mollydoo.com) has a new Tenerife Ultimate Cycling Experience that features challenging routes across the island, including a climb up to 2,350m on Mount Teide – Spain's highest peak (3,718m). Available year-round, the trip costs £795pp, including flights, a week's all-inclusive, transfers and six supported rides, but not bike hire.
The high road
For mountain bikers, there's plenty of scope for adventure. On Madeira, local operator Lokoloko (00 351 291 939 191; lokolokomadeira.com) runs guided itineraries around unmapped trails. Its Madeira Bike Trip costs €569pp, including a week's B&B, transfers, four days' guided mountain biking, plus a day either trekking, sailing, kayaking or stand-up paddleboarding. Flights not included.
Exodus (0845 873756; exodus.co.uk) has a new mountain-biking trip around Sardinia's south-west corner, taking you through cork forests and along coastal trails. The eight-day package costs £1,299pp, including flights, B&B and two dinners. Departures are 11 June, 10 September and 8 October.
For the ultimate in off-roading, KE Adventure (017687 73966; keadventure.com) has an eight-day group trip around Sicily that culminates in a 3,000m ascent up Mount Etna. It costs £1,095pp, including hotels and meals. Departs 28 May and 1 October; flights extra.
The ten best cycling accessories

Show all 10
Slow and scenic
Combining cycling with cuisine or culture is great for those seeking a sedate pace. In Portugal's Alentejo, a region studded with farms, olive groves and vineyards, Butterfield & Robinson (0800 086 8737; butterfield.com) has a new six-day trip that takes you through sleepy villages to the shores of Lake Maranhao and the cobbled streets of Evora. It costs £3,185pp, with hotels, most meals, wine, excursions and entrance fees, but not flights.
Inntravel (01653 617001; inntravel.co.uk) also has an easy-going, self-guided Quiet Side of Tuscany tour, through the Maremma region, that stops at woodland spas and stays overnight at local agriturismi. It costs from £838pp, half-board. Departures April to October; flights extra.
If you're a wildlife enthusiast, Headwater's new trip to Catalonia might entice you. The six-night, self-guided Cycling around the River Ebro holiday takes in the rich birdlife of the Ebro Delta, home to more than 160 species. It departs 1 May to 24 October, and costs £837pp, with B&B and some meals; flights extra.
Cycle and sail
Europe's islands offer a fine setting for exploring on two wheels. Saddle Skedaddle (0191 2651110; skedaddle.co.uk) has a new bike-and-boat holiday around Croatia's southern Dalmatian islands, where you sleep on a luxury yacht and hop off by day to pedal around the archipelago. Stops include Korcula, Vis and Hvar. The eight-day trip costs from £780pp, with most meals and on-board accommodation: departs April to October and excludes bike hire (£80 extra) and flights.
Meanwhile, UTracks has an enticing alternative on the Continent's second-longest river, the Danube. Starting and ending in the German city of Passau, the trip crosses the Austrian border by barge to visit pretty waterside communities such as Grein, before meandering to the Slovakian capital, Bratislava, and the Austrian capital, Vienna. As well as cycling in three countries, it also squeezes in a hike in the Wachau Valley. Priced from £740pp, the eight-day, self-guided trip includes on-board accommodation and all meals. Departs April to October; flights extra.
Join our new commenting forum
Join thought-provoking conversations, follow other Independent readers and see their replies