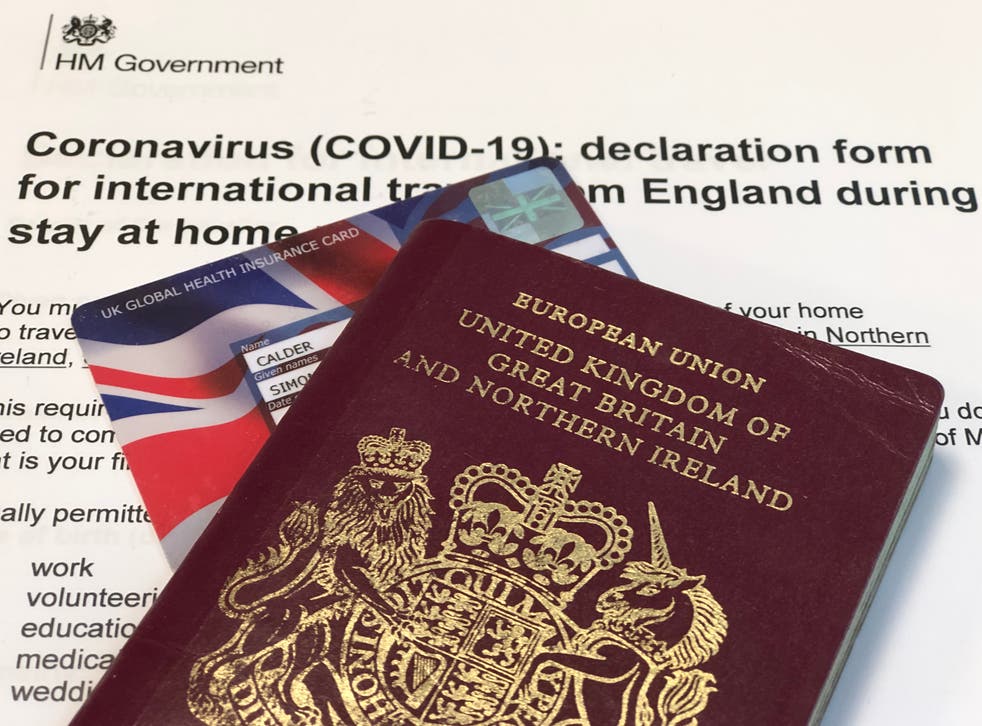 Declaration to Travel form: What is it and how do I download one?
Being at an airport without a completed form triggers a £200 penalty
Anyone hoping to travel abroad from England now requires what amounts to an exit permit. Outbound passengers must complete a "Declaration to Travel" and have it ready at the airport, ferry port or international rail station.
These are the essential answers.
What has happened?
At present all holidays – at home or overseas – are illegal under the "stay-at-home" rule that applies for all residents of the UK.
International travel is allowed only for a limited number of exemptions, including work, urgent family matters and medical treatment.
From England, anyone who enters "a port of departure to travel internationally" without a completed form is committing a criminal offence – even if they are legally entitled to travel – and faces a fixed penalty of £200.
The new law says: "A person who is present at an embarkation point for the purpose of travelling from there directly or indirectly to a destination outside the United Kingdom must have with them a completed travel declaration form."
Read more: Declaration to Travel - government reveals new 'exit permit' required to leave England
Airlines, train operators and ferry companies will be required to check that passengers have a valid reason to travel abroad.
The new document is the latest piece of red tape in the most draconian restrictions on travel ever known in peacetime.
Why has it happened?
In January, the home secretary warned: "There are still too many people coming in and out of our country each day."
Priti Patel told Parliament that the Declaration to Travel would be "a necessary step to protect the public and our world-class vaccination programme". The particular fear is new "variants of concern" being introduced from abroad.
So Ms Patel introduced another requirement on the basis that prospective travellers would think more carefully about whether their journey is permitted.
What information is required?
Travellers must provide their personal details including their address, passport number and destination. They must then tick a box to indicate their claimed reason to travel: work, education, volunteering, essential family reasons or "activities related to buying, selling, letting or renting a residential property".
Oddly, considering many of the people leaving England are foreign residents returning home, there is no box to tick for, "I live abroad and am returning to my permanent residence".
Where can I download one?
The form can be downloaded from gov.uk here. Travellers either need to bring a completed, physical copy or save it to a mobile phone or other device when they depart.
What sort of proof is needed?
The government says: "You may carry evidence to support your reason to travel." Examples include a letter from your employer, university or a property company.
The family category is possibly trickier to provide evidence for: "wedding of a family member, to attend a funeral or event related to death, to visit a burial ground or remembrance".
There is also confusion over the "property" category, with some people claiming it is lawful to say: "I am carrying out an activity related to renting a residential property – I am going to stay in an Airbnb." This is clearly in breach of the intention of the new rules.
Anyone returning to their home abroad can simply show some evidence of their residential address.
Hope for summer holidays but Britons should prepare for hard winter, Dr Susan Hopkins says
How long will the new rules last?
The form is headed "declaration form for international travel from England during stay at home restrictions". Those restrictions end on 29 March. So on the face of it, this new law/red tape will be in force for exactly three weeks.
The government has promised to reveal more details about a possible restart of international travel on 12 April, ahead of opening up journeys by 17 May. For this to happen, many obstacles to overseas holidays will need to be dismantled between now and then if leisure travel is to begin again at scale.
Why does the new law only apply to England?
As foreign holidays are plainly illegal under existing stay-at-home rules, the governments of Wales, Northern Ireland and Scotland have not regarded it as important to add additional coronavirus restrictions.
But both the Scottish government and the Labour Party have enthusiastically welcomed increased travel restrictions and are calling for tougher measures still.
What is the travel industry saying?
In public travel firms are simply complying with the new rules and warning passengers that the Declaration to Travel is needed.
But privately there is wide unhappiness at yet more red tape for travellers – and a further disincentive to booking summer holidays.
Register for free to continue reading
Registration is a free and easy way to support our truly independent journalism
By registering, you will also enjoy limited access to Premium articles, exclusive newsletters, commenting, and virtual events with our leading journalists
Already have an account? sign in
Register for free to continue reading
Registration is a free and easy way to support our truly independent journalism
By registering, you will also enjoy limited access to Premium articles, exclusive newsletters, commenting, and virtual events with our leading journalists
Already have an account? sign in
Join our new commenting forum
Join thought-provoking conversations, follow other Independent readers and see their replies