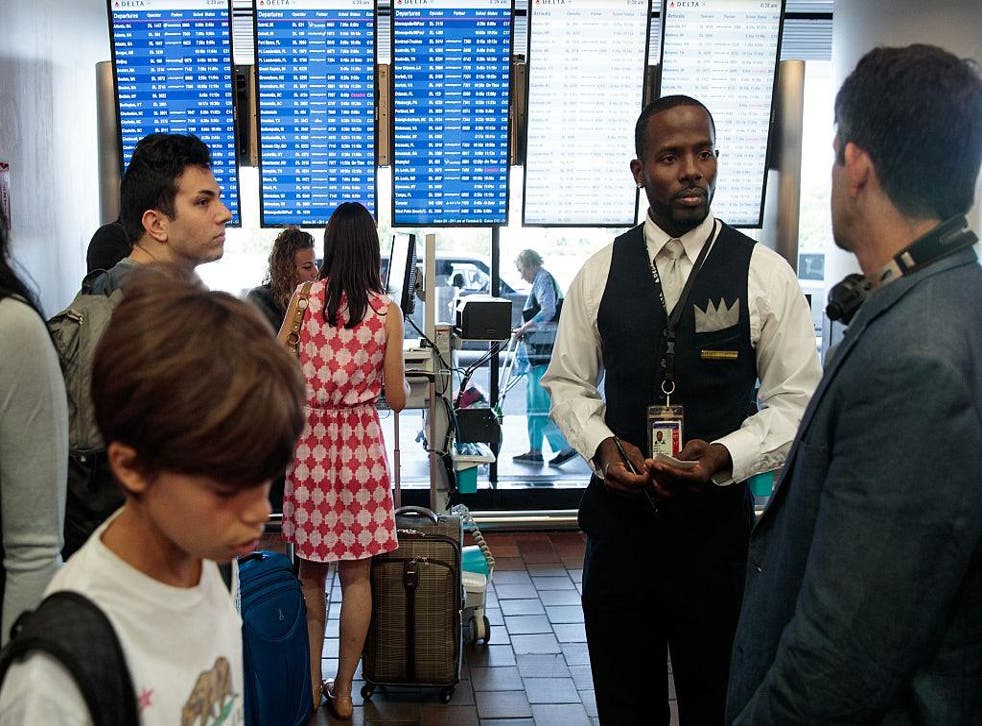 Flight compensation: Delta to offer nearly £8,000 to overbooked passengers
In the wake of the United Airlines incident in which a passenger was forcibly dragged from the plane, rival Delta has announced it will now offer compensation of nearly $10,000 for passengers 'bumped' from flights
A major US airline is offering compensation of up to $9,950 (£7,950) per person for passengers denied boarding on overbooked flights.
In a staff memo, Delta revealed that from yesterday, gate agents have been given greater flexibility to handle overbooked flights, including a bigger budget to offer passengers who give up their seats.
The decision comes in the wake of the United Airlines incident in which a paying passenger was dragged off a plane to make room for airline staff to board instead.
David Dao was knocked unconscious in the incident and may need reconstructive facial surgery, say his lawyers. The doctor from Kentucky is expected to sue the airline.
According to figures released last week, Delta 'bumped' one in 100,000 passengers last year. United, in comparison, bumped over four times as many.
A gate agent on Delta will now be able to offer up to $2,000 (£1600) to passengers willing to change their flights. Previously, they could offer $800 (£640).
Managers have even more flexibility. Instead of the previous $1,350 (£1080) limit, they can now offer up to $9,950 (£7950) per person.
Last week, one family received nearly £9,000 in compensation from Delta, after they volunteered to delay their flights.
Writing for Forbes, Laura Begley Bloom said that, flying New York to Florida during storms last week, she, her husband and their daughter were bumped three times in total, receiving $1350 a head for the first flight, $1300 for the second, and $1000 for the third.
John Walton, contributing editor at Runway Girl Network, an aviation industry news site which focuses on passenger experience, told The Independent:
"Delta's move is not just great PR for this week; it's also cost-effective.
"Every minute that a plane is delayed because gate staff have to plead for volunteers or explain involuntary denial of boarding, or that the baggage handlers have to hunt down a bumped passenger's checked bag, is real money for the airline.
"For Delta, it's also the great PR that United could have scored if its management had been paying attention. Imagine if the tweets from United flight 3411 had been 'Whoa, United just paid four people two grand so they could get their crew to tomorrow morning's Newark flight!' rather than the sight of the airline calling the cops on a 69-year-old man."
Walton thinks Delta could be the first of many.
"I can absolutely see other airlines following suit," he told The Independent.
"$2000-10000 might seem a lot if you've paid $100 for a one-way ticket – and it is! – but if you're connecting from a long-haul flight, or you're someone who won't be paid if you're not at work because your flight was delayed, it might be enough to get you to volunteer."
Register for free to continue reading
Registration is a free and easy way to support our truly independent journalism
By registering, you will also enjoy limited access to Premium articles, exclusive newsletters, commenting, and virtual events with our leading journalists
Already have an account? sign in
Register for free to continue reading
Registration is a free and easy way to support our truly independent journalism
By registering, you will also enjoy limited access to Premium articles, exclusive newsletters, commenting, and virtual events with our leading journalists
Already have an account? sign in
Join our new commenting forum
Join thought-provoking conversations, follow other Independent readers and see their replies