Delta flight skids off runway
Snowy conditions cause issues across North America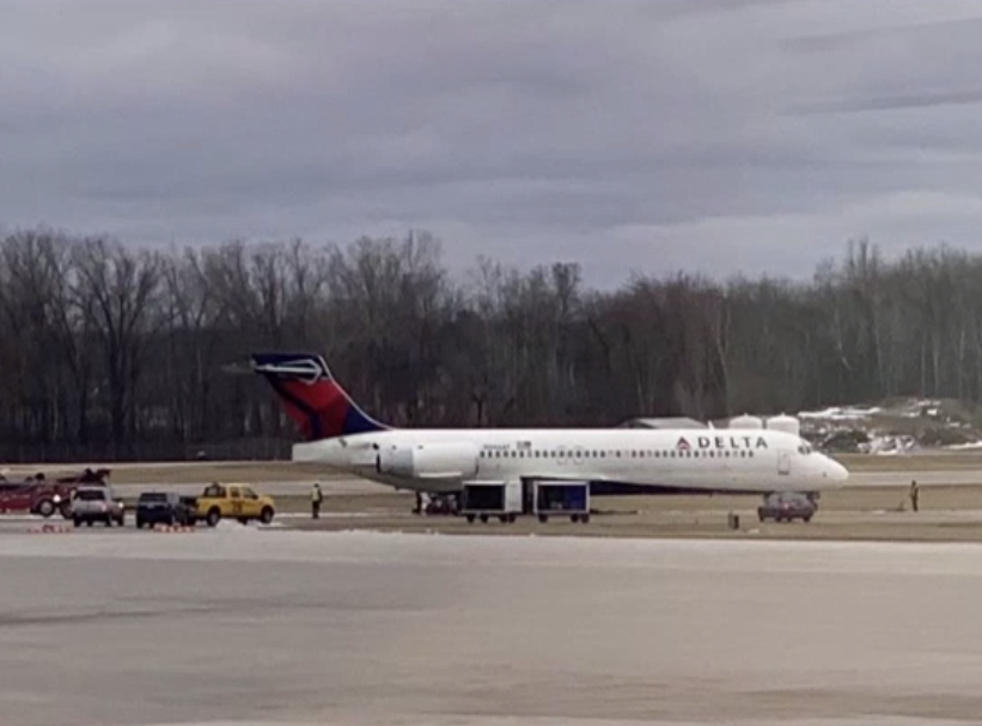 A Delta Air Lines plane skidded off the runway in Wisconsin with 107 passengers onboard.
Flight 1770 to Atlanta, Georgia, slipped before take-off, ending up partially on the grass next to the tarmac at Green Bay Austin Straubel International Airport.
While no one was injured in the incident, which occurred at around 6.15am local time on 4 January, all passengers had to deplane and board another aircraft.
"It was scary at first because people kind of jumped and screamed a bit," passenger Jake Liebergen told Wbay.
"We noticed he was going pretty fast around the corner and slid a little bit.
Winter snow around the world

Show all 11
"And out of our window we saw snow coming and before we knew it, we were right in the snow and the plane tipped."
Conditions in Green Bay were icy on Saturday morning, causing dangerous driving conditions.
"We apologise to our customers for the inconvenience and delay of Delta flight 1770," a spokesperson told The Independent.
"Our teams in Green Bay quickly worked with airport officials to safely deplane customers onto buses to be re-accommodated on an alternate aircraft."
Icy conditions are causing issues for planes across North America.
Elsewhere, a WestJet service from Toronto to Halifax in Canada also skidded off the runway after touch down.
The Boeing 737-800 slid off the end of the runway after landing on 5 January, and had to be towed back onto the tarmac before the 172 passengers onboard could be bussed to the terminal.
There were no injuries reported.
According to Aero News, strong winds prevailed, with visibility of half a mile.
Photos of the scene show the runway and surroundings covered in snow.
A WestJet spokesperson told The Independent: "WestJet flight 248 from Toronto to Halifax experienced an incident yesterday morning when it departed the end of the runway after landing normally. There were no injuries to the 172 guests and seven crew members.
"WestJet worked with Halifax airport authority to ensure guests' and crews' continued safety while they deplaned the aircraft via airstairs and were bussed to the terminal.
"WestJet apologizes to our guests for this experience and worked directly with them to ensure their comfort during the situation including providing water service while awaiting the arrival of the airstairs. Any guests who required hotel/meal/reaccommodation were also provided this as soon as possible."
.
Register for free to continue reading
Registration is a free and easy way to support our truly independent journalism
By registering, you will also enjoy limited access to Premium articles, exclusive newsletters, commenting, and virtual events with our leading journalists
Already have an account? sign in
Register for free to continue reading
Registration is a free and easy way to support our truly independent journalism
By registering, you will also enjoy limited access to Premium articles, exclusive newsletters, commenting, and virtual events with our leading journalists
Already have an account? sign in
Join our new commenting forum
Join thought-provoking conversations, follow other Independent readers and see their replies