The Independent's journalism is supported by our readers. When you purchase through links on our site, we may earn commission.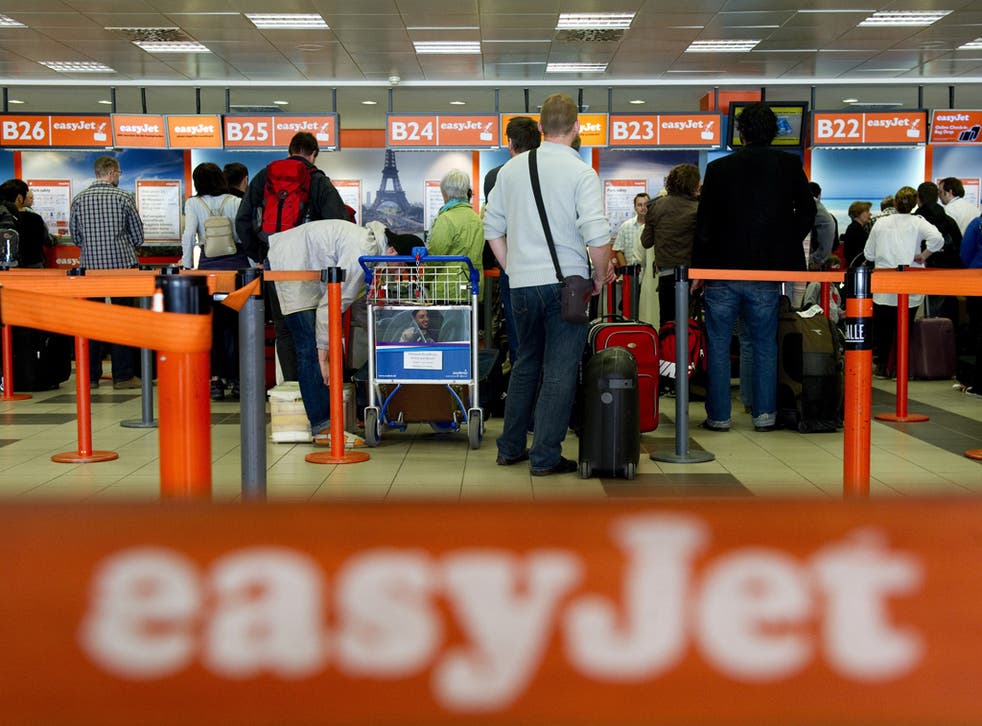 'Departuregate' and the case of budget airline cabin baggage rules
The Man Who Pays His Way
Simon Calder
Friday 01 April 2016 11:15 Comments
Budget airlines can be annoying. My two easyJet flights from Gatwick this month have each been an hour or more late. On both occasions, staff shortage was blamed - and the frustration on the more recent flight was compounded by the captain's apology "for the delay to the start of your holiday." Hang on, I muttered, some of us are working (or at least pretending to).
You might also be irritated by the way that each airline now has its own cabin baggage rules, with little in common between them: easyJet, Flybe, Monarch and Ryanair all set different limits on the number of pieces of luggage you can carry on board, their dimensions and weight. But no-one can accuse the carriers of failing to let passengers know their limits. So I don't understand why Matt Botten turned up at Gatwick for his easyJet flight apparently unaware of the rules.
You may have heard this week about how the 32-year-old from Cardiff refused to pay £45 to check in a bag on his flight to Reykjavik. Instead, he emptied the contents and put on all his clothes - including stuffing a pair of trainers in his trouser pockets.
Later, he boasted on Facebook: "'We're going to Iceland baby! And how to do it in a financially frugal manner, without having to stump up forty five bloody quid for a hold bag? Simply by wearing everything I own."
Given the fashion to append "-gate" to incidents, the event is henceforth known as Departuregate. Whatever you call it, the story is puzzling. Assuming Mr Botten booked the flight himself at easyJet.com, he would have read at the payment stage: "No hold luggage added. Pre-booking your hold luggage online is much cheaper than at the airport, and much less hassle." When I made a test booking, the cost to check in a bag was £21. And he will also have been emailed before the flight by easyJet, pointing out that he has booked no checked baggage and offering the chance to do so.
The reactions to Mr Botten's unusual behaviour has been interesting. Many travellers sided with him. They applauded his stance in refusing to pay the airline's standard fee for passengers who turn up at the airport with more baggage than agreed. A few have vowed to follow suit. That way, travel madness lies: security queues are quite long enough without waiting for the guy in front to remove his excess clothage.
Some have called for a passenger's weight to be taken into account. Each traveller would get a combined allowance of (say) 100kg - nearly 16 stone. Passengers with the good fortune to be lighter than this can make up the difference with baggage.
Unfortunately, aviation doesn't work like that. The economics of budget flying are predicated on getting bums on seats, regardless of the size of each rear. While the weight of a passenger and their bag has a tiny impact on the cost of a flight, by marginally increasing the fuel burn, that's not why bag charges were introduced. The original reason was to recognise the extra costs of loading luggage, a "user-pays" philosophy. But now the airlines see baggage as a revenue opportunity. They offer the service of carrying bags in the hold at a particular price, and you decide if you want to accept. Nothing wrong with that: if you choose not to check bags in, it takes only a few seconds to tap "easyJet cabin baggage" into a search engine and learn that you can pack everything into a single cabin bag with a maximum volume of 63 litres.
For a short break in Iceland, that looks quite sufficient to me. And unlike its rivals, easyJet has no weight limit.
The financial advantage of not checking in a bag, which Mr Botten has done so much to publicise, means that very often not all the hand luggage can be squeezed into the cabin. So passengers who reach the departure gate after a certain point may find their bag tagged and removed to be put into the hold.
Next time you plan to take sizeable cabin baggage on a budget carrier, plan ahead: have a small bag-in-a-bag that contains your valuables, any medications and other stuff you can't afford to lose. Don't put on all your clothes and leave the case behind - unless you want to make your own Departuregate scene.
Register for free to continue reading
Registration is a free and easy way to support our truly independent journalism
By registering, you will also enjoy limited access to Premium articles, exclusive newsletters, commenting, and virtual events with our leading journalists
Already have an account? sign in
Join our new commenting forum
Join thought-provoking conversations, follow other Independent readers and see their replies