Four in five disabled people feel anxious about using public transport, says study
'The frustrations and uncertainties disabled passengers face can turn what should be a straightforward journey into a nightmare'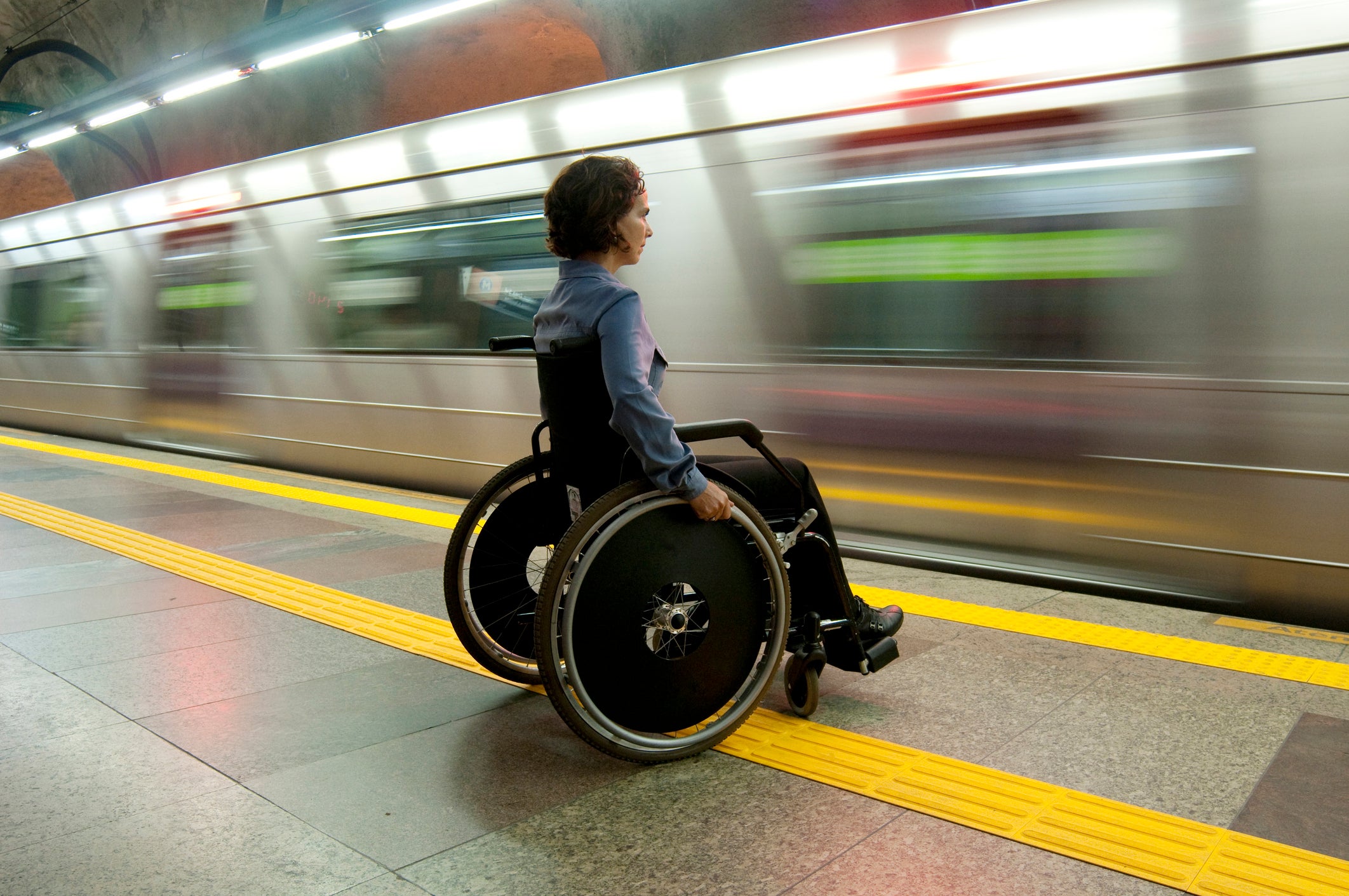 Four in five disabled people have felt anxious about using public transport, according to a wide-ranging new study about disability and travel, while three in five have felt scared.
Research from equality charity Scope shows that the majority of disabled people face problems when using public transport, with many left feeling anxious and frightened about travel.
In a nationwide survey of more than 2,000 adults, Scope found that 80 per cent of disabled people felt stressed, 79 per cent felt anxious and 56 per cent felt scared using or planning journeys on public transport.
Due to problems faced while using public transport, one in three people chose not to travel at all.
Almost half had experienced negative attitudes including nasty looks and comments, Scope found, with other issues focusing on overcrowding, problems getting off the train/bus and a lack of appropriate seating.
As a result of the study, Scope is calling for a new "passenger charter" for public transport, which would clarify what disabled passengers can expect. The charity also wants a singular transport regulator who could hold all transport providers to account.
"The frustrations and uncertainties disabled passengers face can turn what should be a straightforward journey into a nightmare," Baroness Grey-Thompson, a Crossbench peer in the House of Lords and Paralympian, said.
"I take more than 100 train journeys each year and experience first-hand the problems and inconsistencies that many disabled people face when travelling by public transport. And I hear time and time again from disabled passengers who reach out to me, having been let down by the UK's trains, buses, metro systems, taxis and trams.
"Too many disabled people are being isolated by a service which should be connecting us. If we are really serious about tackling loneliness and getting more disabled people into work, and enabling disabled people to be independent, we have to make travelling easier."
Anna Bird, executive director of strategy, impact and social change at Scope, said: "Scope welcomes the recent steps the government has taken to combat these inequalities, particularly through the Inclusive Transport Strategy. It's good that the rail regulator has also recently updated its accessibility guidance for train companies for the first time in a decade. However, progress has been slow and disabled people are still being left behind.
"It's high time that changed, so disabled passengers can travel with confidence instead of having to endure inaccessibility and the negative attitudes of other people."
A spokesperson for the Department for Transport (DfT) said: "Our transport network should be accessible to everyone, which is why we are working closely with operators to ensure services are improved and run in a genuinely inclusive way.
"Since we launched our Inclusive Transport Strategy last year, we have invested £300 million to improve disabled access at 73 stations across the country and expanded the Blue Badge parking scheme to people with non-visible conditions, such as anxiety and autism.
"However, we know there is more to do which is why we are launching a new passenger awareness campaign to ensure disabled people can travel easily and confidently."
In July, The Independent reported that two thirds of disabled rail passengers experience problems travelling by train, according to new government research.
Looking at the experiences of disabled travellers all around the UK, the DfT found that inaccessible toilets, ticket offices being closed and attitudes of other passengers all created barriers to travel.
Support free-thinking journalism and attend Independent events
The report, compiled in collaboration with Transport Focus, was based on a combination of 1,400 online survey responses, 150 face-to-face survey responses, 50 qualitative interviews, 12 expert interviews and 15 rail journeys conducted by passengers wearing a small camera to capture their experiences.
Of those surveyed, 23 per cent reported there were problems once onboard the train, with three in 10 passengers who experienced an issue citing a lack of toilets or the attitudes of others.
The Independent has reported on multiple instances of disabled passengers being failed by public transport providers.
In August, paralympian Sophie Christiansen was stranded on a South Western Railway train when guards at the station failed to turn up to help her.
In July, Quamer Khaliq, his 11-year-old daughter and his carer were abandoned following the arrival of his Thomas Cook flight into Manchester airport. The 44-year-old wheelchair user from Ashton-under-Lyne had booked a £6,000 trip to Orlando, Florida via specialist operator DisabledHolidays.com, which had requested special assistance for him, but it failed to turn up.
Join our commenting forum
Join thought-provoking conversations, follow other Independent readers and see their replies