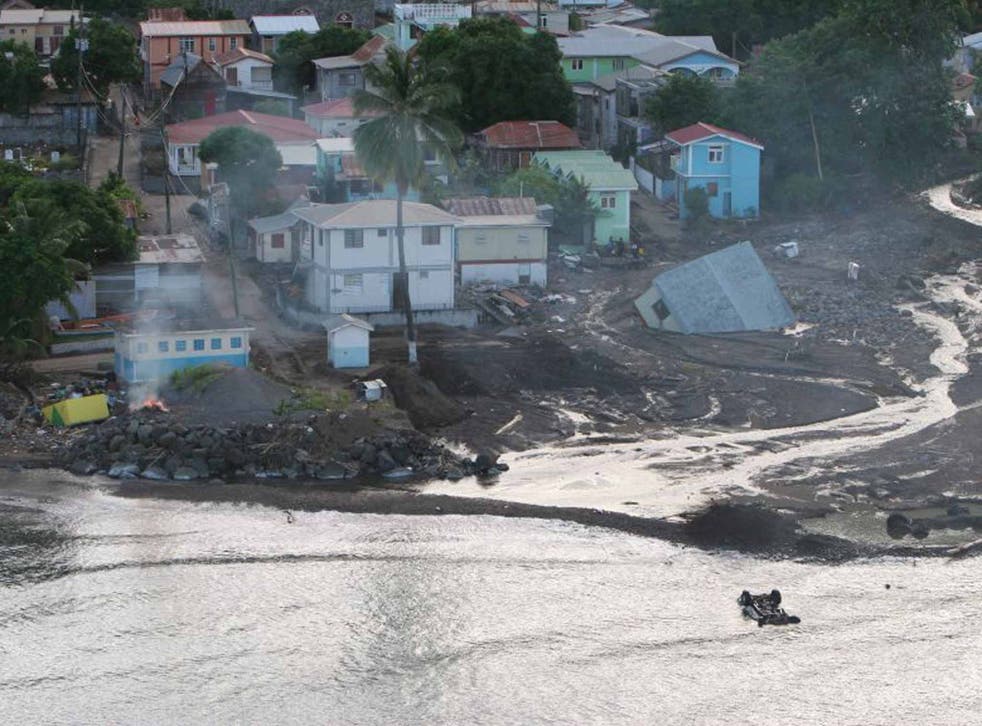 Dominica is down but not out after Erika
A very direct way of helping the people of this beautiful island is to travel there
Paul Crask
Monday 07 September 2015 10:49 Comments
The eastern Caribbean island of Dominica is generally known by few and confused by many because it's not the Dominican Republic.
No, this self-proclaimed "Nature Island of the Caribbean" sandwiched between the French islands of Guadeloupe and Martinique, is home to nine active volcanoes; countless rivers and waterfalls; swathes of rainforest; the second largest boiling lake in the world; virtually the only place where the region's first people, the Kalinago, still survive; and some of the longest, most challenging and scenic hiking trails in the Caribbean. In short, it's an amazing place.
Just over a week ago, tropical storm Erika ravaged the island. Its streams and rivers swelled into raging torrents that ripped away land, buildings and roads, and steep mountainsides became deadly landslides that engulfed homes and some of the people within them. It was a tragedy almost beyond words and in the months and years to come as Dominica gets back on its feet again, the memory of what happened in August 2015 will continue to haunt many.
With infrastructure rebuilding costs estimated to be some £150m – about half of the island's annual GDP – Dominica urgently needs aid and assistance.
Immediate aid arrived from its Caribbean island neighbours, including helicopter airlifts, medical supplies, bottled water and other essentials. Cuba sent doctors and nurses, and the crew of the Royal Navy auxiliary ship Lyme Bay is now assisting with temporary water supplies in areas that have been cut off. Aid from the rest of the developed world has so far been noticeably absent and Dominicans have been at the forefront of their own rescue and recovery. Crews have been working around the clock clearing roads of landslides, and teams have been crossing rivers and hiking mountains in attempts to reconnect remote villages.
There is a Creole phrase on Dominica known as koudmen which originates from the French coupe de main – a helping hand – and if any positives can come from this tragedy, one is that this spirit is alive and well.
But now Dominicans need koudmen to extend internationally, and a very direct way of helping the people of this beautiful island is to travel there; to explore its rainforest trails, to dive and snorkel its pristine reefs, to unwind and rejuvenate in its hot, volcanic pools.
When the dust has settled and rebuilding efforts are in full swing, Dominica's fragile tourism sector cannot be allowed to collapse in the wake of the storm. And this is why conscious, nature and adventure loving travellers must continue to go there.
Dominica has accommodation options that suit all tastes and pockets; from budget B&Bs to self-catering cottages, all the way up to luxury boutique hotels. Get to the island via Barbados, Antigua, St Lucia, Guadeloupe or Martinique. Despite storm Erika, Dominica is still amazing.
Paul Crask is a writer and Bradt Travel Guides author. He lives on Dominica (dominicatraveller.com).
Register for free to continue reading
Registration is a free and easy way to support our truly independent journalism
By registering, you will also enjoy limited access to Premium articles, exclusive newsletters, commenting, and virtual events with our leading journalists
Already have an account? sign in
Join our new commenting forum
Join thought-provoking conversations, follow other Independent readers and see their replies