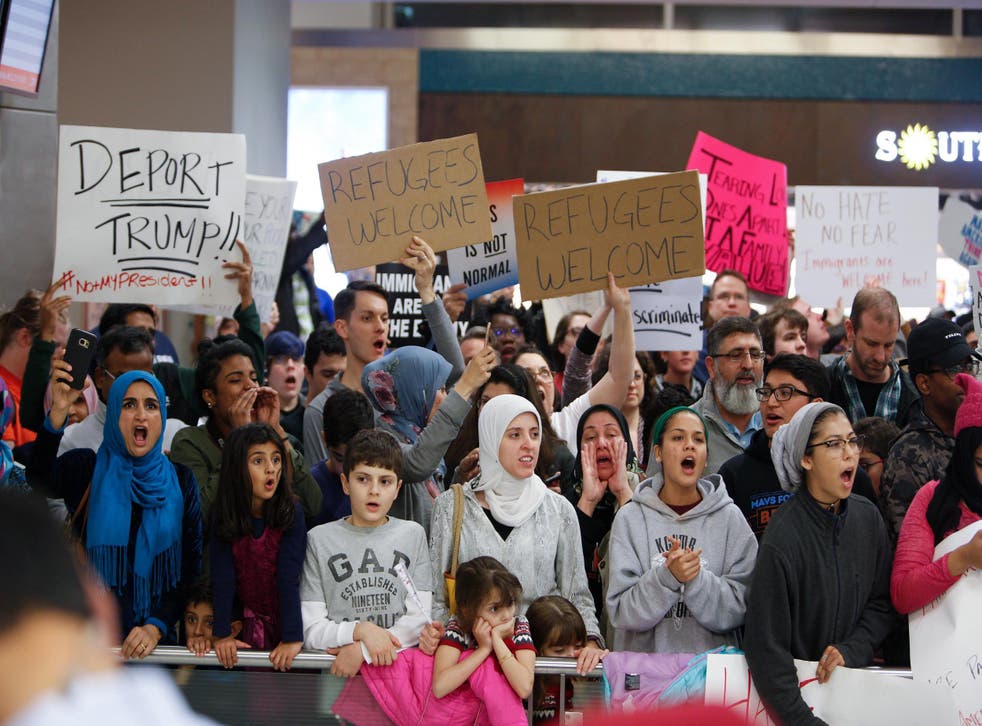 Donald Trump travel ban: New US immigration restrictions mirror Cold War-era East Germany
The Man Who Pays His Way: Ban first, ask questions later seems to be the new American way of life, says Simon Calder
Simon Calder
The Man Who Pays His Way
Thursday 23 February 2017 11:39 Comments
"The moment she said, 'Are you Juhel Miah?', and I said, 'Yes', all the members of staff, all the pupils and all the people on the plane were looking at me."
Being escorted off a plane is an alarming experience. When it happens in a foreign country in front of the people you work with, the sense of humiliation is magnified.
Juhel Miah is a maths teacher from Neath who found himself ejected from a New York-bound plane at Reykjavik airport. He told BBC Wales: "I knew everyone was looking at me thinking I'm something that I'm not."
Mr Miah was one of the teachers taking a half-term school trip to the US. Wisely, the organisers had bought Icelandair tickets via Reykjavik — much cheaper than non-stop flights. He had applied for and been granted an "Esta" — the online electronic visa for the US that most British visitors to America require.
His details, along with those of everyone else on board the Icelandair flight to JFK, had been submitted in advance to the US authorities. Their names and other data had been checked against "watch lists" of people regarded as threats to America.
Evidently no problem was identified with Mr Miah, because he was given a boarding pass for the flight. But at some point a bureaucrat flagged a possible issue and the order went through to Icelandair: that particular Boeing is not going until Juhel Miah is off the plane.
The unfortunate member of the airline's ground staff who was obliged to tell the bewildered Brit and escort him back to the terminal would not have known why. The Department of Homeland Security's motto seems to be: "Never apologise, never explain."
Unlike your credit rating, you have no right to see your security status as recorded by the many agencies in the US that take an interest in prospective visitors. But plenty of people will conclude that the reason Mr Miah was unceremoniously bundled off was because he happens to be a British Muslim.
Right now the US should be celebrating all the benefits of tourism: making connections, embracing diversity, breaking down barriers. Instead, there is an unwarranted climate of suspicion aimed squarely at Muslim travellers.
But whatever your faith, skin colour or surname, you need to be aware that you could be arbitrarily barred from America.
Certainly you should never hand over any money for flights to the US before you have applied for an Esta (via the official site rather than one of the many scam websites). Your application could be rejected for all sorts of reasons, leaving you to choose between the onerous and expensive business of applying for a full US visa, involving a visit to the Embassy in London or the Consulate in Belfast, or another destination.
Assuming you are one of the large majority of travellers granted an Esta, don't presume any entitlement to enter America – or even a US-bound plane. You must provide more details for Advance Passenger Information, which the transatlantic airline is required to collect. That could result in you being barred at the departure gate or, as Mr Miah discovered, when you are all strapped in and ready to go.
Even if you are not hauled off the plane, don't start celebrating when it takes off; when you arrive, the US border officials may not like the cut of your jib, or your use of social media, and could put you back on the plane back to Reykjavik.
America seems to be turning itself into a mirror image of East Germany, with three differences: First, it is obsessive about who comes in rather than goes out; second, the parts previously played by Cold War border guards have been outsourced to airline officials overseas; third, while an East German visa was hard to get, at least it guaranteed you entry to the DDR.
Ban first, ask questions later: welcome to the new American way of life.
Register for free to continue reading
Registration is a free and easy way to support our truly independent journalism
By registering, you will also enjoy limited access to Premium articles, exclusive newsletters, commenting, and virtual events with our leading journalists
Already have an account? sign in
Join our new commenting forum
Join thought-provoking conversations, follow other Independent readers and see their replies