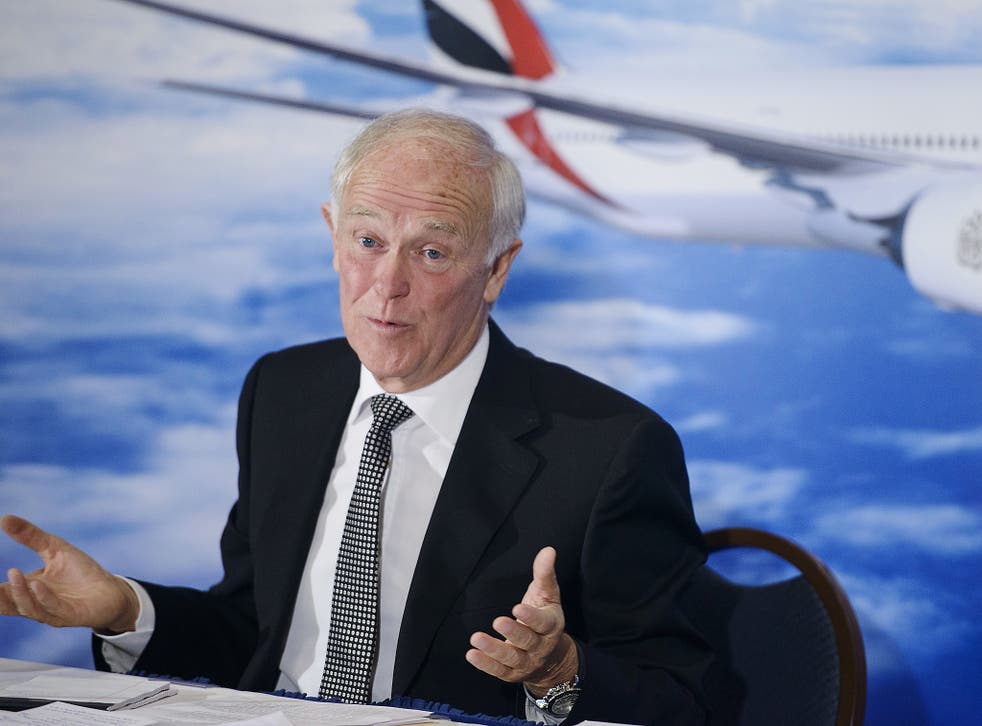 'Trump slump' is real and has made bookings fall by a third, warns Emirates boss
Exclusive: Sir Tim Clark uncertain when sales will recover as concerns over divisive 'Muslim travel ban' grow
The first confirmed effect on flight bookings to the United States since President Trump first issued a travel ban has been revealed by the boss of the giant Dubai-based airline Emirates.
Within a week of his inauguration, the new President issued a controversial executive order banning nationals from seven mainly Muslim countries from the US.
Sir Tim Clark said that travel ban triggered a immediate fall in booking rates from Dubai to the US of over one-third.
Speaking at the ITB travel fair in Berlin, Sir Tim said: "The first US travel order saw the booking velocity fall by 35 per cent overnight. The effect it had was instantaneous."
Since then, he said, bookings had regained some ground but were still not back to the predicted levels.
"When will it recapture the original booking curve is anyone's guess," he said.
Previous surveys citing a "Trump slump" have been based on online searches, rather than actual sales. Emirates has a massive presence on US routes, with at least 10 flights a day to a range of cities - including three daily A380 "Superjumbo" services to New York.
Yet at the same travel fair a day earlier, one of Sir Tim's rivals had claimed the travel ban had had no effect.
Akbar Al Baker, chief executive of Qatar Airways, told The Independent: "My business is to make sure that when I deploy my aeroplanes they are full, and that passengers are able to go in and out of the country.
"We didn't see any drop in traffic. We haven't seen any drop in demand for our flights to the United States," he said.
The average "load factor" – the proportion of seats occupied – fell by 2.6 per cent to North America, against a global increase of 0.6 per cent on February 2016. That corresponds to eight fewer passengers on a Boeing 777 typically used on routes from the UK to the US.
Last month Dara Khosrowshahi, president and chief executive of travel giant Expedia, said: "We have seen an effect on trading on a short-term basis. The weekend of the executive order, certainly we saw a negative effect on trading."
But he added: "We haven't seen any meaningful effect at this point, which is good news. We'll be watching it closely."
Officials seeking to market the city of Chicago to both domestic and foreign tourists have faced an uphill struggle after a series of tweets from President Trump.
Activists protest Donald Trump's proposed Muslim ban

Show all 11
The state of Illinois has launched an expensive ad campaign with the slogan "Are you up for Amazing?" But the spend is up against tweets from the nation's leader about the murder rate in Chicago, which Mr Trump described as "carnage".
The Canadian island of Cape Breton, part of Nova Scotia, has reported a surge in interest from American visitors since it set up the website cbiftrumpwins.com, ahead of the presidential election. Bookings rose 16 per cent, year on year. The website promises visitors: "In Cape Breton, we value diversity! Here, you can hear a number of other languages, like French and Mi'kmaq, even Gaelic! But everybody also speaks English, just like you!"
Join our new commenting forum
Join thought-provoking conversations, follow other Independent readers and see their replies