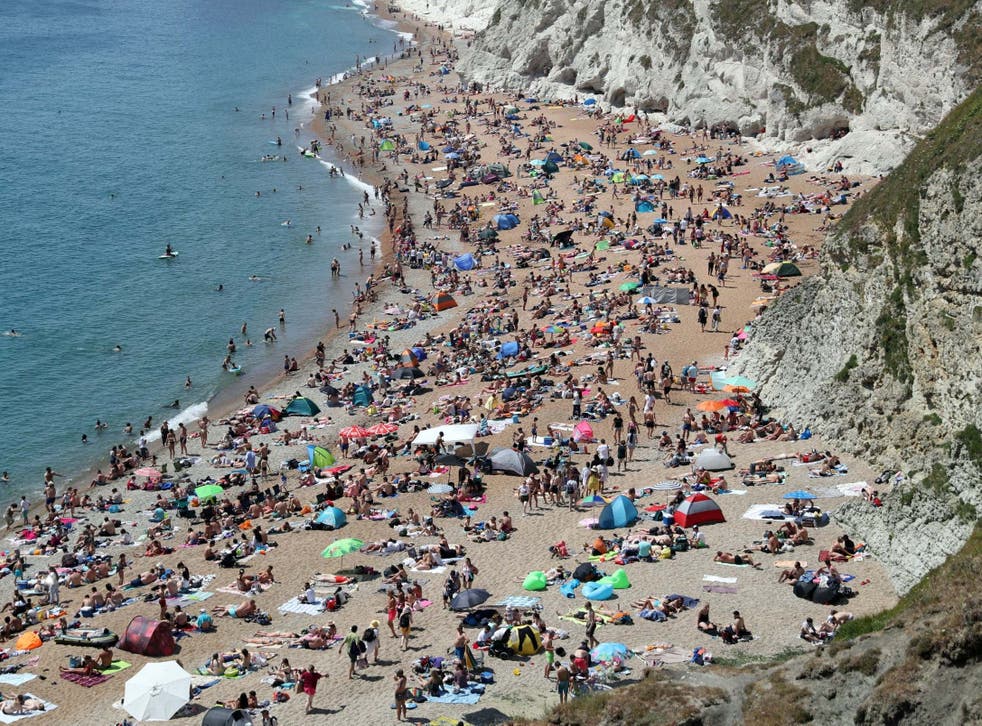 Owners of UK beauty spot complain that 'culturally diverse' tourists don't know to treat countryside
Lulworth Estate calls for countryside code after spike in daytrippers led to 'environmental degradation'
Helen Coffey
Wednesday 24 February 2021 10:56 Comments
The owners of a landmark attraction on the Dorset coast have blamed "culturally diverse" tourists for "degrading" the beauty spot last summer and have called for a new countryside code to be introduced ahead of lockdown lifting in April.
The Lulworth Estate owns Durdle Door, a natural limestone arch on the Jurassic Coast, which is one of the county's most famous attractions.
After the lifting of the first lockdown, the estate claims the area was overwhelmed with daytrippers from outside Dorset whose behaviour caused "environmental degradation that has never been experienced".
In a letter to the Government Petitions Committee, the estate pointed the finger at "the younger and more geographically and culturally diverse cohort" for leaving behind tonnes of rubbish that took weeks to clean up, including human faeces.
"These visitors were mainly on day visits from cities, not travelling a short distance but sometimes driving four or five hours for a day out at the beach. With no foreign holidays, whole cities decamped into rural Britain," reads the letter, reports the Times.
Visitors in the summer were also guilty of lighting fires, writing graffiti and fly camping, it says.
"We earnestly do not want a repeat of this for the upcoming spring and summer as delicate environments cannot sustain the level of degradation they received in 2020," said the estate.
It claimed that many of the daytrippers who would normally have gone abroad on holiday were clearly not familiar with the "leave no trace" culture of visiting the British countryside.
Dorset's police chief has warned that those try to enter the county while the "stay local" messaging remains in place will be turned away.
"We are asking people please to stay local, we don't expect people to travel into Dorset and we will be putting on patrols to monitor any travel, turning people around when they come into the county and giving people fines," said chief constable James Vaughan.
People flock to Durdle Door despite pleas to stay away from Council
"It should be really quite clear now that it's not appropriate to travel.
"I can see why people would be tempted to sneak to the beach, but we are not going to tolerate it, the public have asked us to be firmer with restriction breaches, as have the government."
Roadblocks will be set up on the Dorset border and incoming vehicles asked why their journey is essential.
Register for free to continue reading
Registration is a free and easy way to support our truly independent journalism
By registering, you will also enjoy limited access to Premium articles, exclusive newsletters, commenting, and virtual events with our leading journalists
Already have an account? sign in
Join our new commenting forum
Join thought-provoking conversations, follow other Independent readers and see their replies