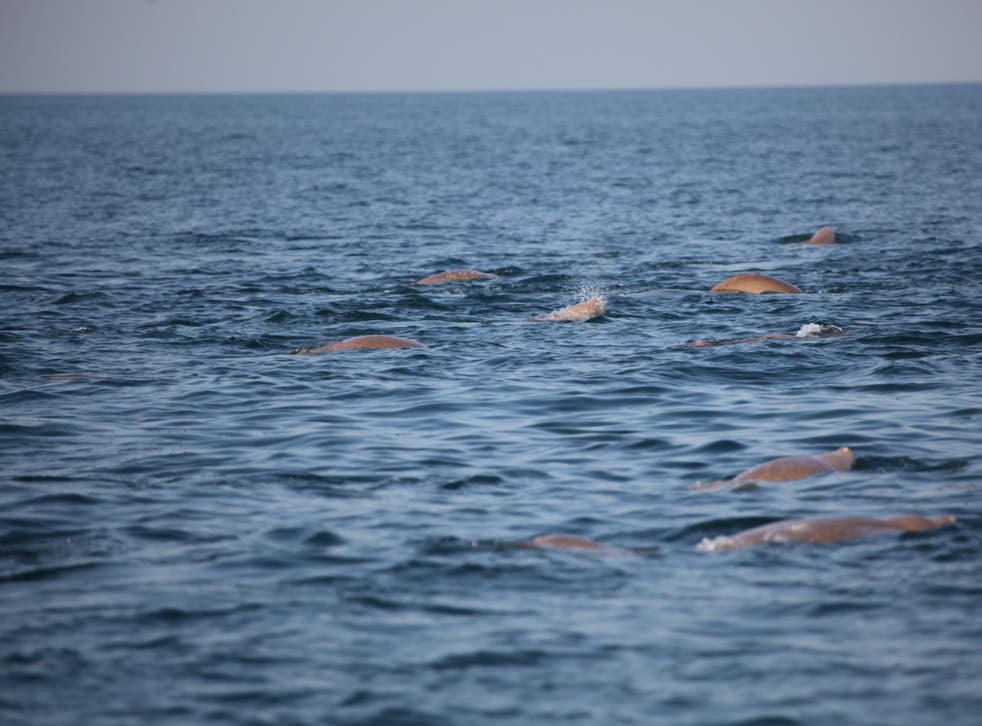 Earth Day 2021: Meet the travel brands launching schemes to protect our planet
This 22 April, companies are celebrating with initiatives that put the environment front and centre
Leer en Español
As the world celebrates Earth Day 2021 on 22 April, the travel industry is sitting up and taking notice.
The annual event commemorating the need to protect the environment was first held in 1970; 51 years later, our planet is under threat as much as ever.
And this year, travel and tourism brands are getting in on the action too, with a number of schemes and initiatives launched to celebrate sustainability. Here are some of the best.
Qatar: Protecting sea cows
To coordinate with Earth Day, Qatar National Tourism Council (QNTC) announced it would be celebrating the country's conservation work to protect its local population of dugongs, otherwise known as sea cows.
These aquatic mammals are the subject of an upcoming exhibition, "Seagrass Tales, Dugongs Trails" at the National Museum of Qatar, where visitors will be able to learn more about the sea cows' history, the threats they face and what can be done to protect them.
Dugongs in the Arabian Gulf can be found in unusually large herds of up to 840, and research into what makes Qatari waters so attractive to them is ongoing.
Pellicano Hotels: Responsible luxury
Italian luxury group Pellicano Hotels has coincided the launch of its latest sustainability vision, Il Dolce Far Bene, with this year's Earth Day.
The new programme has been designed to "create a more responsible and slow way of travel", allowing guests to immerse themselves in sustainable luxury and create a positive impact within local communities.
The Independent's climate change front pages

Show all 15
In the next few months, the group will set out its measurable targets for the future, including electric car charging stations, "Meat free Monday" restaurant initiatives, Clean the World Soap recycling initiatives, reusable bottles and plastic reduction methods. It also plans to partner with ocean conservation NGO, Marevivo, to promote and protect the biodiversity of Italian seas and coasts.
Preferred Hotel Group: Points for good
In honour of Earth Day, Preferred Hotel Group – which operates Preferred Hotels and Resorts and the newly launched Beyond Green – is introducing I Prefer Points for Good, a new way for travellers to give back to the planet by donating points they have earned through membership in the brand's rewards programme.
The initiative allows I Prefer members to donate their points at cash value to the Ocean Heroes Network, a global non-profit organisation that supports the potential of emerging youth leaders by equipping them with the tools to transform their passion for ocean health into meaningful careers.
From 22-30 April, members can log on to their personal profiles via IPrefer.com to redeem and donate points in increments of $5, $10, and $20, with all proceeds going directly to the Ocean Heroes Network.
Exodus Travels: Train trips galore
Tying in with Earth Day's 2021 theme of Restore Our Earth, Exodus Travels is expanding its train travel offering. The move will mean that one-third of all Exodus Travels' holidays can now be booked without any flights.
Where longer rail journeys are required, such as for travelling to the Amalfi Coast, Exodus Travels will arrange hotel accommodation near to the railway station and allow for time to enjoy an overnight stay.
Kasia Morgan, head of sustainability at Exodus Travels said: "We already offer train travel to our self-guided trips, but we're delighted to be expanding this offering by launching a rail option for a number of our European small group adventures. The past year has given our customers time to consider both the benefits and impacts that tourism can have and has put sustainable travel at the very forefront of many people's priorities."
Contiki: Climate action plan
In celebration of Earth Day, Contiki announced it aims to achieve carbon neutrality by 2022 as part of its new five-point Climate Action Plan. The plan also lays out a commitment to investing $100,000 in the development of carbon removal projects, and to transitioning to a low-carbon future.
Contiki will reduce emissions as much as possible by mid-2022, and offset unavoidable emissions by partnering with offset provider, South Pole, investing in carbon credits from a combination of three meaningful carbon offset projects.
The brand has also appointed a new Sustainability Officer to drive plans forward.
Currensea: Plastic removal
On Earth Day, Currensea – the UK's first Direct Debit travel card that links directly with your high street bank – is starting a partnership with Plastic Bank that will enable customers to use their Currensea savings to remove plastic from the ocean.
The company is also announcing that it will remove 2.5 times the amount of plastic it produces every year from the world's oceans.
Intrepid: Decarbonising travel
Travel's biggest B Corp, Intrepid, has adapted its top 50 trips in an effort to make its itineraries more climate-friendly. For example, it has swapped planes for trains in many of its trips, and has committed to removing flights of 90 minutes or less from its top 50 tours by the end of next year.
On a trip from Beijing to Hong Kong, Intrepid has swapped out internal flights for scenic high-speed trains; while on a Cambodia trip, the short flight between capital Phnom Penh and Siem Reap has been replaced by a boat trip.
Register for free to continue reading
Registration is a free and easy way to support our truly independent journalism
By registering, you will also enjoy limited access to Premium articles, exclusive newsletters, commenting, and virtual events with our leading journalists
Already have an account? sign in
Register for free to continue reading
Registration is a free and easy way to support our truly independent journalism
By registering, you will also enjoy limited access to Premium articles, exclusive newsletters, commenting, and virtual events with our leading journalists
Already have an account? sign in
Join our new commenting forum
Join thought-provoking conversations, follow other Independent readers and see their replies