East Midlands joins Europe's airport premier league
Exclusive: analysis of Eurocontrol flight data shows the small Leicestershire airport ahead of Madrid, Rome and Munich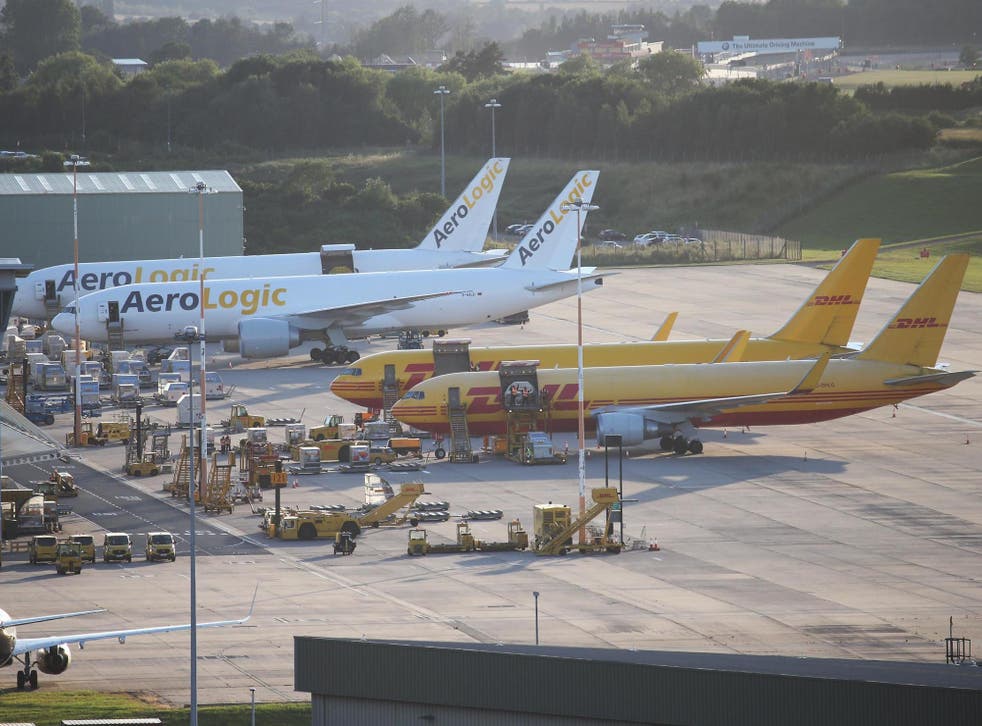 A small Leicestershire airport that last year ranked only 13th in the UK in passenger numbers has now joined Frankfurt, Heathrow and Paris CDG in the European top 10 for flight movements.
Figures released by Eurocontrol, the Brussels-based air-navigation authority, show that East Midlands airport joined the premier league with 99 arrivals and departures on Thursday. The figure put it ahead of key European hubs including Madrid, Rome and Munich.
East Midlands handles a significant number of cargo flights, and has seen the number of aircraft movements drop by only 54 per cent – compared with a Europe-wide average of 91 per cent.
Heathrow airport has lost its perennial place as Europe's busiest to Frankfurt.
The German airport handled 229 flights on Thursday, compared with only 184 at the London airport.
Third place is taken by Leipzig, another key freight hub. It is the only airport to lose fewer than half its flights compared with the same day in 2019. With a 28 per cent decline, the east German hub handled 78 flights on Thursday.
Paris CDG, Cologne-Bonn and Amsterdam take fourth, fifth and sixth place respectively.
Norway features in seventh and eighth position. Bergen and Oslo are handling passenger flights to several domestic destinations, as well as international operations to Germany and Qatar.
Istanbul's new multibillion-dollar airport takes ninth place, with just five flights more than East Midlands.
"EMA" is part of Manchester Airports Group (MAG), which also owns London Stansted.
Karen Smart, managing director of East Midlands, said: "The airport is a vital lifeline for businesses that need to get products to market quickly, the NHS frontline, and those R&D companies that are working flat out to develop new medicines which can help combat crippling viruses such as Covid-19.
"We are still open for business 24 hours a day and so the role we play in the coming weeks and months will only step up a gear as EMA and our onsite logistics partners act as the gateway to the UK for essential goods."
Of the three airports in MAG, Manchester and Stansted are normally way ahead – third- and fourth-busiest in the UK, behind only Heathrow and Gatwick.
In 2019, Manchester was 19th busiest in Europe by passenger numbers, while Stansted was 23rd. Now Stansted has moved up to 20th, with 65 flights on Thursday, while Manchester has dropped out of the top 40 altogether – along with Gatwick, which is currently open only for eight hours a day.
Among leading European airports that remain in the top 40, the most precipitous decline has been at Barcelona and Copenhagen. Both have seen a 95 per cent reduction in arrivals and departures.
Register for free to continue reading
Registration is a free and easy way to support our truly independent journalism
By registering, you will also enjoy limited access to Premium articles, exclusive newsletters, commenting, and virtual events with our leading journalists
Already have an account? sign in
Register for free to continue reading
Registration is a free and easy way to support our truly independent journalism
By registering, you will also enjoy limited access to Premium articles, exclusive newsletters, commenting, and virtual events with our leading journalists
Already have an account? sign in
Join our new commenting forum
Join thought-provoking conversations, follow other Independent readers and see their replies