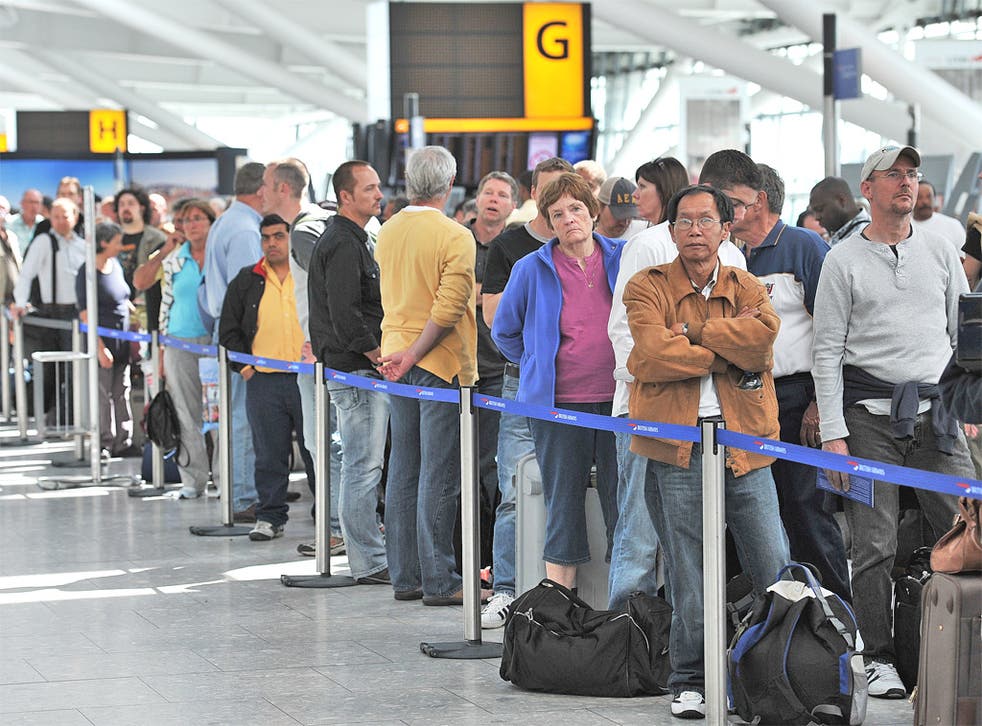 Easter holidays: French air-traffic controllers' strike threatens British families' return to the UK
Every day thousands of people are booked to travel through France's capital
Simon Calder
Sunday 05 April 2015 22:39 Comments
Thousands of British families flying home from Easter holidays face disruption later this week because of industrial action by French air-traffic controllers belonging to the SNCTA union.
Controllers will strike on nine days between next Wednesday and 2 May, starting with a 48-hour stoppage.
A spokesman for Britain's biggest budget airline, easyJet, told The Independent: "Like all airlines flying to and from France, we expect significant impact to our flights during this period, including cancellations."
If the strike goes ahead, the French Civil Aviation Authority will assess how much capacity non-striking controllers can handle. By Tuesday afternoon airlines will be told to cancel a proportion of planned flights to, from or over France.
French airspace is the busiest in Europe, with an average of 8,000 flights a day.
During previous strikes, around half of planned movements have been hit - representing several hundred flights to and from Britain.
The hardest-hit airline will be Air France, whose main base is at Paris Charles de Gaulle - the second-biggest hub in Europe, after Heathrow. Every day, thousands of British travellers are booked to transfer through the French capital.
Many passengers who are simply intending to fly over France face disruption. From UK airports, the most direct routes to a wide range of southern European destinations pass through French airspace.
From London's airports, the most direct tracks to Athens and Dubrovnik in the east and Santiago and Lisbon in the west normally go through French airspace.
Some flights can relatively easily be diverted to avoid France, but that adds to pressure on nearby countries' airspace and increases journey times and fuel consumption.
For many destinations in Spain - the most popular holiday destination for British travellers - routes avoiding France can add an hour or more to journey times, with resulting knock-on delays.
Until the scale of the disruption becomes clear, passengers are not being allowed to amend or cancel journey plans without penalty. Airlines are set to lose millions of pounds as a result of the strike, and are unwilling to surrender ticket revenue until the impact of the stoppage becomes clear.
Europe's leading no-frills airline, Ryanair said: "Customers will be advised of any changes to our schedule in the event of this threatened industrial action proceeding."
Passengers with easyJet booked for Wednesday and Thursday are advised to check the status of their flights online before going to the airport. The carrier flies to Paris from seven UK airports - Belfast, Bristol, Edinburgh, Glasgow, Liverpool, Luton and Gatwick - and serves 13 other French cities from Britain. A spokesman said: "Although this is outside of our control, easyJet would like to apologise to its customers for any inconvenience caused."
*** Travellers in the Scottish highlands and islands could face problems this week because of a 48-hour strike by security staff at airports such as Inverness, Wick and Stornoway. Members of the Prospect union are in a dispute over pay. Highlands and Islands Airports Ltd (HIAL) said it was "continuing its dialogue with Prospect," but if the strike goes ahead will seek to maintain operations as close as possible to normal.
Register for free to continue reading
Registration is a free and easy way to support our truly independent journalism
By registering, you will also enjoy limited access to Premium articles, exclusive newsletters, commenting, and virtual events with our leading journalists
Already have an account? sign in
Join our new commenting forum
Join thought-provoking conversations, follow other Independent readers and see their replies