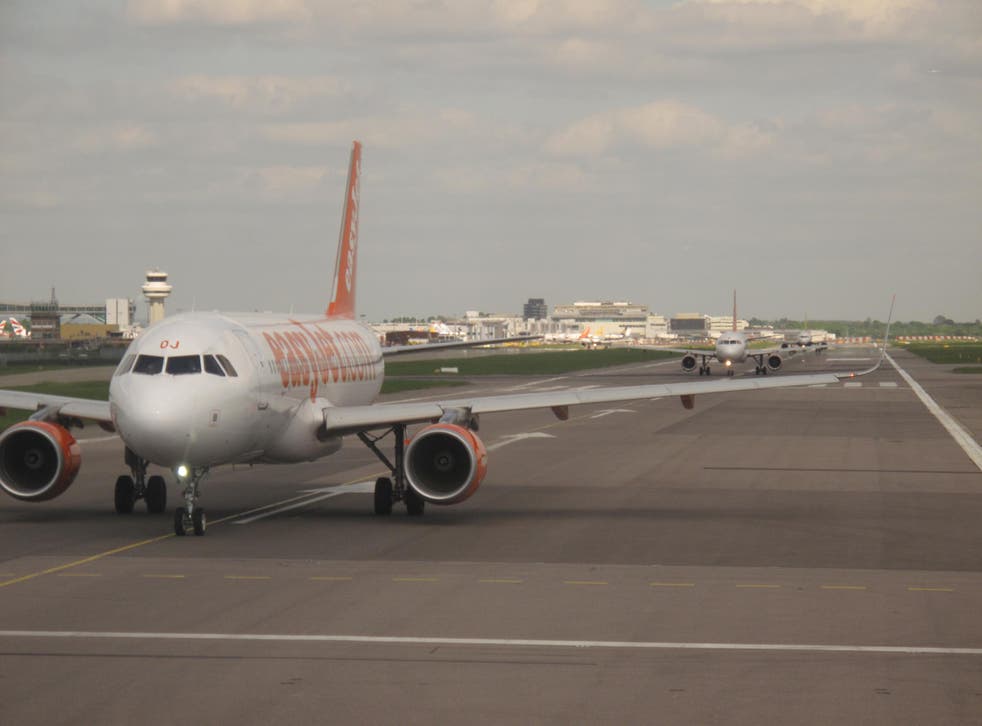 easyJet plane takes off with empty seats after passengers were removed against their will
Exclusive: Airline says it will 'put measures in place to ensure this does not happen again'
Britain's biggest airline has once again offloaded passengers against their will. Nearly 30 people were turned away from easyJet's Glasgow-Luton service last Sunday afternoon, 18 June. The plane then took off with empty seats.
The airline insists that it followed the correct procedures by asking for volunteers to travel on a later departure, rejecting claims by passengers that they were selected for offloading even before they reached the airport.
The flight was easyJet 74 from Glasgow to Luton on Sunday afternoon, 18 June. Because of a technical issue, the Airbus A320 plane scheduled to operate the flight was replaced with a smaller A319 aircraft, with 30 fewer seats. "As a result of this some passengers were unfortunately unable to travel on the flight," said a spokesperson for easyJet.
European passenger-rights rules stipulate that volunteers must be sought, with inducements offered to travel on a later flight.
Joe Bond, from Brighton, was in a group of 12 people who were booked on the flight after his grandmother's 90th birthday celebration in Glasgow. They arrived with an hour to spare for the return flight.
"As the queue formed, my name, and those of my girlfriend, cousin and a few other people, were announced on the public address system and told that the plane had been downgraded and we would not be allowed to board," he said.
"The rest of my family was in the queue and many people looked on at us bewildered. We were told they couldn't let us know earlier because of the way we had checked in, and that the way we had checked in was the reason we had been selected."
Family kicked off Jetblue flight because of birthday cake
After previous overbooking episodes, easyJet has confirmed to The Independent that, in the event of passengers needing to be denied boarding, the last people to check in will be turned away.
Mr Bond said: "At no time were we or anyone else asked to volunteer to take a later flight. On the plane my stepfather spoke to other passengers who said they were unaware that anyone else had been asked to volunteer their seats."
His stepfather said: "I checked with the whole family, and the girl next to me and the couple behind me. No one was asked. But one passenger had been told that people would not be flying, but that they were all right!"
The airline maintains the family is mistaken. A spokesperson said: "We asked for volunteers to offload at bag drop and at the gate in return for compensation."
It then became clear that there were still empty seats on the plane. Mr Bond said: "I repeatedly and politely asked the staff to put my cousin on the plane at least."
The staff declined the request, and the aircraft took off with two empty seats.
After an airline offloads passengers against their will, it is required immediately to inform them of their legal rights to compensation, to re-book them on the next available flight and to pay compensation – in the case of the Glasgow-Luton flight, of €250.
Mr Bond said: "I asked for a document explaining our rights and staff had to run off and get them.
"We were told we'd be on a flight to Gatwick at 9.10pm and would then be transferred to Luton. Any attempt to arrange a more convenient form of transport was shut down. There were earlier flights to Stansted on easyJet and Heathrow on British Airways, but no attempt was made to get us on any of these.
"I asked what form of transport would await us at Gatwick. They said, 'It could be a Ferrari, a train, or a coach, I don't know.' Eventually, and after a very stressful hour or so, our addresses were taken and we were promised taxis to get us home at the other end."
The later flight was delayed by 80 minutes, and Mr Bond's cousin's luggage was not loaded on to the plane.
Travelling with the laptop ban: step by step

Show all 7
Mr Bond and his family reached home at 3am, more than nine hours after they had been turned away from their flight.
The easyJet spokesperson said: "We provided passengers who didn't travel with alternative flights to London on the same day and we will be providing them with compensation of €250 each.
"We are investigating why the aircraft departed with two empty seats as this should not have happened and we'll look to put measures in place to ensure this does not happen again.
"easyJet would like to sincerely apologise for the inconvenience caused."
In April, the airline ordered two Londoners to leave a plane to Italy, after it sold more tickets than there were seats available.
Join our new commenting forum
Join thought-provoking conversations, follow other Independent readers and see their replies