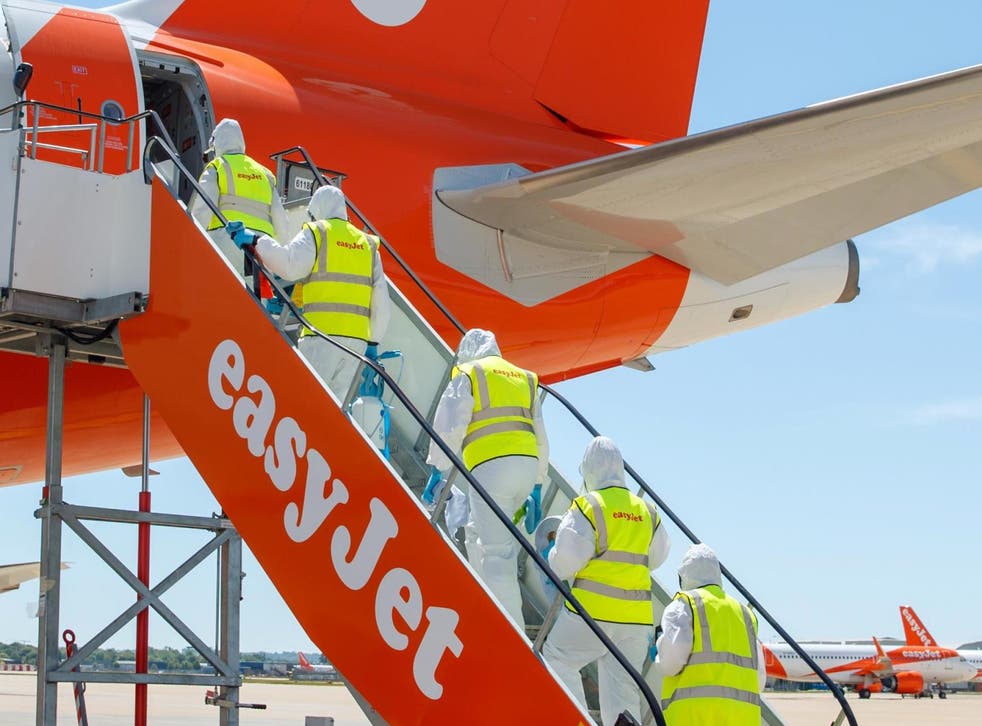 EasyJet to resume flying on 15 June
'These are small and carefully planned steps that we are taking to resume operations,' said the easyJet CEO, Johan Lundgren
Simon Calder
Travel Correspondent
Thursday 21 May 2020 08:55 Comments
Britain's biggest budget airline has announced it will resume operations on 15 June – with new biosecurity measures to reduce risks to passengers.
EasyJet grounded its entire fleet in mid-March. The airline says it will operate a much-reduced network of mainly domestic flights from the mid-June date when many intra-EU barriers are due to be removed.
The airline is starting only routes where it believes "there is sufficient customer demand to support profitable flying".
Ten of the 21 European airports are in the UK: Belfast International, Birmingham, Bristol, Edinburgh, Gatwick, Glasgow, Inverness, the Isle of Man, Liverpool and Newcastle.
Key Continental locations include seven French airports: Bordeaux, Lille, Lyon, Nantes, Nice, Paris CDG and Toulouse.
Barcelona, Geneva and the two biggest Portuguese cities, Lisbon and Porto will also be served.
Notable omissions are Luton – where the airline is based – and Manchester.
Services are much less frequent, and flights more expensive, than usual.
On the first day of resumption, there is only one flight on easyJet's prime UK domestic link between Edinburgh and London Gatwick instead of at least five.
The one-way fare is £93 – which is about twice the usual fare when booking 25 days ahead.
Between Bristol and Belfast, a flight on 15 June is priced at £88.
From 1 July, though, a much wider range of flights will be available, and fares are lower. From Luton to Belfast on the first day of the month, three departures are available at one-way fares between £23 and £25.
Manchester also re-joins the network on that day, with three flights to Amsterdam starting at £21 one-way.
The airline is introducing a requirement for passengers and crew to wear masks, and says it will enhance aircraft cleaning and disinfection procedures.
Initially, there will be no onboard food service.
Getting planes ready for service was expected to take around two weeks. But the airline says: "During the lockdown period the fleet has been grounded the aircraft have been maintained in a flight-ready condition to enable the airline to resume flights quickly at the right time."
The easyJet chief executive, Johan Lundgren, said: "These are small and carefully planned steps that we are taking to resume operations.
"We will continue to closely monitor the situation across Europe so that when more restrictions are lifted the schedule will continue to build over time to match demand."
Ryanair and British Airways have continued to fly throughout the coronavirus pandemic, though at a much-reduced scale.
Both of easyJet's big rivals plan to re-start operations at scale in July, though UK government quarantine plans may affect those decisions.
Register for free to continue reading
Registration is a free and easy way to support our truly independent journalism
By registering, you will also enjoy limited access to Premium articles, exclusive newsletters, commenting, and virtual events with our leading journalists
Already have an account? sign in
Join our new commenting forum
Join thought-provoking conversations, follow other Independent readers and see their replies