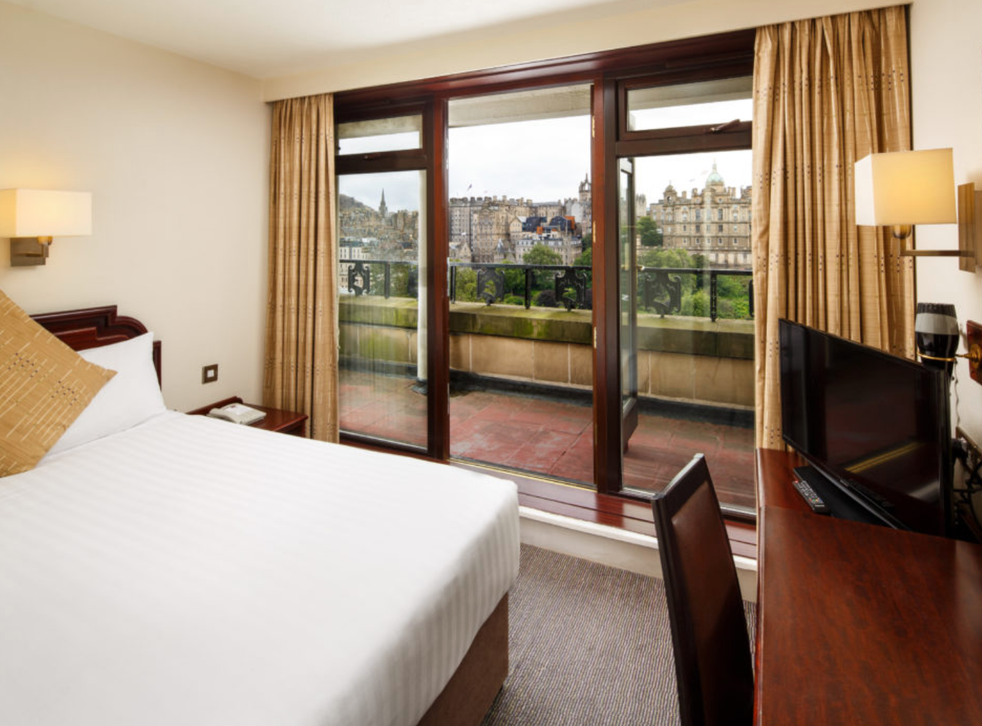 Edinburgh hotel removes 'Scots only' stipulation
Exclusive: The Mercure Princes Street is now open to all UK residents
An Edinburgh hotel that said it would accept bookings for leisure stays only from Scottish residents has now changed its message, saying the original restriction was a mistake. The Mercure in Princes Street has confirmed it is now open to all UK residents.
Since Monday, 26 April, travellers from other UK nations are permitted to visit Scotland for non-essential purposes; in practice, this means visitors from England and Wales, because Northern Ireland residents are not yet allowed to travel for leisure.
Visitors to Scotland cannot stay overnight with friends or family, but they are permitted to stay in hotels: it is the first of the UK nations to allow them to open.
Yet after the resumption of tourism, one Edinburgh hotel – the Mercure on Princes Street – said only people who live in Scotland would be allowed to stay if they were travelling for leisure.
The front page of the hotel's website warned: "Our hotel will be accepting bookings from leisure guests who live in Scotland only!"
The property describes itself as "the most centrally located Edinburgh hotel". But initially it looked as though only Scottish guests would be able to enjoy the promised "comfortable, stylish and newly refurbished surroundings" as well as "panoramic views of Edinburgh Castle, Old Town and Princes Street Gardens".
After The Independent asked about the ban on non-Scottish residents, the Mercure changed the statement on the website.
The hotel now states: "In line with the Scottish government's current guidelines, our hotel is now open to leisure bookings from guests living in Scotland, England, Wales, Northern Ireland and some parts of the Common Travel Area" (the grouping that includes the Channel Islands, Isle of Man and Ireland).
A spokesperson for the hotel told The Independent: "We're aware that an incorrect message was displayed on our website. This has now been updated and we apologise for any confusion. We look forward to welcoming guests in Edinburgh."
The error highlights the sheer complexity of restrictions across the four nations of the UK.
From 26 April Scotland opened its borders to the rest of the UK for non-essential travel. As the whole nation became "Level 3" – down from "Level 4" on the mainland – hotels were permitted to reopen to leisure guests.
Restrictions on journeys within mainland Scotland have been lifted, allowing domestic tourism to resume. Tourist accommodation of all kinds can reopen, making Scotland the first part of the UK where it is possible to stay in a hotel, B&B or hostel that has other guests.
Scottish cafes, pubs and restaurants are able to serve meals and drinks outside, with food indoors without alcohol to 8pm – though travellers from England have been warned by Scotland's national clinical director not to cross the border to Scotland to take advantage of the limited opening of indoor hospitality.
With museums and galleries also able to open, Scotland is the one UK nation where something approaching a normal holiday is feasible.
City hotels have been particularly hard hit by the coronavirus pandemic, with nothing like the surge in bookings that countryside and coastal properties are enjoying.
Join our new commenting forum
Join thought-provoking conversations, follow other Independent readers and see their replies