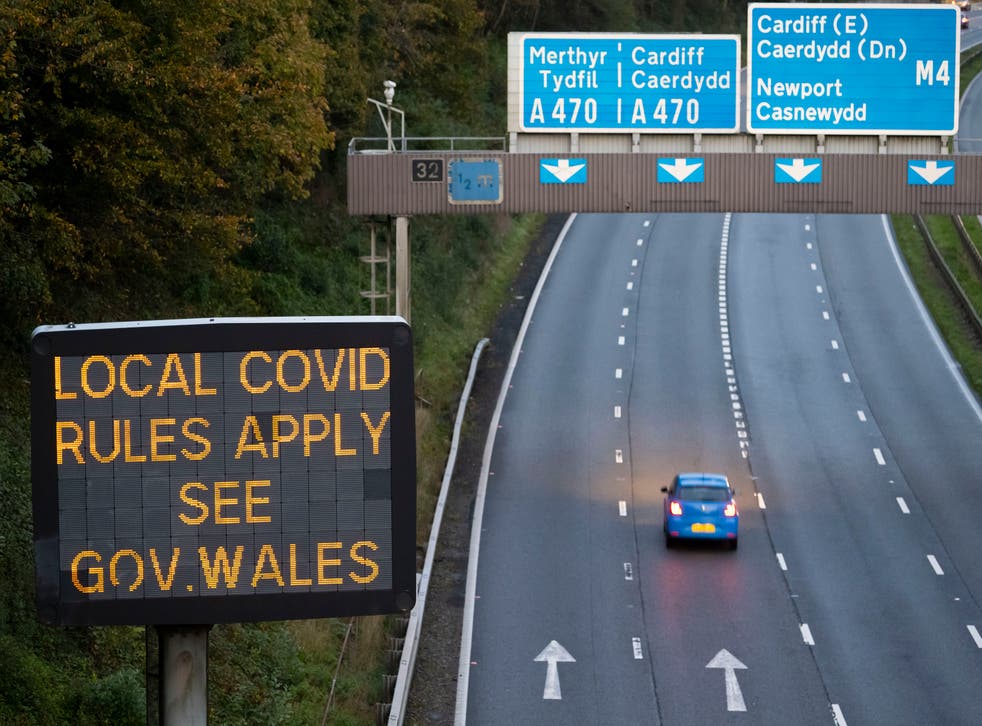 English family escorted out of Wales by police
They were found to have travelled for more than five hours for 'non-essential' reasons
An English family was "escorted" out of Wales by police after they were found to have travelled into the country without a valid reason.
The family from Sussex was stopped on the A40 near Whitland in Carmarthenshire by officers from Dyfed-Powys police force.
The incident occurred in the early hours of Friday morning, police tweeted, after the family had been travelling for more than five hours.
They had flouted the rule banning residents from the rest of the UK from travelling into Wales without an essential reason, according to police, who said the family was "suitably advised and escorted" back over the border.
New travel restrictions to try and stem the spread of coronavirus were introduced on 16 October, stipulating that Wales was out-of-bounds to visitors from UK Covid hotspots.
These included all of Northern Ireland, England's tier two and three areas and Scotland's central belt.
However, since then the rules have been tightened further, with all visitors banned while Wales implements a two-week "firebreak" lockdown.
This is running from Friday 23 October until 12.01am on Monday 9 November 2020.
The Welsh government has stated that those from outside the country cannot enter to go on holiday or visit family and friends during this period.
"Travel in to Wales is limited to essential travel only during the firebreak period, for example travelling for work purposes or to return home," reads the advice.
"People travelling from an exempt county or territory need a reasonable excuse to enter and remain in Wales and must follow the firebreak regulations."
Non-essential travel within Wales is also off the table, with "essential" reasons including "caring responsibilities or for work purposes where people cannot work from home".
During the lockdown, people in Wales have been instructed to stay at home except for "very limited purposes".
All bars, restaurants and non-essential shops have had to close.
North Wales police previously said they would be "proactive" in cracking down on rulebreakers, while the head of the Police Federation in Wales warned the rules could be "unenforceable".
Register for free to continue reading
Registration is a free and easy way to support our truly independent journalism
By registering, you will also enjoy limited access to Premium articles, exclusive newsletters, commenting, and virtual events with our leading journalists
Already have an account? sign in
Register for free to continue reading
Registration is a free and easy way to support our truly independent journalism
By registering, you will also enjoy limited access to Premium articles, exclusive newsletters, commenting, and virtual events with our leading journalists
Already have an account? sign in
Join our new commenting forum
Join thought-provoking conversations, follow other Independent readers and see their replies