Ethiopian Airlines operates first all-female flight crew in Africa
Pilots, cabin crew and flight dispatchers were all women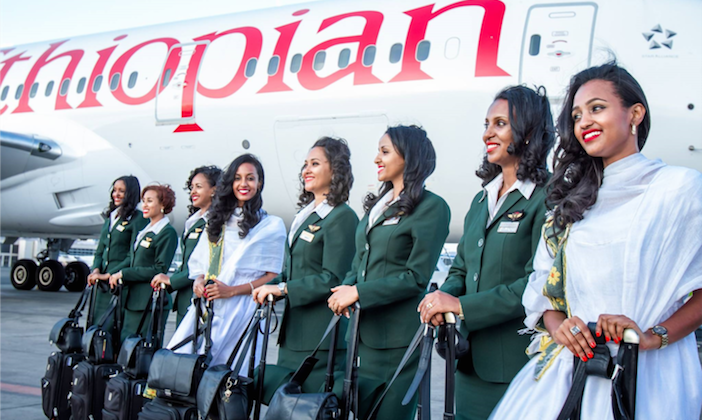 Ethiopian Airlines operated its first ever domestic flight within Africa to be staffed by an all-female crew on 16 December.
The flight from Addis Ababa in Ethiopia to Lagos in Nigeria was (wo)manned entirely by women, from pilots to cabin crew, check-in staff to flight dispatchers on the ground, reports This Is Africa.
The Boeing 777 made the journey in five and a half hours, and was part of a push to encourage African women to consider pursuing careers in aviation, an industry that is currently dominated by men.
It's not the first time the airline has intentionally used an all-female crew – in 2015 it did the same on an international flight to Bangkok, Thailand.
The same female Captain, Amsale Gualu, piloted both flights, saying: "This flight shows us that if women get equal opportunities and work hard, I'm sure they can achieve whatever they want in all fields including the aviation industry."
An Ethiopian Airlines spokesperson said: "This is an ample opportunity to inspire young African female students to believe in their dreams and embark to fill the skill gap for Aviation professionals. Women are the continent's greatest untapped resources, and hereby fully dedicated to ensuring the increased number of women in decision-making positions on top of key operational areas by consistently grooming and mentoring successor female employees for top managerial, technical and operational positions."
Indian woman Anny Divya becomes first world's female captain of a Boeing 777
Around a third of Ethiopian Airlines employees are women; however, they are more often than not flight attendants and check-in staff rather than pilots and technicians.
The most recent example also wasn't the first domestic African flight to feature solely female crew members, with Malawi Air using an all-women crew on a journey from Blantyre, Malawi, to Dar-es-Salaam in Tanzania in March this year. The flight also featured Malawi's first female captain, Yolanda Ndala-Kaunda.
Join our commenting forum
Join thought-provoking conversations, follow other Independent readers and see their replies