Etihad halves baggage allowance for tens of thousands of UK passengers
Airline says the new policy 'provides greater convenience and customer benefit while enhancing the travel experience'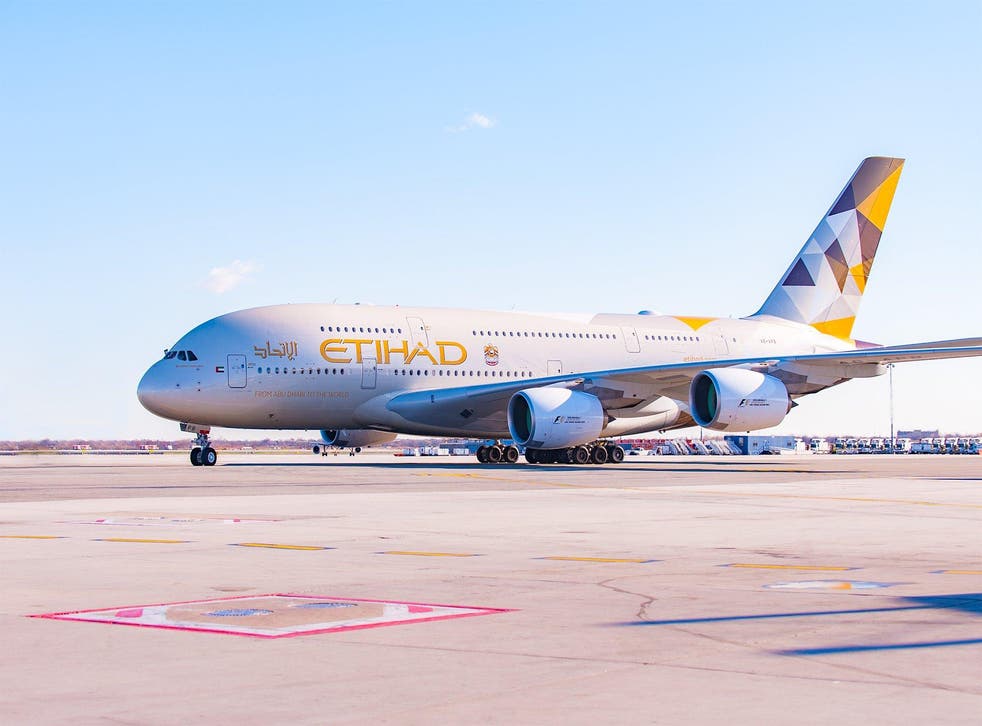 Travellers booking discount tickets to key destinations in Africa including Johannesburg, Lagos and Nairobi will find the previous allowance of 46kg cases has halved overnight to 23kg.
On a return flight from Heathrow or Manchester to any African destination, a second 23kg bag will cost $1,280 (£904), plus a further 25 per cent if paid at at the airport.
The lowest limits apply to economy passengers with "deal" tickets. Those choosing "saver" or "classic" tickets have had their free baggage cut to 30kg, while "economy flex" travellers can take 40kg.
Bizarrely, for journeys beginning in Africa, the allowance has barely changed, with 40kg allowed for all economy passengers.
UK economy travellers to India, Pakistan and Bangladesh who were previously entitled to 46kg have seen their allowance fall by over one-third, to 30kg — unless they book a "flex" ticket, in which case the limit is 35kg.
On a test booking from Manchester to Mumbai on 4 February for a week, the "economy deal" fare is £400, with "flex" more than twice as expensive at £910.
Premium passengers have also seen their allowances cut. Both business and first-class travellers used to enjoy a limit of 64kg. In business class the limit drops to 40kg, and in first to 50kg.
The only exception is for travellers in "The Residence" on the upper deck of Airbus A380 jets, who continue to enjoy an allowance of 128kg.
The wholesale reductions appear to reduce convenience and customer benefit, while diminishing the travel experience. But according to the airline's executive vice president commercial, exactly the opposite applies.
Mohammad Al Bulooki said the new policy "provides greater convenience and customer benefit while enhancing the travel experience".
An Etihad spokesperson told The Independent: "We are bringing our baggage allowance in line with our competitors in each of the markets we operate in. The new system is simpler and will now be based on total weight, rather than the number of checked in bags. Every guest will continue to experience our award winning inflight service."
Etihad has been under financial pressure following a series of disastrous investments in loss-making airlines, including Alitalia and Air Berlin. The German airline collapsed in October after Etihad withdrew financial support.
The Abu Dhabi airline started in 2003, 18 years later than Emirates of Dubai — which is around three times larger.
Emirates cut its luggage allowance for discount economy passengers from 30kg to 20kg in 2016. Qatar Airways, based in Doha, has a free baggage limit of 30kg for all economy travellers.
Etihad passengers who booked before 31 January are entitled to the more generous allowances that pertained when they bought their tickets.
The giant US airline, Delta, is to eliminate the free baggage allowance for "Basic Economy" passengers flying from the UK to the US from 10 April onwards.
Register for free to continue reading
Registration is a free and easy way to support our truly independent journalism
By registering, you will also enjoy limited access to Premium articles, exclusive newsletters, commenting, and virtual events with our leading journalists
Already have an account? sign in
Register for free to continue reading
Registration is a free and easy way to support our truly independent journalism
By registering, you will also enjoy limited access to Premium articles, exclusive newsletters, commenting, and virtual events with our leading journalists
Already have an account? sign in
Join our new commenting forum
Join thought-provoking conversations, follow other Independent readers and see their replies