'If Eurostar fails, HS1 will also fail': The case for government support for high speed rail
'To be clear, we have been fighting the battle under our own resources and we will continue to do so,' says Eurostar and HS1 CEOs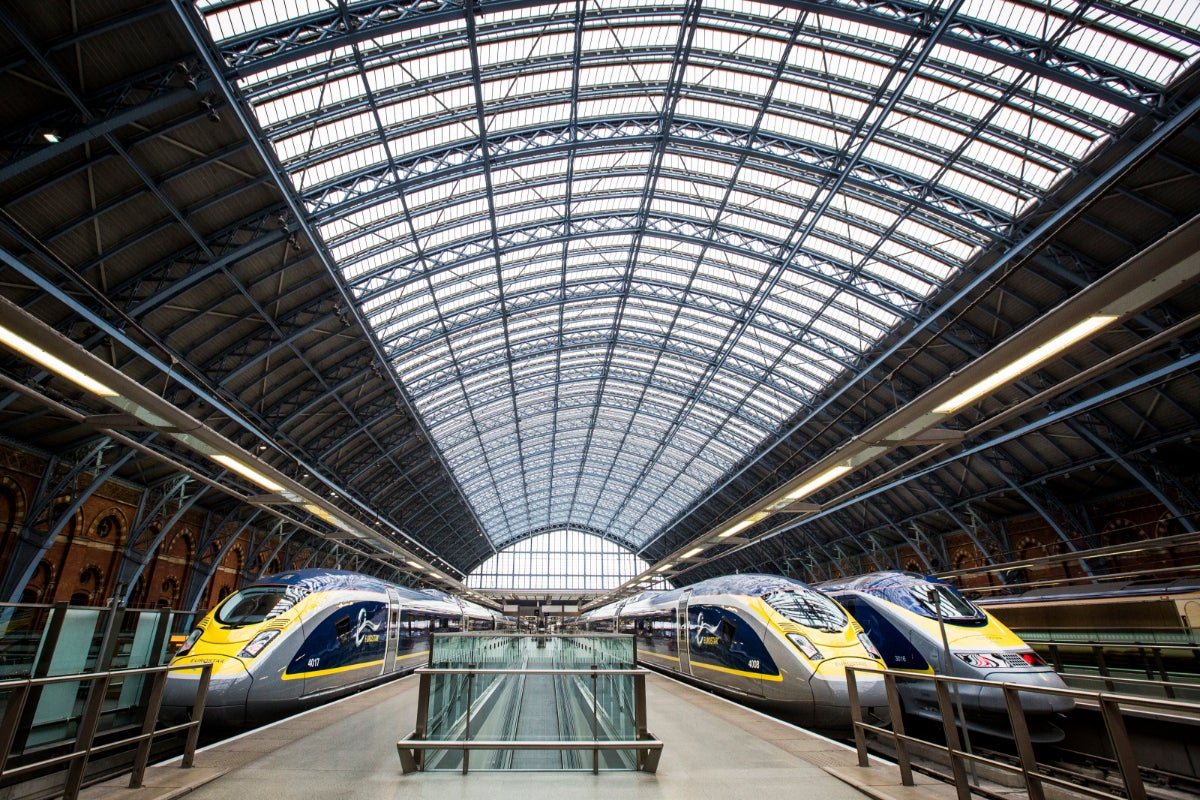 A perfect storm brewing over the Channel is posing a real threat to the most environmentally friendly way to travel to mainland Europe.
A dramatic fall in Eurostar passenger numbers resulting from Covid-19 restrictions, alongside a looming Brexit deadline, is threatening the very existence of international train travel from the UK. With less than a year to go before the UK hosts the COP26 environmental summit, the green gateway to Europe is in a fight for its survival.
For over 25 years, Eurostar has provided a unique link between the UK and mainland Europe for leisure and business travellers. Tourists arriving via High Speed 1 (HS1) pump £2bn into the UK economy each year and support the equivalent of 3,600 full-time jobs in the tourism industry, while businesses travelling by train contribute around £130 million to the UK economy.
With a 95 per cent fall in traffic since March this year and the timetable now reduced to just two daily return services, there is a risk that this iconic service will be left to fail, threatening jobs, connectivity and reversing the progress to reduce travel emissions. We are now at the point where we believe urgent government intervention is essential to help our businesses and safeguard the high-speed rail connection to Europe.  
The case for government support is powerful.
As the UK moves into a new post Brexit trading system, international high-speed rail will become even more crucial in driving connectivity with Europe but we need to work together with the government to save and sustain it from the most significant challenge it has ever faced.
We, along with other businesses and the public at large, have been encouraged by the positive news of vaccines. However, we recognise that it will take time to protect the whole population and allow us to return to life as normal. Our outlook for 2021 therefore continues to be a dramatic loss of revenues and significantly lower passenger numbers than can sustain our business.
To be clear, we have been fighting the battle under our own resources and we will continue to do so. As a non-franchised train operator in the UK, Eurostar has not been eligible for the government support schemes for domestic rail or airlines so the business has had to take tough decisions and put in place extensive cost-cutting measures, at the same time working tirelessly to protect employees. We have secured more than £200m additional financing from Eurostar's shareholders but this funding is finite. The facts are clear: if Eurostar fails, HS1 will also fail along with the South Eastern domestic high speed service.
So how could the government effectively intervene and protect the high-speed link to Europe?
Access charges are Eurostar's highest fixed costs and this outgoing simply cannot be sustained without income from traveller revenues. Eurostar is already engaged in discussions in France on this issue, and we now ask the UK government for its support and action, which is even more important on this side of the Channel where the charges are over three times higher per kilometre. At a minimum, a temporary review of these charges is critical to allow Eurostar and HS1 to survive this crisis, protecting the future of this vital high-speed rail link.
We also encourage the government to seek innovative solutions to reducing quarantine restrictions. We would support further testing on departure at our terminals, as well as an exemption to quarantine measures for business travellers spending less than 48 hours in the UK. This model would benefit the economy by reopening the key business gateway to mainland Europe as well as providing much needed revenues for both Eurostar and HS1.  
There is a great future for high-speed rail in the UK and if we lose this most sustainable form of short haul international travel, it is not only the economy that will suffer. A Eurostar journey uses up to 90 per cent less carbon per passenger than the equivalent short-haul flight, removing the equivalent CO2 of 60,000 flights in 2019, and HS1 is about to become the first line in the country to run entirely on renewable energy.
Should high-speed rail fail to weather this storm, the consequences would be serious. Passengers would have no choice but to opt for plane over train for short-haul international travel and we would collectively take a huge step back in our overall economic, social and environmental ambitions.
Jacques Damas is the CEO at Eurostar and Dyan Crowther is the CEO at High Speed 1 (HS1).
Join our commenting forum
Join thought-provoking conversations, follow other Independent readers and see their replies