Eurostar 'chaos' at St Pancras as half term and jubilee travel misery continues
Irate passenger labels scene 'absolute shambles'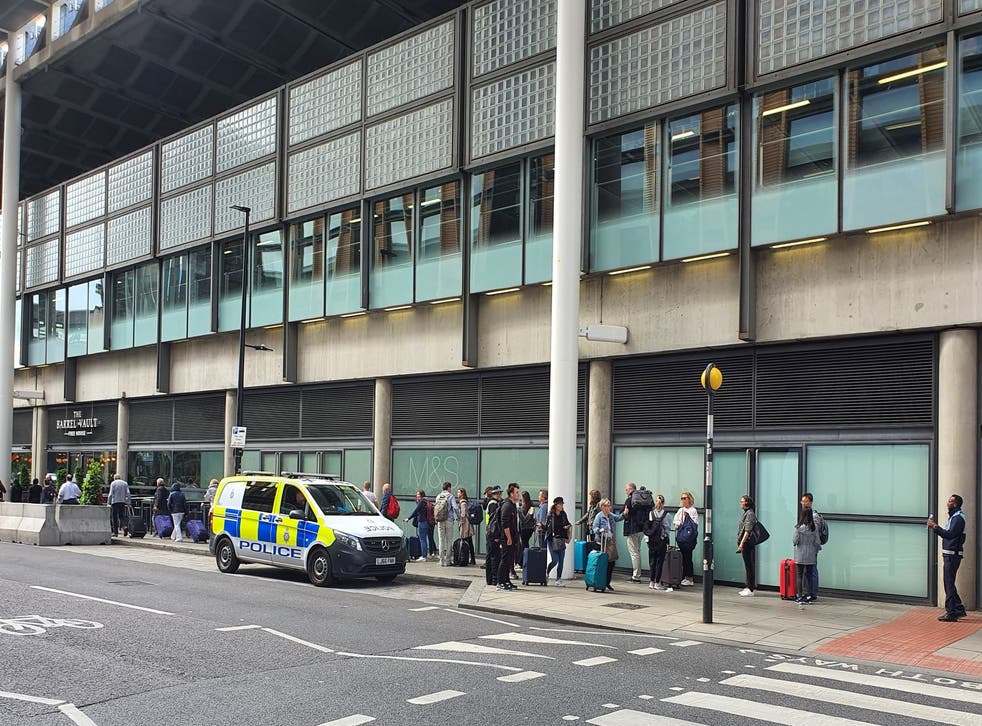 Eurostar passengers were forced to queue along roads outside London's St Pancras station on Tuesday – the latest chaos to hit travellers this week as airports continue to struggle.
A train fault led to long delays for those checking in to depart for Paris and Brussels.
Angry passengers took to social media, with one Twitter user calling it an "absolute shambles." while another estimated that there was "more than 500m of queue".
Ian Freeman posted a picture of heavy queues, saying: "Total shambles at #stpancras #eurostar @EurostarUK.
"Thousands of people, queues snaking around the station, out into the street and back in again. Shocking mismanagement."
Shortly after 10.20am, Edwin Smith tweeted: "We're queuing out of @StPancrasInt on the street for @Eurostar @EurostarUK. Chaos. No explanation offered…"
A Eurostar spokesperson said it was due to a "technical issue" which had delayed one service earlier this morning.
The spokesperson said: "There was a technical fault with one of our sets earlier, which put it out of service. As such, unfortunately, that particular service left London over an hour late.
"There has since been a small backlog of trains since then delayed by around 30 minutes but otherwise we would expect this to clear shortly."
Customers reported that queues continued, with Dr Diane Nutt tweeting: "At St Pancras waiting to join an enormous #Eurostar queue. I find this part of travelling enormously stressful."
It came after consumer group Which? said the "blame game" over flight disruption ahead of the platinum jubilee bank holiday is "no help" to passengers as thousands face cancellations and delays every day.
Trade unions and the Labour Party accused the government of failing to provide enough support to the aviation sector, which is facing staff shortages.
Thousands of employees were laid off during the coronavirus pandemic as restrictions meant many people did not want to travel overseas. The government insists the aviation industry is "responsible for making sure they have enough staff".
Rory Boland, editor of consumer magazine Which? Travel, said: "The blame game over staff shortages and flight cancellations is no help at all to passengers, who need instant action to bring an end to the airport chaos that is causing so much misery and leaving many people out of pocket, with little hope of getting all their money back."
A spokesperson for the Civil Aviation Authority said the regulator understands the impact of disruption on customers, which is "exactly why there are rules in place to protect consumers in these circumstances".
They went on: "We have guidance on cancellations and flight disruption published on our website for consumers, and continue to engage with airlines and airports to remind them of their responsibilities and make sure passenger rights are upheld."
Airlines UK, the industry body representing UK-registered carriers, said in a statement that the UK's aviation sector has only had "a matter of weeks" to recover after being "grounded for almost two years".
All remaining coronavirus restrictions for people entering the UK were lifted on 18 March.
Register for free to continue reading
Registration is a free and easy way to support our truly independent journalism
By registering, you will also enjoy limited access to Premium articles, exclusive newsletters, commenting, and virtual events with our leading journalists
Already have an account? sign in
Register for free to continue reading
Registration is a free and easy way to support our truly independent journalism
By registering, you will also enjoy limited access to Premium articles, exclusive newsletters, commenting, and virtual events with our leading journalists
Already have an account? sign in
Join our new commenting forum
Join thought-provoking conversations, follow other Independent readers and see their replies