Expo 2015: World-class icons from the Eiffel Tower to the Space Needle
With Expo 2015 starting in Milan, Christopher Beanland suggests where to see the icons of previous events that have stood the test of time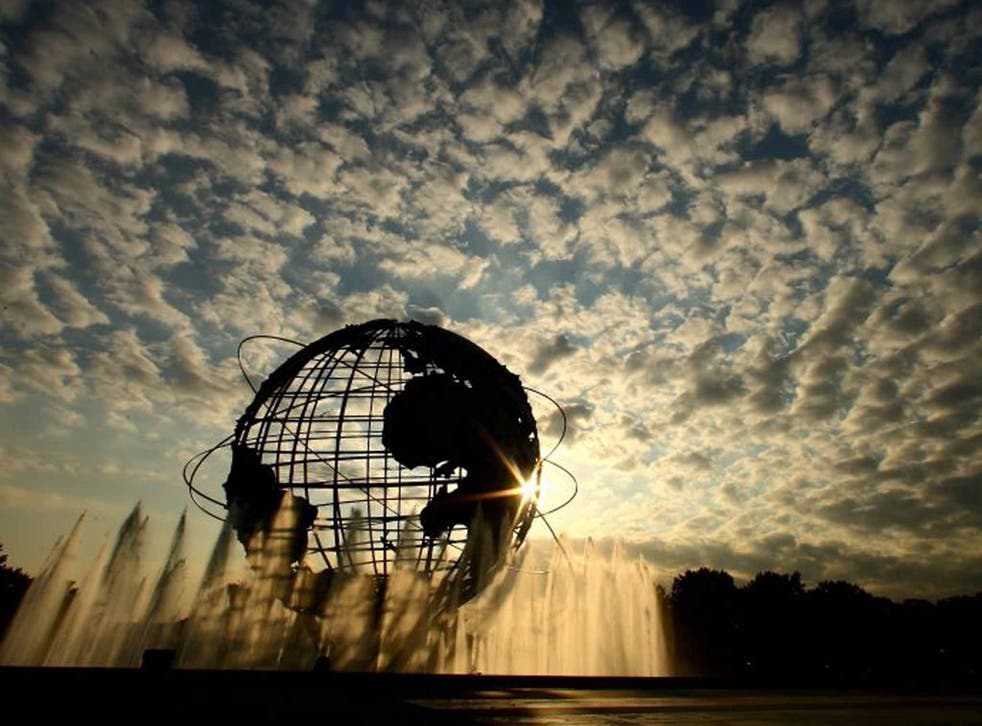 It's Expo time again – a celebration of culture, science, technology and nations working together. This Friday sees the opening of Expo 2015 (expo2015.org) in Milan. It runs until 31 October and is expected to attract more than 20 million visitors to its 148 national pavilions.
Previous Expos and World's Fairs have ended up with a particular icon as their legacy – a symbol that has outlasted the event itself. Perhaps Expo 2015's most memorable and long-lasting building will be Wolfgang Buttress's Hive, the UK pavilion. Or the Tree Of Life, a 30 metre-tall showpiece sculpture by Marco Balich, which sits in a lake outside the Italian pavilion. Let's hope it's something that can compete with these historic highlights.
Eiffel Tower, Paris, France
Built for: Exposition Universelle 1889
La Tour Eiffel (toureiffel.paris) is the best known of the World's Fair icons. Its metallic heft has become a shorthand for Paris – not bad for something considered a monstrosity when it was built for the 1889 Exposition Universelle. It was originally intended to be pulled down after 20 years, but Gustave Eiffel's 300-metre iron pylon defied the odds, and today no first-timer would dream of visiting Paris without seeing this huge structure for themselves.
Palace of Fine Arts, San Francisco, United States
Built for: Panama-Pacific Exposition 1915
Surrounded by lagoons and covered in vines, the evocative Palace of Fine Arts (palaceoffinearts.org) looks like a cross between a Mayan temple and ruined British country house. It was built by Bernard Maybeck to host concerts and art shows during the 1915 Panama-Pacific Exhibition, and it still does that today. The events are a little different, though – recent performers have included Rufus Wainwright and Eels.
The Atomium, Brussels, Belgium
Built for: Expo 1958
The Atomium (atomium.be) could be the most stylish symbol of any Expo. This instantly recognisable structure by Andre Waterkeyn, with Andre and Jean Polack, is a 100-metre-tall sculpture of, essentially, an atom. Comprising nine steel balls connected by tubes, it was the centrepiece of the legendarily optimistic Brussels Expo of 1958, and also takes a starring role in Jonathan Coe's hilarious recent novel, Expo 58, which is set at the fair.
Unisphere, New York, US
Built for: 1964-5 World's Fair
This landmark in Flushing Meadows-Corona Park, Queens, is a hollow, 43-metre stainless-steel globe, constructed for the 1964-65 World's Fair. The surrounding pool and fountains have been returned to their former glory, while the nearby New York State Pavilion and observation towers are undergoing a restoration. Having also hosted a World's Fair in 1939, the park is celebrating the 75th and 50th anniversaries of the events on 7 June, with international food stalls, cultural performances and a vintage carousel.
Biosphere, Montreal, Canada
Built for: Expo '67
Montreal's Expo '67 arguably produced the best haul of architecture from one Expo. There was Basil Spence's brutalist British pavilion (sadly demolished), Moshe Safdie's wonderfully blocky Habitat 1967 flats, the whitewashed French pavilion (now a casino) and the Biosphere (ec.gc.ca/biosphere) by Buckminster Fuller, which was the American pavilion. It has burned down (featured as Arcade Fire artwork) and is now an environmental museum. The Expo site today hosts music festivals such as Osheaga (31 July to 2 August; osheaga.ca).
Plaza de España, Seville, Spain
Built for: 1929 Ibero-American Expo
This huge and impressive square in Seville's Maria Luisa Park was the main setting for the 1929 Ibero-American Exposition. The idea was for it to put Seville on the map, and it's certainly a grand space, embraced by the sweeping curve of Baroque exhibition buildings (now Andalucian government offices). The city was bitten by the Expo bug and hosted another edition in 1992 on nearby La Cartuja Island, with a monorail line and post-modern pavilions painted in garish colours.
Space Needle, Seattle, US
Built for: Century 21, the 1962 World's Fair
An instantly-recognisable symbol of Seattle, the Space Needle (spaceneedle.com) soars 184 metres above the park where Century 21, the 1962 World's Fair, was held. Millions of visitors have taken a fast lift to the top of this sci-fi-style landmark, which appears with its twinkling red light on top of the titles to Seattle-set sitcom, Frasier.
China Art Museum, Shanghai, China
Built for: Expo 2010
The bright red Chinese pavilion at Expo 2010, held in Shanghai, references traditional Asian timber architecture, souped up with all the energy that buzzing 21st-century China emits. Designed by Chinese architect He Jingtang, the pavilion was transformed into the China Art Museum (china.artmuseumonline.org) in 2012 and now exhibits works by artists such as Guan Liang and Lin Fengmian.
Tower of the Sun, Osaka, Japan
Built for: Expo '70
Expo '70 was a panoply of hi-tech architecture, planned by Kenzo Tange – the man who rebuilt the Macedonian capital, Skopje, as a brutalist megacity after an earthquake in 1963. Tange worked with Taro Okamoto to create the Tower of the Sun, the symbol of the event – a 70-metre surrealist tower shaped like a cartoonish Sun God. It stands in Osaka's Expo Commemoration Park.
The Crystal Palace, London
Built for: 1851 Great Exhibition
It may not technically still be there, but Joseph Paxton's Crystal Palace was the showpiece of the first modern Expo, the 1851 Great Exhibition. It was perhaps the highpoint of Victorian architectural ambition and was moved from Hyde Park to Crystal Palace Park in 1854. The palace burnt down in 1936, but you can still see the steps, statues and terraces, plus the park (crystalpalacepark.org.uk) contains Victorian curios such as the famous dinosaurs. There are even plans to rebuild the Palace.
Register for free to continue reading
Registration is a free and easy way to support our truly independent journalism
By registering, you will also enjoy limited access to Premium articles, exclusive newsletters, commenting, and virtual events with our leading journalists
Already have an account? sign in
Register for free to continue reading
Registration is a free and easy way to support our truly independent journalism
By registering, you will also enjoy limited access to Premium articles, exclusive newsletters, commenting, and virtual events with our leading journalists
Already have an account? sign in
Join our new commenting forum
Join thought-provoking conversations, follow other Independent readers and see their replies