Two men take 'emotional support' falcons on flight
'I just volunteered to sit closer to them. They make me feel secure'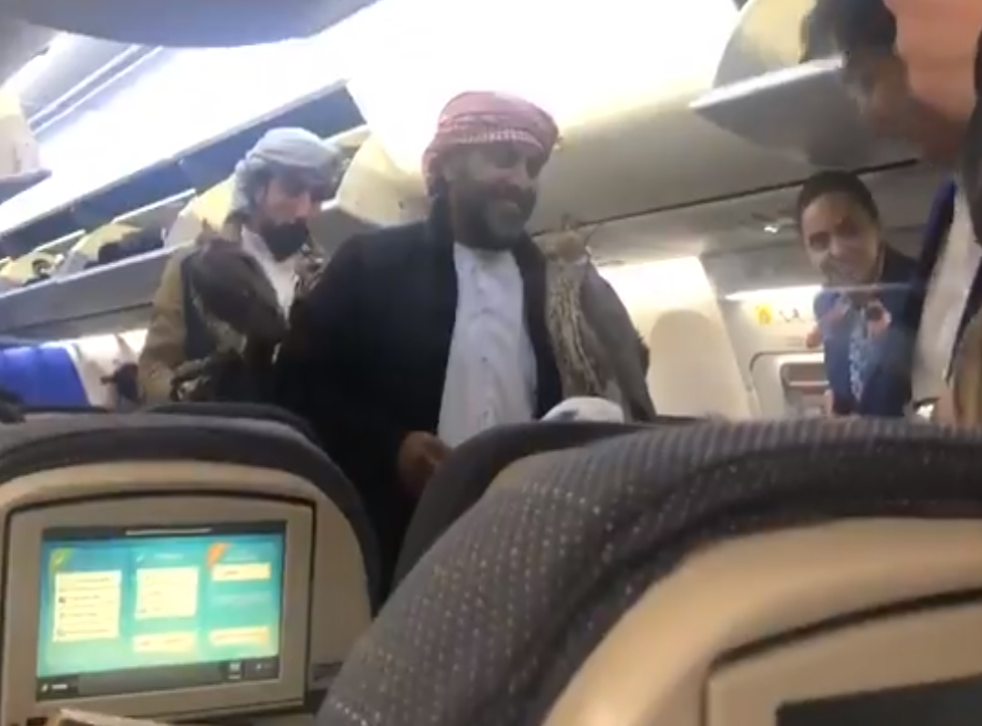 A video of two men carrying their falcons onboard an aircraft has gone viral.
The spectacle was filmed by Twitter user @DonnieDoesWorld, who wrote: "Folks two dudes just boarded my plane with emotional support falcons."
The men can be seen making their way down the aisle as fellow passengers look on in bemusement.
The first man has just one falcon resting on his wrist, while the second is carrying two.
"Donnie", a foreign correspondent for Bar Stool Sports, followed up on his tweet, writing: "People are changing seats to get away from them. I just volunteered to sit closer to them. They make me feel secure."
He added: "Post Flight Thoughts: Would ride with an entire plane full of falcons if given the chance. I saw a six-year-old kid try to touch a falcon but didn't see the falcons trying to touch any a six-year-old kid. Very well behaved."
The video, uploaded on 29 March, has had more than 1.95 million views and 37,000 likes at the time of writing.
Inside the A380: the world's largest passenger plane

Show all 12
Although they were labelled "emotional support" falcons in the original social media post, falcons travelling in the cabin is fairly commonplace on flights with airlines from Gulf nations, such as Etihad and Qatar Airways.
In Qatar, collecting falcons is considered a national pastime; Unesco even added falconry to its list of Intangible Cultural Heritage of Humanity List for Middle Eastern culture.
Qatar Airways allows economy passengers to carry one falcon in the cabin, although a maximum of six falcons are permitted within the economy cabin of any one aircraft; and there's a hefty excess baggage charge of between $115 and $630 for the privilege.
On Etihad, economy passengers can take one falcon when they pay three times the normal excess baggage fare. Got more than one? You can take an extra falcon when you buy an extra seat. Alternatively, business class passengers can take two (again paying three times the excess baggage fare per bird).
In 2017, a "Saudi prince" hit headlines after a photo was uploaded to Reddit showing an aircraft cabin packed with hooded birds of prey.
It was posted with the caption: "My captain friend sent me this photo. Saudi prince bought ticket for his 80 hawks." It is not clear which airline the hawks were flying with.
Register for free to continue reading
Registration is a free and easy way to support our truly independent journalism
By registering, you will also enjoy limited access to Premium articles, exclusive newsletters, commenting, and virtual events with our leading journalists
Already have an account? sign in
Register for free to continue reading
Registration is a free and easy way to support our truly independent journalism
By registering, you will also enjoy limited access to Premium articles, exclusive newsletters, commenting, and virtual events with our leading journalists
Already have an account? sign in
Join our new commenting forum
Join thought-provoking conversations, follow other Independent readers and see their replies