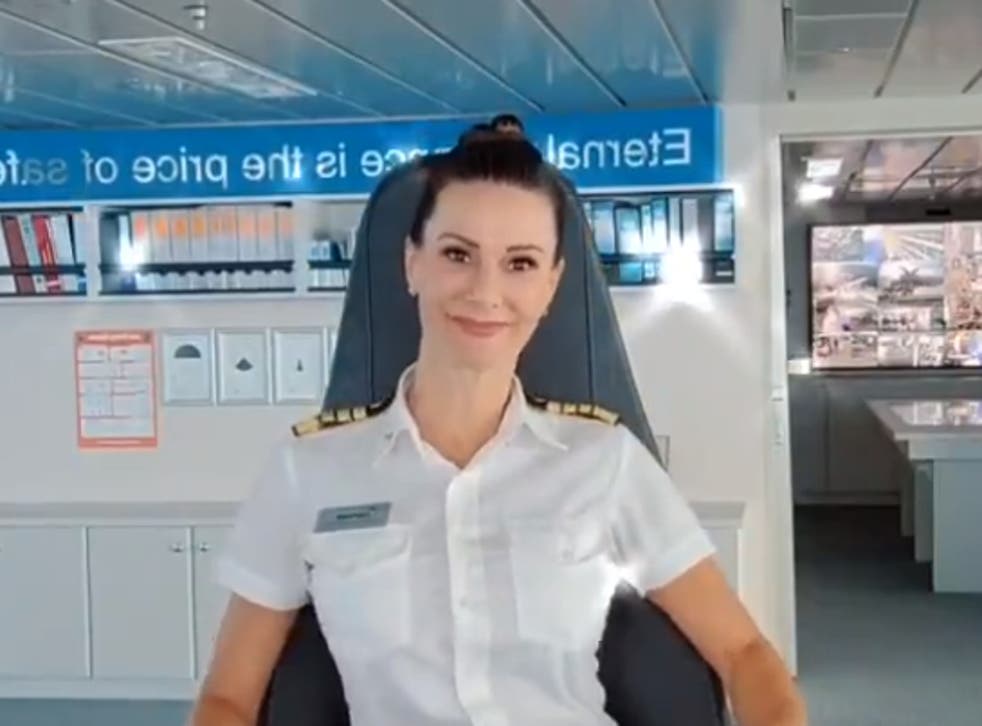 Female cruise captain takes down sexist troll in viral video
'If you need any more clarification, you can find me here – in my captain's chair'
Helen Coffey
Monday 05 October 2020 14:37 Comments
A female cruise captain had the perfect comeback for a sexist commenter on social media.
Kate McCue, a captain for Celebrity Cruises, posted a video on Tiktok in which she responded to a message sent to her that read: "How can you be a captain? Your only a woman [sic]".
Dressed in her captain's uniform, Captain McCue addressed the camera, saying: "Normally as I'm scrolling through comments and see something like this, I totally ignore it and move on with my life.
"But I think it's about high time that I address this, because it's 2020, and in this day and age I'm shocked that someone still doesn't know the difference between 'you're' and 'your'."
Highlighting her troll's grammatical faux pas, Captain McCue was happy to give him a quick lesson.
"Just a quick reference: 'you're', as in 'you are', as in 'you are sexist'.
"'Your' is something possessive, it belongs to you. Like 'your ignorance'."
She ends the video by reassuring the commenter, @seamus272, that she is on hand for future literacy tips.
"Don't worry, I'm here for you," she says. "If you need any more clarification, you can find me here – in my captain's chair."
The video has quickly gone viral on social media, garnering hundreds of thousands of views, nearly 170,000 likes and more than 10,000 comments.
Viewers were impressed with Captain McCue's approach to the situation, with one social media user writing: "This is the best: handling ignorance with not only confident class but a well-placed grammar lesson to boot. She totally deserves the Captain's chair."
Another commented: "That was handled fantastically well."
Register for free to continue reading
Registration is a free and easy way to support our truly independent journalism
By registering, you will also enjoy limited access to Premium articles, exclusive newsletters, commenting, and virtual events with our leading journalists
Already have an account? sign in
Register for free to continue reading
Registration is a free and easy way to support our truly independent journalism
By registering, you will also enjoy limited access to Premium articles, exclusive newsletters, commenting, and virtual events with our leading journalists
Already have an account? sign in
Join our new commenting forum
Join thought-provoking conversations, follow other Independent readers and see their replies