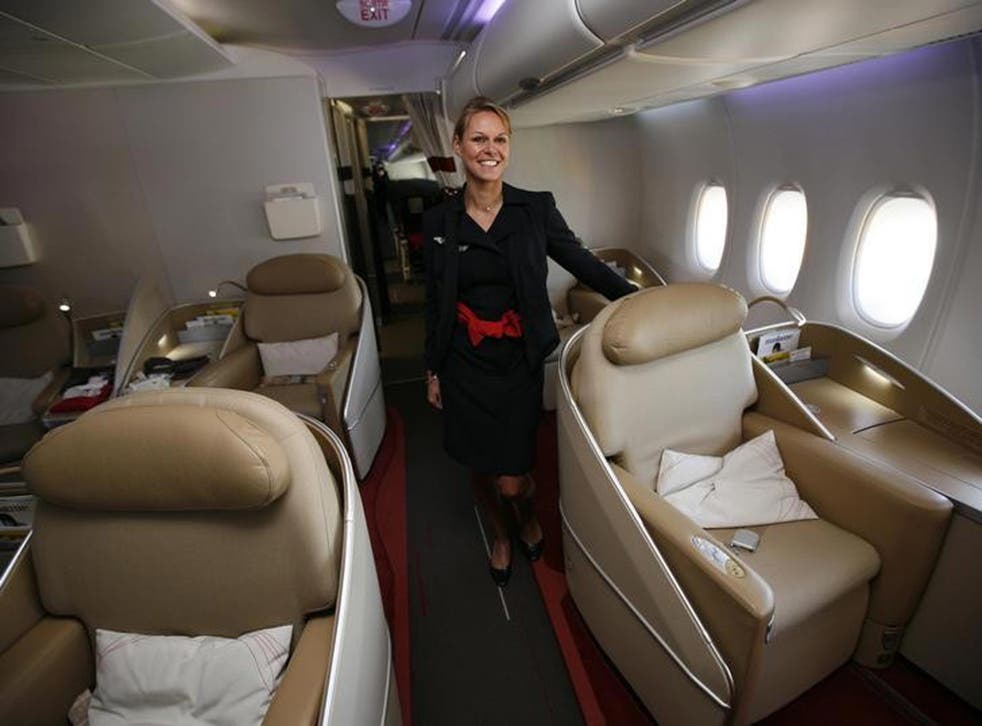 First Class flop? Even though airlines don't make money from First Class, they remain doggedly committed
With prices reaching five figures or more, does First Class make economic sense?
Simon Calder
Friday 07 February 2014 18:58 Comments
It is the only ticket that will gain access to the inner sanctums of British Airways – the Concorde Rooms at London Heathrow and New York JFK, which boast "full waiter service, private cabanas and a state-of-the-art business suite".
Still on the ground, the ticket entitles you to a 15-minute massage, before you step aboard the aircraft and into "your own private, spacious suite", complete with 6ft 6in bed with a proper mattress and duvet. Vintage champagne and fine a la carte dining complete the alluring proposition. But a BA flight to New York in First Class tomorrow costs almost £11,000 return – enough to buy 23 economy tickets on the same route.
More pertinently, the First Class fare of £10,970 is almost exactly twice the price in Club World, the airline's long-haul business class - which also offers fully flat beds, executive lounge access and a pre-flight massage. Yet British Airways has insisted it has no intention of scrapping First Class, despite the boss of a close rival conceding the cabin is loss making.
Alexandre de Juniac, chief executive of Air France-KLM, told The Times that "No one makes money" from the priciest seats in the sky. But a spokesman for BA said: "We remain absolutely committed to having First Class."
British Airways provides First Class on around three-quarters of its long-haul planes, though its new Boeing 787 does not have the cabin. The "Dreamliner," which flies to destinations such as New York's Newark airport and Toronto, follows the configuration that has become common even among top-tier airlines: economy, premium economy and business class.
Virgin Atlantic, which celebrates its 30th anniversary in June, has never had a First Class – claiming that its business proposition, Upper Class, is as good as other airlines' premier cabins.
During the economic downturn, many companies changed their travel policies to obliged top executives to trade down to business class. Douglas McNeill, analyst for Charles Stanley Securities, said: "Airlines have spent five years of recession and dear oil re-evaluating all aspects of their business models, but few have chosen to ditch First Class altogether. I don't think we've seen the last of it."
The airline consultant, Jamie Bowden, said that some travellers will always insist on the status of First Class:
"It's all about differentiation. Even if First and business class are effectively identical, some wealthy individuals will insist on First. What worries some European airlines is that if they remove First Class, they'll lose key customers to the Gulf-based airlines."
BA recently introduced long-haul aircraft with First Class on its Heathrow-Moscow route – where it competes with easyJet's no-frills services.
Richard Quest, presenter of Quest Means Business on CNN, said: "The death of First Class has been predicted for years. But it won't happen because there are a few key routes such as London-New York and Los Angeles-Sydney which can support First Class. Some business people are still entitled to fly it and a lot of wealthy people can afford it. Where the passenger mix meets these criteria, First Class will remain. And passengers love to be upgraded to it."
Among UK airports, First Class is almost exclusively the preserve of Heathrow. From Gatwick, British Airways offers First Class only to Barbados, Bermuda and St Lucia. Emirates has First Class on its daily Airbus A380 from Manchester to Dubai.
The aviation consultant John Strickland said: "Airlines like Emirates can successfully fill First Class cabins by drawing customers from multiple route permutations via their Dubai hub."
On the water, the trend could be downwards; Brittany Ferries has just announced a new no-frills ferry link from Portsmouth to France and Spain.
Register for free to continue reading
Registration is a free and easy way to support our truly independent journalism
By registering, you will also enjoy limited access to Premium articles, exclusive newsletters, commenting, and virtual events with our leading journalists
Already have an account? sign in
Join our new commenting forum
Join thought-provoking conversations, follow other Independent readers and see their replies