First Great Western MD reveals how he plans to get the beleaguered train operator back on track
Mark Hopwood says his mission is 'to present a different face for the business'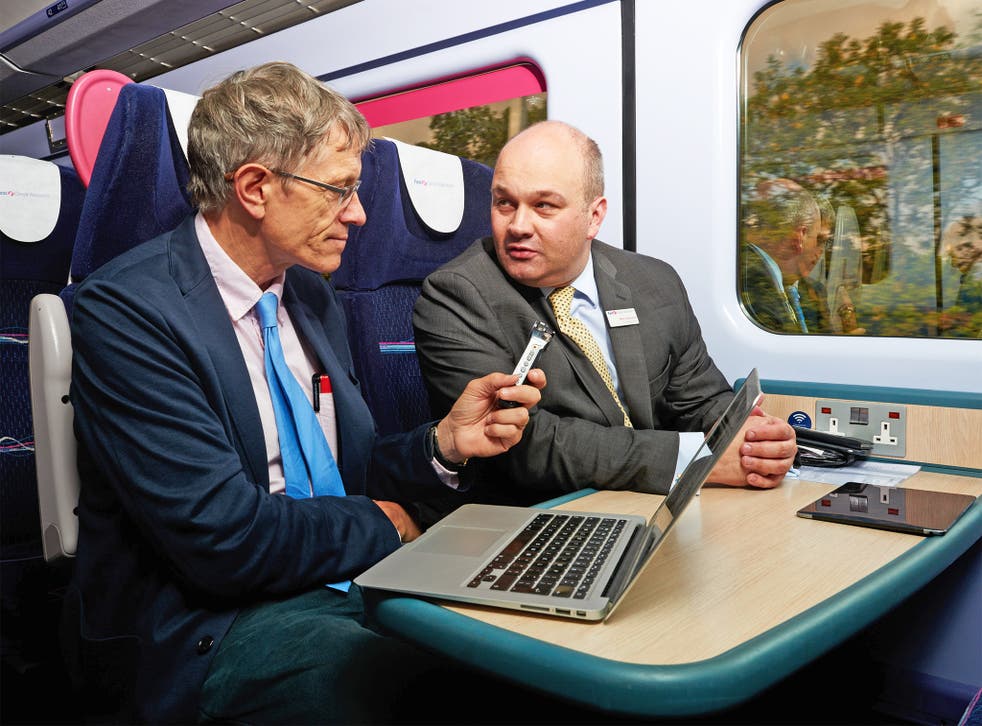 Had Mark Hopwood and the other managers of First Great Western convened to discuss the question "How can we really hack off our passengers?" there could be no better solution than the scenario that greeted London-bound rail travellers from Bath a few days back.
The usual journey time between two of England's top tourist cities on the Sunday of August bank holiday weekend was extended by an hour. Planned engineering work, part of a £7.5bn modernisation project, was exacerbated by a strike by some of the train operator's staff. And bizarre timetabling did the rest.
The schedulers arranged for each shuttle train from Bath to arrive at Bristol Temple Meads merely one minute before an express to London departed. Able-bodied passengers could sprint downstairs, through the subway and up another set of steps to the platform – only to find staff blocking their way, enforcing a rule that doors must be locked 40 seconds before departure. Passengers who had paid handsomely for the journey were therefore sent to a different platform to sit and stew on the next train, which then ran behind schedule and had no buffet.
At least that last aspect will have helped them get accustomed to the future of Brunel's Great Western Railway, which serves the West Country, South Wales and the Cotswolds. Among the RMT union's grievances that led to a series of strikes in August is First Great Western's plans to abolish the traditional buffet car on its new Japanese-made Intercity Express trains – with only the airline-style buffet trolley remaining.
Mr Hopwood, First Great Western's managing director, says there are good reasons for this. "All train operators have seen either declining sales from buffet cars or sales that are not growing as fast as passenger volume," he tells The Independent, which has joined him on a standard-class trip on the service to Swindon.
"The station outlets have upped their game and improved their offer. We're also seeing more and more passengers bringing a lot of valuable possessions like laptops and iPads and they don't particularly want to lug them down to the buffet section or leave them unattended."
Unions are also angered by an old-fashioned demarcation dispute, however, concerning the staff who stopped those thousands of passengers being able to board their train from Bristol to London.
Who should push the button marked "doors" on the new electric trains? The train operator insists the driver should take over the responsibility from the guard. The union disagrees vehemently. Though negotiations continue, there is every possibility of further stoppages.
The squabble over the rules for a new set of toys for which each man, woman and child in Britain is stumping up £125 on average is exasperating travellers, who believe they are paying too much for a service that is unreliable even when everyone shows up for work.
Luckily our train today is running on time, but it's almost as old as the 44-year-old Mr Hopwood, and the career railwayman makes the case for driver-only-operation on the new electric trains due to enter service in 2017.
"Technology has moved on a long way over the years. When these 1970s trains were built, we didn't have automatic doors, we didn't have good-enough quality cameras to fit on the side of trains, we didn't have the technology to take those images into the cab. But the driver's now going to have very good-quality screens in the cab. He or she will have a far better view of each doorway than somebody leaning out of the side of the train looking down a nine-coach train."
Best and worst of Britain's railway

Show all 12
So why did a spokesman for the RMT insist to The Independent: "The First Great Western plans seriously undermine the current safety-critical role of the guard"?
"I'm absolutely clear that what we're proposing is going to be the safest possible method of dispatching these trains," says Mr Hopwood. "The RMT can say what they like, but they've never really responded to my challenge to demonstrate why they think their method of preserving the status quo will be safer than using these screens in the driving cab.
"I carry the 'Go to Jail card' in terms of safety. I've worked in this industry all my life and I want to carry on, and I'm not going to allow my business and my staff and my customers to travel on trains that are not being dispatched safely."
Mr Hopwood has had a difficult summer. Besides the strikes, media reports have claimed some ticket-office staff are failing to offer travellers the cheapest fares.
The complexity of the fare system is shown by the options open to a "walk-up" passenger who buys a ticket from Paddington to Swindon just before departure.
The fare for a standard open return, offering complete flexibility, is £124. An off-peak return is £45, but a "split ticket" – one from Paddington to Reading, and a separate one to Swindon – shaves a few pounds off that price. Mr Hopwood says that station ticket staff need not advise passengers of such dodges: "What we should do is sell you the cheapest ticket for the through journey you're making, so if you're travelling from London to Bristol, we should sell you a ticket from London to Bristol. That's what the industry guidelines are – it's not something that we've invented."
Some passengers are keen on split tickets to try to avoid fares so high that they resemble on-the-spot fines. The 16-minute, 24-mile journey between Didcot Parkway and Swindon costs peak-time travellers £22 one way.
"If you were to start from scratch, you wouldn't create a fare structure like the one we've got," concedes Mr Hopwood. "But as a result of decisions that have been taken for very good reasons by politicians, it is very difficult to move away from the current fare structure."
Advance tickets are unregulated, but can still look expensive. Booking a month ahead for the first service of the day from Exeter to London, the cheapest one-way ticket is £94 – exactly four times the fare on a Flybe aircraft from Exeter airport to London City.
Our 11am from Paddington arrives at its first stop, Reading, right on schedule – an experience that is not always repeated. In March this most crucial section of the First Great Western route network experienced an average of 1.2 signal failures per day.
In the National Rail Passenger Survey, First Great Western consistently scores lower for passenger satisfaction than other long-distance operators: Virgin's West Coast and East Coast services, as well as East Midlands Trains.
One reason, says Mr Hopwood, is because of the busy commuter network that First Great Western operates.
He accepts that timekeeping has been poor, however. "I'm not going to defend what I have to agree is unacceptable levels of performance. The levels of reliability are not good enough. Network Rail accepts that it's got to improve."
A rebranding of the network is under way, erasing the "First" component of the name and returning to Brunel's Great Western Railway. Mark Hopwood denies the suggestion that it is because the old brand is tarnished.
"The Great Western Railway had something very special. Brunel was a man of huge vision. The investment now going into the network is the biggest investment since Brunel and I didn't want to miss the opportunity, with the new rolling stock coming in, to present a different face for the business."
Register for free to continue reading
Registration is a free and easy way to support our truly independent journalism
By registering, you will also enjoy limited access to Premium articles, exclusive newsletters, commenting, and virtual events with our leading journalists
Already have an account? sign in
Register for free to continue reading
Registration is a free and easy way to support our truly independent journalism
By registering, you will also enjoy limited access to Premium articles, exclusive newsletters, commenting, and virtual events with our leading journalists
Already have an account? sign in
Join our new commenting forum
Join thought-provoking conversations, follow other Independent readers and see their replies