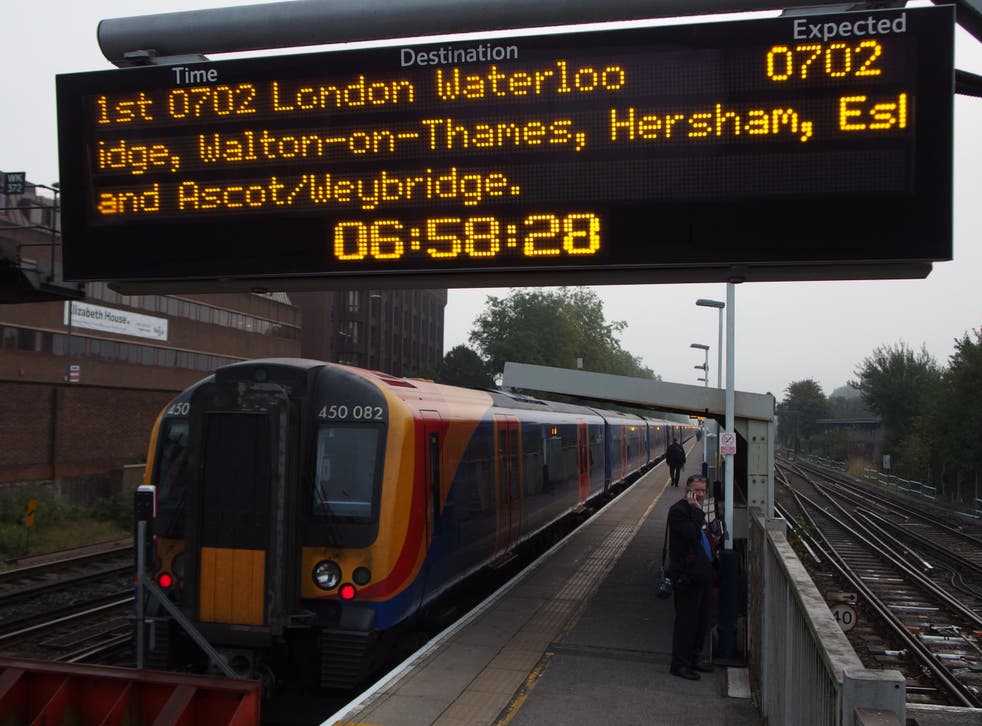 Fixing the railways: fresh thinking to bring our trains back on track
From nationalisation to fares systems, experts consulted by The Independent came up with plenty of smart ideas
Simon Calder
Travel Correspondent
Saturday 30 December 2017 17:55 Comments
The subject of railways tends to be a political hot potato around this time in the calendar, with annual fare rises kicking in to give commuters a less than happy New Year, but Friday's resignation of Lord Adonis has served to increase the spotlight on one of the most contentious areas of British life.
The chair of Theresa May's National Infrastructure Commission said he was "ready to share troubling evidence" about a recent "indefensible" decision by the transport secretary Chris Grayling to change the East Coast rail franchise, which he said puts hundreds of millions of pounds of taxpayers' money at risk.
On Tuesday UK rail fares will rise by 3.4 per cent – the largest increase for five years. The rise covers "regulated" fares such as season tickets and long-distance off-peak journeys. But other fares can rise or fall at the train operators' discretion.
And with recent analysis revealing that almost three in five rail journeys are made on foreign-owned services, there is growing support for bringing franchises back into public ownership when current contracts expire – a key policy of Labour leader Jeremy Corbyn.
As weary passengers prepare to pay ever-steeper fares, while negotiating the usual minefield of strikes and cancellations, The Independent's travel correspondent Simon Calder asks a panel of seasoned observers of the rail industry what they would do to fix the railways
BD Barry Doe, acknowledged to be the UK's leading rail fares expert, responsible for "The Fare Dealer" feature in every edition of RAIL magazine.
CM Clair Mowbray, chief executive of the National College for High Speed Rail, which has campuses in Birmingham and Doncaster.
NS Nicky Gardner and Susanne Kries contributed jointly to this exercise as editors of Hidden Europe – a print and online magazine about "people, places, communities", often involving little-known rail adventures.
MS Mark Smith, "The Man in Seat Sixty-One" – former British Rail manager and founder of the award-winning Seat61.com website on international rail travel.
Learning from the past
The railways of Britain were at their zenith in the 1920s, a time of consolidation and technological advances that saw passenger numbers at their highest. The 1921 Railway Act aimed for "more efficient and economical working of the railway system of Great Britain", and created the "Big Four": the Great Western Railway (GWR), the London, Midland and Scottish Railway (LMS), the London and North Eastern Railway (LNER) and the Southern Railway (SR). What can the UK in 2018 learn from this Golden Age of the train?
NS In the 1920s railways were just beginning to see the threat from road transport. In that Golden Age of rail transport, it was widely recognised that it made sense to limit the number of operators. From the 1920s we learn that coordination was key, both in terms of timetables and fares.
CM: The 1920s was a time when powerhouses such as the Doncaster Locomotive and Carriage Building Works really came into their own, creating legends such as The Flying Scotsman and Mallard – the original high-speed trains. There was also a sense of pride in rail travel, with both the passenger and those staffing the trains wanting to enjoy the journey. It was more than just getting from A to B. We need to restore that pride.
Investment in infrastructure and transport can help to reenergise and transform our communities.
MS: Today's technology and circumstances are so different from the railway of the 1920s there may not be much sensible read-across. But with all the modern technology, operators shouldn't forget the basics: a comfy seat, sufficient legroom and a clear view from the window.
BD I'm not sure we can learn anything from the 1920s but we can learn a huge amount from the 1980s and 1990s when the railways offered a better service overall than today. InterCity was in particular perceived the most efficient railway in Europe at the time and the quality of its services far exceeded anything offered today.
Reversing the Beeching cuts
The Beeching Report was the basis for wholesale closures of lines and stations in the 1960s and 1970s. The Department for Transport has asked for submissions on re-opening some links. Which candidates do you favour?
MS Several routes closed by Beeching would be very welcome today. Closing the Oxford-Cambridge line was a mistake, and I'm glad that resolving that one is already in hand. Road congestion in the Lake District means Penrith-Kendal would be good to have back.
With such a good start already made (and exceeding expectations) I hope the Borders Railway is eventually completed all the way from Edinburgh to Carlisle.
NS It is a tragedy that towns like Wells, Ripon, Wisbech and Peebles are simply not served by Britain's rail network. The folly of the cuts needs to be seen in the context of the Beeching era, when some routes were so poorly served that it hardly made any sense to retain them. Half a century later it would certainly make sense to reconnect many small towns across Britain into the national network. But each project will need to be evaluated on its merits.
BD The only routes that have been mentioned so far are ones we knew about anyway like Oxford-Cambridge and Tavistock-Plymouth. A commitment for Okehampton-Tavistock or Skipton-Colne routes would imply business, rather than just talk.
Should Britain's railways be re-nationalised?
NS It is the duty of the State to provide basic infrastructure and services. The business of running the post, building roads and promoting mobility through an efficient rail network is surely a prerogative of government. That's not to say that there isn't also a place for private operators, and we have seen in Britain how entrepreneurial franchise holders really can help expand the network – think of Chiltern Railway opening a line from London Marylebone to Oxford. But some degree of re-nationalisation would allow for the 20- to 30-year forward planning horizon which new railway developments and investments require.
BD It is the only way the railway can ever truly improve. Those who think privatisation has worked well attempt to con us into believing the "proof" is that passenger numbers have doubled. They have, but despite privatisation and for two main reasons: traffic congestion has led many to use trains; and the Government has put a lot more money into the railways than it ever invested in British Rail. We need a return to railway professionals running our railway, not civil servants as now.
MS It's a mistake to see every issue in terms of private versus public. I hear people argue that nationalising will somehow make fares cheaper or the trains run on time. Those issues are in fact largely independent of ownership. We've a lot going right at the moment, in spite of many imperfections. Let's keep what's right and tackle the imperfections.
What ideas could beneficially be brought from abroad to Britain?
CM The journey should be considered from the moment someone is trying to book their ticket, through to the actual use of train and getting to the end point destination. Other countries have moved forward in smart ticketing, improved passenger information and the planning of multi-modal systems to enable a seamless travel experience.
We should also introduce digital signalling into all areas of our train network on a more compressed timetable. This would increase capacity making journeys more comfortable, reduced delays and allow for a more frequent services where this is currently limited.
NS The very feel of the train in Britain is so different from the Continent. One of the issues we really notice when we travel to Britain is that there is insufficient luggage space and the space is carriages is cramped (and we understand the reasons for that due to the tighter loading gauge in Britain). There is in Britain not quite the same collective wish on the part of the train's users to maintain a pleasant travelling environment. Compared with a German ICE or a Spanish AVE, British trains are often quite noisy and people have a tendency to leave rubbish lying around.
Britain should also provide much better information about connecting trains as one approaches major interchanges. It's good to know as you approach York that the connecting trains to Harrogate and Scarborough will depart from platforms X and Y.
MS They have some great trains in mainland Europe, our train designers should certainly try out their interiors – some of our latest trains have no tables or armrests for long journeys and over-hard seats. But although it's unfashionable to say so, I think we have a lot to teach the continentals! I see trains and routes being cut back on mainland Europe whilst we are increasing train frequency and reopening closed lines, and even building new sleeper trains.
Register for free to continue reading
Registration is a free and easy way to support our truly independent journalism
By registering, you will also enjoy limited access to Premium articles, exclusive newsletters, commenting, and virtual events with our leading journalists
Already have an account? sign in
Join our new commenting forum
Join thought-provoking conversations, follow other Independent readers and see their replies