The Independent's journalism is supported by our readers. When you purchase through links on our site, we may earn commission.
Changing a name on a flight booking can cost 26 times the price of original ticket, research shows
Research finds booking an infant ticket can cost four times the original flight price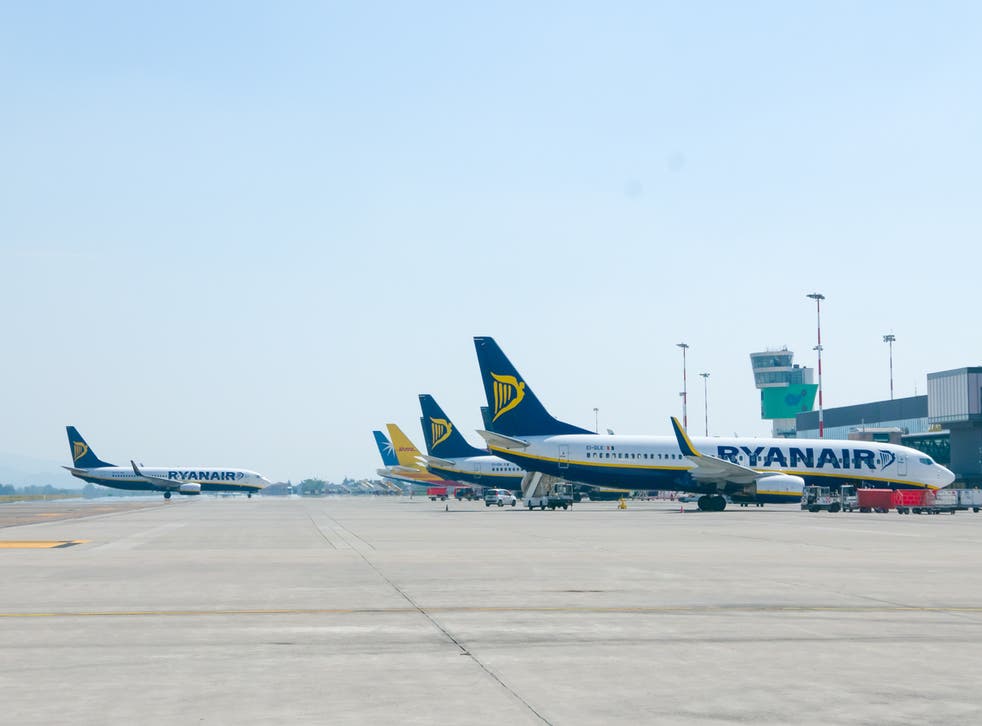 The huge extra costs that can be incurred when booking add-ons with low-cost airlines have been revealed by new research from a price comparison website.
The survey, carried out by KAYAK.co.uk, looked into the various costs of extras including name or flight changes, infant tickets, seat reservation and putting luggage in the hold.
The findings show that while low-cost airlines can save British travellers huge amounts of money, adding extras may entail a steep rise in costs, sometimes up to 26 times the original cost of the flight.
The cheapest ticket on the Ryanair website is just £5.99, but the airline carries a £115 fee to change a name online or £160 at the airport, and charges from £35 to £65 online or £50 to £95 at the airport to change flights. However, the airline does offer a 24 hour grace period from the time of the original booking in which passengers can correct any minor errors (ie spelling of names, incorrect routings or dates).
Passengers can be randomly allocated a seat free of charge or opt to select seats, which Ryanair charges up to £15 for. Infant tickets (where a child sits on a parent's lap) cost £25, which is up to four times the price of the original ticket with the airline's cheapest fares.
EasyJet charges £22 for the same service, up to £26.99 for seat selection and up to £47 for hold luggage. Its name change fee is cheaper at £52, as is the cost of changing a flight.
Flybe, meanwhile, charges 12 per cent of the flight cost for an infant ticket, up to £16 for seat selection, £25 for hold luggage, £50 for name changes and up to £45 to change flights.
Neil Cartwright, travel expert at KAYAK.co.uk, said of the findings: "Low cost carriers offer great value for money when it comes to ticket prices and help many Brits get away for an almost unbelievably cheap fare.
"But it's on the extras and mistakes where they really make their money. A name change can end up costing £320 for a return flight, so it's worth being extra thorough with these details in order to bag the cheapest fares. In these situations, my advice is to check if it is cheaper to simply book the entire flight again.
"My overall suggestions here are for travellers to be very careful not to make any mistakes when booking, and to consider the full cost of their flight rather than just the ticket price as you may find that a flight that costs more, but charges less for baggage, or other extras, might be even better value overall."
In response to KAYAK's survey, a Ryanair spokesperson told The Independent that reserved seats start at just £4, adding that the airline reduced its checked bag fees to £25 for 20kg at the time of booking last year and that customers may add checked bags after booking for £40.
Ryanair also said its name change fees are "a preventative measure to discourage and prevent unauthorised online travel agents from 'screenscraping' Ryanair's cheapest fares and reselling them on to unwitting consumers at hugely inflated costs."
Flight change fees vary depending on the route and travel dates selected, according to Ryanair, ranging from €35 to €65 when done online and from €50 to €95 when done at the airport.
"easyJet's pricing is completely transparent with the full fare displayed upfront and customers can then choose to pay only for what they want," an easyJet spokesperson told The Independent.
"easyJet's infant fare is a fixed price to keep it simple and provide value for money. Whilst our cheapest fares can be similar to the infant fee this simply demonstrates that our lowest fares help families keep down the cost of their flights. The infant fee covers a luggage allowance for parents of two items of hold luggage like a push chair, travel cot or car seat and covers the airport charges levied on easyJet.
"More than 90 million passengers will choose to fly with easyJet this year and our average fare is around £53, with more than 50 per cent of our fares being under £50 so there is no doubt customers receive very good value for money."
Flybe did not respond to The Independent's request for comment.
Register for free to continue reading
Registration is a free and easy way to support our truly independent journalism
By registering, you will also enjoy limited access to Premium articles, exclusive newsletters, commenting, and virtual events with our leading journalists
Already have an account? sign in
Register for free to continue reading
Registration is a free and easy way to support our truly independent journalism
By registering, you will also enjoy limited access to Premium articles, exclusive newsletters, commenting, and virtual events with our leading journalists
Already have an account? sign in
Join our new commenting forum
Join thought-provoking conversations, follow other Independent readers and see their replies