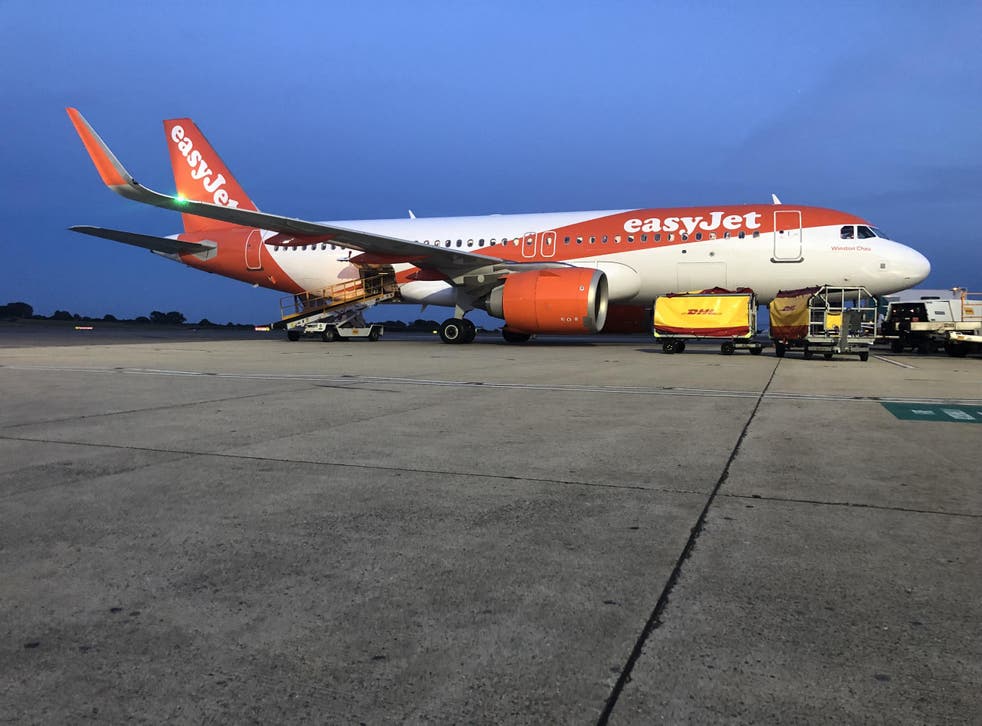 Thousands stranded after French air traffic control failure hits UK airlines
A systems failure at French air-traffic control happened at the start of one of the busiest flying days of the year
More than 15,000 British travellers are stranded abroad after a failure of French air-traffic control triggered hundreds of cancelled flights.
A system connecting area control centres in France failed in the early hours of Sunday morning – at the start of one of the busiest days of the year in European aviation, particularly for British travellers heading home at the end of their summer holidays.
France has the busiest airspace in western Europe. While the fault was fixed during the morning, delays built and quickly triggered cancellations.
The worst-hit airline by far was easyJet, which grounded 100 flights to and from Gatwick airport alone.
The cancellations included three round-trips to and from each of Amsterdam, Barcelona, Nice and Venice.
At Bristol, links to and from Amsterdam, Belfast, Bilbao and Edinburgh were cancelled.
At least a dozen other flights to and from Edinburgh, Luton, Stansted and Manchester were grounded.
UK news in pictures

Show all 50
British Airways cancelled 36 flights between Heathrow and points in Europe, including Athens, Copenhagen and Rome. At Gatwick, a further 12 flights were cancelled – with travellers stranded in Faro, Malaga, and Venice among other locations.
With around 200 flights to, from and within the UK cancelled, around 35,000 passengers are affected. More than 15,000 of them were booked on flights from abroad to British airports.
The Civil Aviation Authority (CAA) says that under the European air passengers' rights rules, known as EU261, airlines must provide stranded passengers with an alternative departure on the same day if possible, even if it means buying them seats on rival airlines.
But easyJet is telling passengers that they must accept one of its own flights with the airline within 48 hours, saying: "If there are no easyJet flights available to get you to your destination within 48 hours, you have the option to transfer to another airline, take a train, bus or hire a car."
Katie Humphries tweeted: "We were meant to fly from BCN [Barcelona] to LGW [Gatwick] only for it to be cancelled! The next flight available is Thursday. Even though we've been given a hotel it's for one night instead of three on the paperwork. The hotel will not honour it and says one night only! I'm sick of being on hold."
Scott Longbottom tweeted easyJet to say: "Our flight is cancelled from Prague to Manchester. Had no help from anyone in the airport ... can you advise us on what to do?"
A spokesperson for easyJet said: "Due to the partial failure of French air-traffic control systems on 1 September, easyJet, like other airlines, experienced significant delays and disruption to its flights.
"Customers on cancelled flights were given the option of transferring their flight free of charge or receiving a refund. We also provided hotel rooms and meals for customers who require them.
"easyJet takes its responsibilities under EU261 very seriously. We already offer re-routing options to customers in event of cancellations. We have been working with the CAA towards implementing their most recent guidance and expect to have a revised policy in the coming weeks."
"Whilst these circumstances were outside of our control, we apologise for the inconvenience caused and would like to reassure customers that we did everything possible to minimise the disruption."
Flights to and from the UK were disproportionately affected by the French failure. Of around 25 cancellations to and from the biggest airport in France, Paris Charles de Gaulle, almost all were on easyJet – and most of those to destinations such as Belfast, Liverpool and Southend.
Ryanair pilots employed in the UK and belonging to the British Airline Pilots' Association (Balpa) are due to begin a three-day strike on Monday.
But the airline says it will cause no cancellation as volunteers will be covering for striking pilots.
Register for free to continue reading
Registration is a free and easy way to support our truly independent journalism
By registering, you will also enjoy limited access to Premium articles, exclusive newsletters, commenting, and virtual events with our leading journalists
Already have an account? sign in
Register for free to continue reading
Registration is a free and easy way to support our truly independent journalism
By registering, you will also enjoy limited access to Premium articles, exclusive newsletters, commenting, and virtual events with our leading journalists
Already have an account? sign in
Join our new commenting forum
Join thought-provoking conversations, follow other Independent readers and see their replies