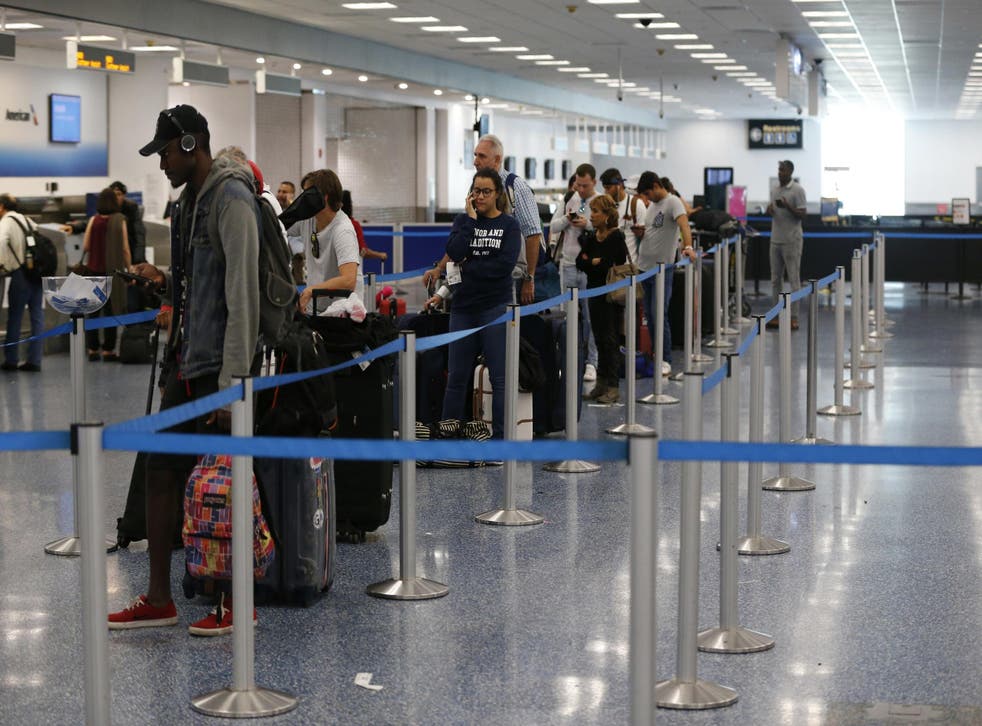 Irma: Florida airlift ends as hurricane bears in on US mainland
Last flight to Florida on Saturday carries outbound holidaymakers
Simon Calder
Travel Correspondent
Sunday 10 September 2017 10:24 Comments
The final flights from Florida before Hurricane Irma makes landfall have touched down at UK, bringing holidaymakers back from Orlando and Tampa.
The last flight to arrive was British Airways 2166 from Tampa to Gatwick. It carried the pilots and cabin crew who had worked on the outbound flight on Saturday. BA, in common with other UK airlines, has brought back its staff.
:: Follow the latest updates on Hurricane Irma here
Tampa was the last major airport in Florida to close.
The state Governor, Rick Scott, has warned: "#HurricaneIrma is already bringing dangerous wind and rain in South Florida. Stay safe and do not get on the roads."
Yet Saturday's outbound flight to Tampa carried nearly 100 passengers. Some were returning US citizens, others British property owners, but there were also holidaymakers intent on taking their Florida vacation.
At Miami airport, which closed on Friday evening, 47 passengers are still stranded in the terminal. Airport and airline staff provided them with food and bedding.
At nearby Fort Lauderdale, it was a similar story: "There are more no arrivals. We'll open after the storm as soon as possible," the airport announced.
Virgin Atlantic plans to operate several more rescue flights from Orlando "as soon as it is safe to do so". But one problem facing UK airlines is crewing the flights; Florida is too far for a round-trip to be operated by pilots and cabin crew.
BA is seeking to solve the problem by flying an empty plane to Bermuda, where it will wait on the ground until the Florida airports re-open. It will then make the two-hour flight to the US, fill up with passengers and return to London.
Cruise ports have also closed. Port Canaveral, east of Orlando, announced it had "shut down and will remain closed until further notice". Five Carnival cruises have been cancelled, and others curtailed. Carnival Magic, which was due back in Port Canaveral on Saturday, has been diverted to New Orleans.
The latest prediction from the National Hurricane Center shows the impact of Hurricane Irma could extend well beyond Florida, into Georgia, Alabama, Missouri, Tennessee and the Carolinas.
The Foreign Office reports: "The Governor of South Carolina has ordered the evacuation of 8 barrier islands along the coast."
Amtrak, the long-distance train operator, has cancelled its service from Savannah, Georgia to New York until Thursday. All its rail services in Florida are suspended.
"No alternate transportation will be provided," says Amtrak.
In the early hours of Sunday morning, local time, the storm passed over Varadero, the main tourist resort in Cuba.
Around 5,000 British holidaymakers are believed to be in the resort, which is due south of the Florida peninsula. They include nearly 2,000 customers of Thomas Cook who were evacuated from Cayo Coco, further west, on Thursday. The tour operator says all its passengers are in hotels, "with no customers required to stay in the island's hurricane shelters".
Initially rescue flights from Cuba were planned for Monday, but they have now been switched to Tuesday.
Register for free to continue reading
Registration is a free and easy way to support our truly independent journalism
By registering, you will also enjoy limited access to Premium articles, exclusive newsletters, commenting, and virtual events with our leading journalists
Already have an account? sign in
Join our new commenting forum
Join thought-provoking conversations, follow other Independent readers and see their replies