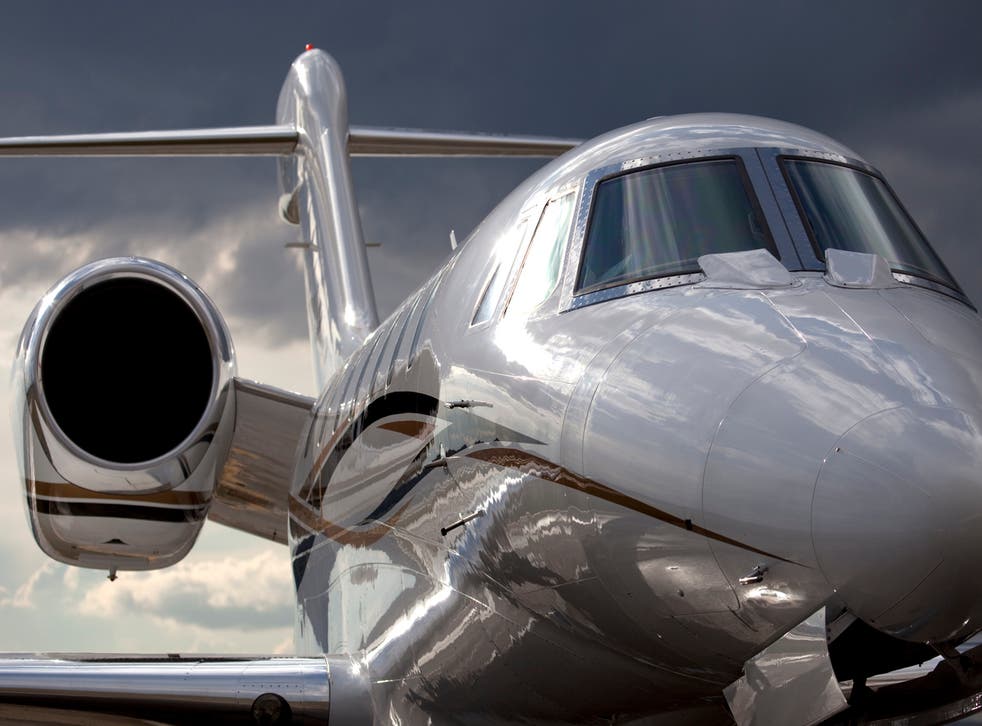 From one family with 400 suitcases to non-stop Liberace: What it's really like to fly by private jet
You could fly from one side of London to the other, demand your plane is filled with lilies or maybe even bring your pet penguin – basically, anything that's legal
Somewhere between 18-hour delays and contorting your limbs into a seat you know is too small for you, all travellers, even the most die-hard backpackers, have wondered what it would be like to travel by private jet.
And because there's no harm in living vicariously, we asked Tom Engelhard, private air travel specialist JetSmarter in Zurich, exactly what it's like for those who fly on their very own plane. From families with 400 pieces of luggage to demanding non-stop Liberace tunes, it seems there really is no request too bizarre.
You can take a private jet from London to, er, London
"We had a JetSmarter member jump on one of our free empty-legs from London Biggin Hill to London Luton to spend time with his son. It's a 20-minute journey. For on-demand JetCharters we fulfil the client's wishes, no matter how short or long the trip is."
If your family's really big, you can order a transcontinental-size plane to yourselves
"We had a family from the Middle East who were stranded in New York. There were 23 family members with 400 pieces of luggage. They paid $550,000 (£600,000) for a Boeing 767 VIP airliner to Geneva."
From McDonald's to Michelin stars, pretty much anything goes when ordering food
"Almost anything goes if the client has specific wishes. You could ask for lobster or oysters, or macaroons from a specific patisserie in Paris. We wouldn't draw the line at anything, as long as it is possible in the lead time we get. It's not unusual to receive orders for food from specific restaurants.
"Our own catering is not the kind of food you get on a commercial flight – it's first-class, even if it's a snack on a short flight. On the menu for one of our recent Moscow-to-London JetShuttle flights, we had Grana Padano cheese and walnut canapés, and mozzarella caprese salads – and those were just the appetisers."
As long as it's legal, you can get whatever you want in-flight
"One client insists on only listening to music by Liberace for the whole flight, while another demands specific blankets and pillows made of 100 per cent cashmere. We have also packed an entire plane with white Casablanca lilies, simply because a passenger requested it. Restrictions have less to do with the wish, but with laws and regulations. Yes, you could have a live violinist on board as long as she or he also has a seat on board. Can you take your pet python, penguin or tarantula on the plane? Unusual pets are no problem as long as it is legal to own them and there are no restrictions in the country of origin or arrival."
If you've missed your plane, JetSmarter could save your bacon – if you're loaded, anyway
"It depends a lot from which airport and at what time of day the request comes in but we have managed to have clients with 'go-now' requests up in the air in under one hour from their first call. When one client was already at the airport in Geneva and his commercial flight to London was cancelled, he had a meeting which he said would cost him a multi-million dollar deal if he was late. We got him a private jet in under an hour to take him to London City Airport."
Click here for the latest travel offers from Independent Holidays
Join our new commenting forum
Join thought-provoking conversations, follow other Independent readers and see their replies