Flybe vs Loganair: Is it good for the customer when airlines compete?
Loganair defeats Flybe in round one of the Highland and Island Games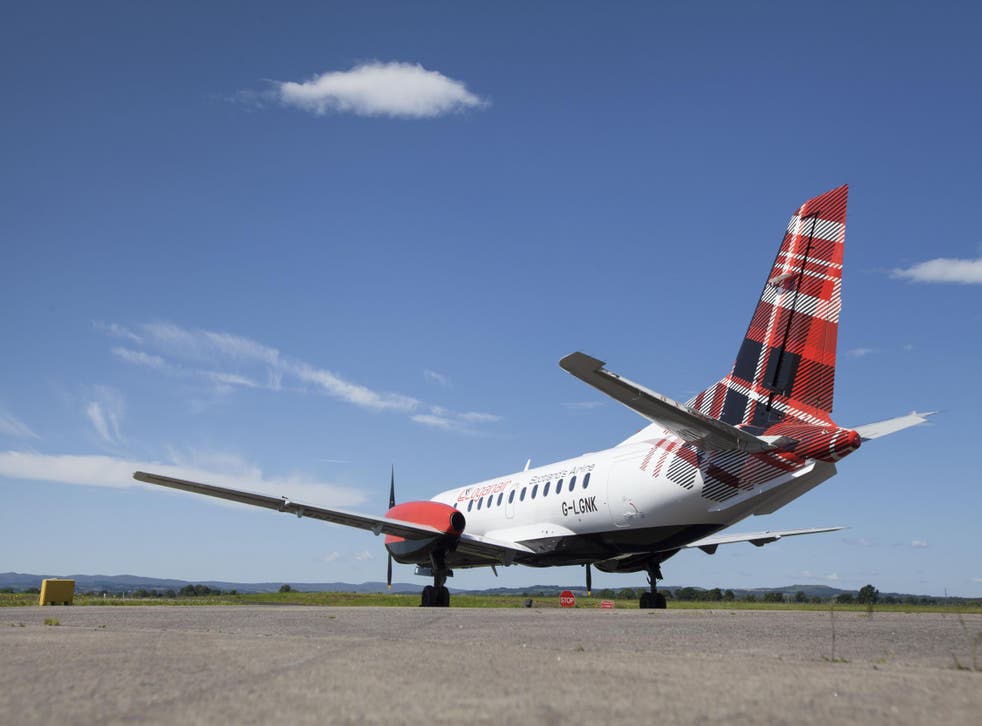 Advice to any airline looking to muscle in on an existing monopoly market: "Don't do it up against an airline that can't afford to lose." That's the view of Jonathan Hinkles, managing director of Loganair, which calls itself "Scotland's Airline".
I talked to Mr Hinkles just after he learned his airline had won round one of the Highland and Island Games, in which Loganair is squaring up against its erstwhile partner, Flybe.
Go back to 2015 and the pair were deeply committed. Indeed, that summer Shetlanders angry about the high level of fares launched a Facebook campaign entitled "Islanders against Flybe & Loganair's excessive prices".
But a year ago, Flybe said it wanted a divorce and would, instead, start competing against its erstwhile partner. In September Flybe launched jet flights from Aberdeen, Edinburgh and Glasgow to Shetland's Sumburgh airport. It offered faster journeys and lower fares, with Loganair forced to cut its prices to compete.
But barely three months later, the challenger has announced it will drop Shetland from 8 January next year.
Flybe's operation was run on a pair of wings and a prayer, and the latter was not always answered. With only one aircraft, if something went awry on the dawn flight from Aberdeen, then the evening passengers to Edinburgh faced disruption. But mostly the sums did not add up. Fares fell by about one-third, and generated some extra business – but not enough for Flybe to avoid heavy losses.
"Passenger numbers have been disappointing," said Ronnie Matheson, Flybe's interim chief commercial officer.
"We entered the market with a strong commitment to offer a faster, more comfortable service with more choice, which delivered on the long overdue lowering of fares that islanders have been calling for."
Competition between airlines has worked brilliantly for passengers in Scotland and the rest of the UK, as well as tourists and business travellers coming to the country. Often when a challenger goes up against an incumbent, the resulting price competition stimulates so many extra trips that the size of the market more than doubles. The benefits ripple well beyond the passengers' wallets, fostering inbound tourism and business connectivity.
Airline competition has boosted the economies in some extreme parts of the world, including the north of Norway — and is much needed in other locations, notably Arctic Canada.
But there are, evidently, limits.
I was mystified by Flybe's timing of its move into the meagre market, going head-to-head with Loganair at the end of the summer peak and hoping to prosper as demand sank and weather deteriorated by the day. Had flights started in spring, the newcomer might have caught a wave of interest from prospective travellers further south. But as it is, the people of Aberdeen, Edinburgh and Glasgow were faced with the prospect of a bargain fare to somewhere even colder and darker than they were experiencing already.
Both airlines will have been financially damaged by the experiment, but let's hope that Loganair will also have gained more market knowledge. Flybe's heroic failure has shown the hunger for lower fares, and the victor may be more energetic about filling empty seats. A one-way flight on Loganair from Aberdeen to Shetland on the evening of 7 January next year — the last day of Flybe's operation — will cost £67 if you book now. A week later the same flight, under the restored monopoly, is just £49.
Meanwhile, competition continues to Orkney and Lewis. Flybe is still serving Kirkwall and Stornoway from Aberdeen — and even though it's sunset for Shetland, travellers from Orkney and Lewis will benefit from having Flybe aircraft based at the island airports, which will mean earlier departures and later arrivals for these beautiful but far-flung fragments of Britain. Round two of the Highland and Island Games should prove engrossing.
Register for free to continue reading
Registration is a free and easy way to support our truly independent journalism
By registering, you will also enjoy limited access to Premium articles, exclusive newsletters, commenting, and virtual events with our leading journalists
Already have an account? sign in
Register for free to continue reading
Registration is a free and easy way to support our truly independent journalism
By registering, you will also enjoy limited access to Premium articles, exclusive newsletters, commenting, and virtual events with our leading journalists
Already have an account? sign in
Join our new commenting forum
Join thought-provoking conversations, follow other Independent readers and see their replies