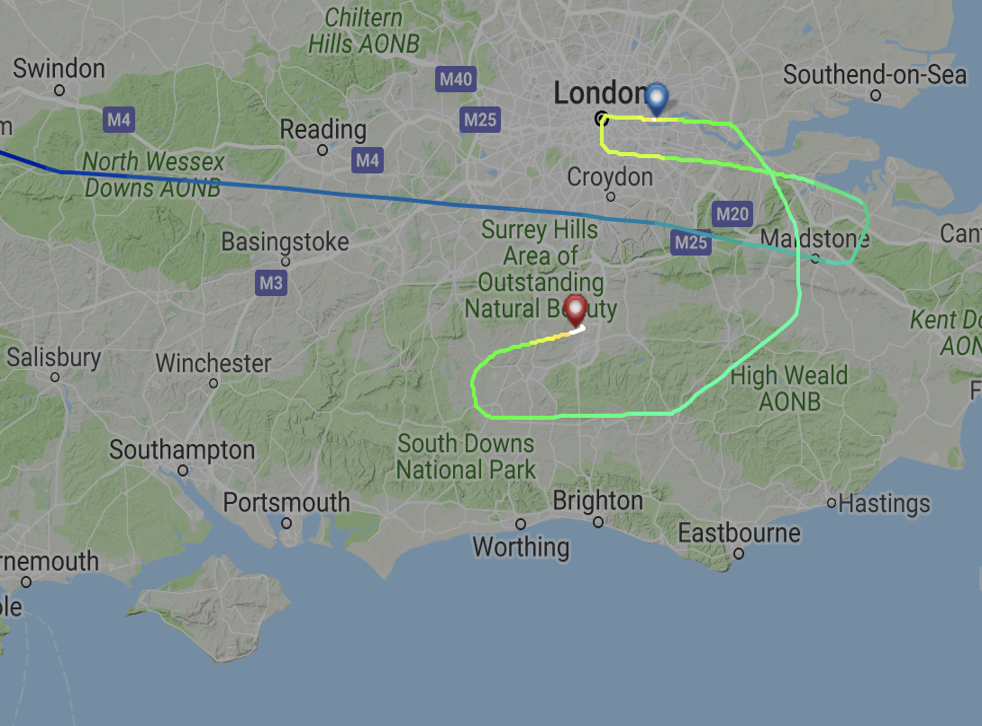 Heavy fog disrupts hundreds of flights and trains across southeast England
More than 100 flights have been cancelled to and from London airports
Heavy fog in southeast England has wrecked the plans of tens of thousands of travellers, with widespread disruption expected on Wednesday as Storm Diana approaches.
Early on Tuesday, Eurocontrol warned: "Expect very high flight delay at Heathrow all day now – weather. Very high at London City; high at Gatwick."
At Heathrow and London City airports, more than 100 flights were cancelled, with others diverted.
Heathrow saw the most cancellations, with 44 arrivals and departures on British Airways, 10 on Lufthansa and four on Aer Lingus.
All the cancelled flights were short-haul. British Airways cancellations include services to Berlin, Copenhagen and Rome, plus domestic links to Aberdeen, Edinburgh, Glasgow and Leeds Bradford.
Delays on flights that did operate reached five hours.
Lufthansa grounded flights to and from Munich – which also experienced weather delays – and Frankfurt. Aer Lingus cancelled round-trips from Belfast and Dublin.
One BA arrival from Cairo diverted to Amsterdam, while another from Washington DC touched down in Shannon in the west of Ireland; the latter was due to passenger illness, not the weather.
Delays continued into the evening. The BA departure to Chennai due out at 2.15pm on Tuesday has been grounded overnight and is expected to leave 21 hours late.
A spokesperson for BA said: "For safety reasons air traffic control has to allow greater space between landing aircraft in thick fog and this has resulted in a reduced number of aircraft being allowed to land each hour.
"We're doing all we can to minimise the impact of the weather, but we are sorry for the delay to our customers' journeys."
At London City airport, around 50 flights were cancelled. The inbound British Airways flight from New York JFK was diverted to Gatwick, and another BA flight, from Billund in Denmark, touched down at Southend.
The Essex airport also received diverted Flybe flights from Belfast and Edinburgh.
Trains in and out of Britain's busiest railway station, London Waterloo, were disrupted because of speed restrictions due to fog.
National Rail said: "This congestion has been caused by services running at a reduced speed for safety in areas affected by foggy conditions this morning."
Even worse problems were experienced at London Paddington, after an empty GWR passenger train derailed about six miles west of the terminus.
Dozens of trains were heavily delayed or cancelled, including many services to and from Heathrow Airport. Long-distance services to and from South Wales, the west of England and the Cotswolds were also badly hit.
Cancellations continued until 6pm.
Earlier in the morning, a fire apparently deliberately started on derelict rolling stock at Southall disrupted trains on the Great Western line.
The London Fire Brigade said: "One derelict train carriage was destroyed by the fire and a further two were damaged. There were no reports of any injuries."
Further disruption is expected on Wednesday morning due to Storm Diana, though predominantly in the western side of Britain rather than the southeast.
Loganair offered passengers booked on Scottish internal flights on 28 November the chance to switch to alternative departures if space is available.
The Glasgow-based airline said: "We are continuing to plan to fly all our scheduled services, and we have standby aircraft and crews in place to help recover any disrupted services as soon as reasonably possible once weather conditions permit."
Rail services are already affected. In Northern Ireland the railway line between Larne and Whitehead has been closed. "Disruption is expected until further notice," said NI Railways.
Join our new commenting forum
Join thought-provoking conversations, follow other Independent readers and see their replies