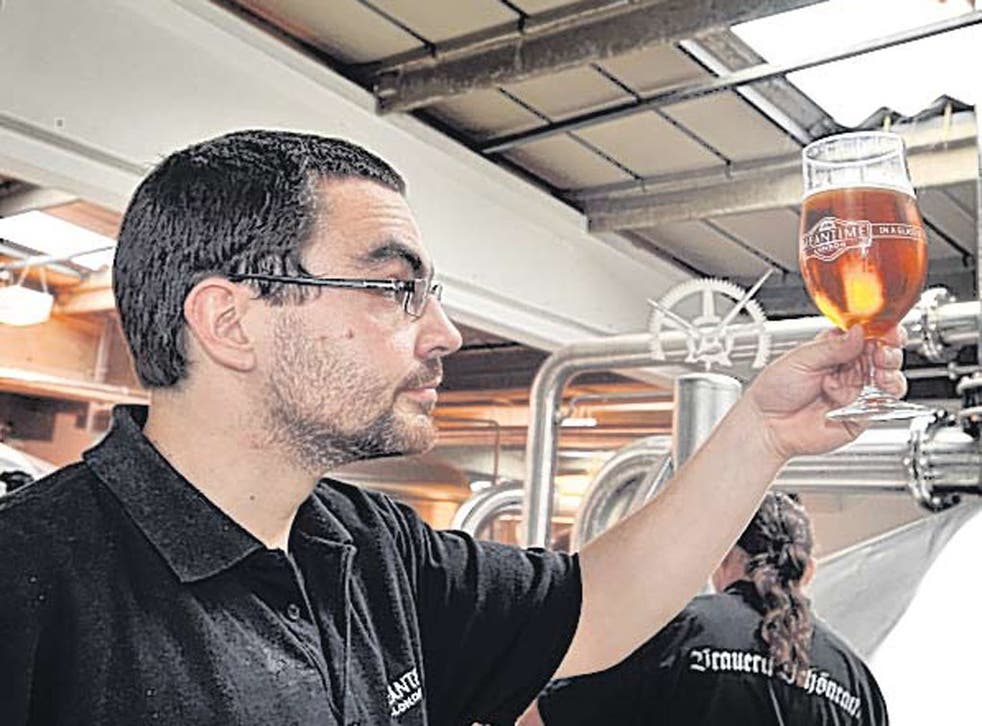 Food Miles: Hop to it on a tour of Britain's craft breweries
Despite a decline in beer sales, British brewing is enjoying a renaissance, with craft or artisan brewers flourishing in all corners of the UK. For thirsty travellers, that means the opportunity to find out what goes on behind the scenes on a brewery tour that will almost certainly end with a sample tipple or two.
It is difficult to pin down what exactly constitutes "craft beer". Camra (the Campaign for Real Ale) has decided that the term describes "beer with a distinctive flavour brewed by artisans". It is a fittingly vague definition when you consider the range of options. It can be used to describe a microbrewery such as Coniston Brewing Company (015394 41133; conistonbrewery.com), based at the Black Bull pub in the Lake District, and major players such as Meantime (020-8293 1111; meantimebrewing.com). The latter has just opened a visitors' centre in its recently expanded Greenwich brewery which offers a range of tours of its state-of-the art facility (£15) including a Pie and Pint option (£30).
Founded by Petra Wetzel-Stewart, the West Brewery in Glasgow (0141-550 0135; westbeer.com), is one of the few female-run breweries in the UK and the only one to produce beer according to the German purity law of Reinheitsgebot that allows only water, yeast, barley and hops. A 45-minute tour costs £11.55, including four or five beer samples.
Grain Brewery in Harleston (01986 788884; grainbrewery.co.uk), Norfolk, has recently been renovated and tripled its capacity. Groups of 10 or more can tour the converted dairy for free as long as you take a bottle or two from the shop home with you.
The next dates for the Beer School at the acclaimed Lovibonds Brewery, Henley-on-Thames (01491 576596; lovibonds.com), are 8 and 22 September. The two-hour session, led by founder and head brewer Jeff Rosenmeier, includes a tour explaining the brewing process, followed by a tutored tasting of the brewery's beers (£19.50).
Established in 2007, the Association of Welsh Independent Brewers (awib.org.uk) has 32 members, including the award-winning Purple Moose Brewery, Porthmadog (01766 515571; purplemoose.co.uk), whose range of beers includes Dark Side of the Moose and where tours can be arranged in advance (£5).
Discover how Thornbridge Brewery, Bakewell (01629 641000; thornbridge brewery.com), makes its eclectic range of beers that includes the delicious and unusual Kill Your Darlings, a Vienna-style dark lager, during a 90-minute tour (Wednesdays at 1pm and 3pm; £7.50) that concludes with a tasting of two halves of beer.
Register for free to continue reading
Registration is a free and easy way to support our truly independent journalism
By registering, you will also enjoy limited access to Premium articles, exclusive newsletters, commenting, and virtual events with our leading journalists
Already have an account? sign in
Register for free to continue reading
Registration is a free and easy way to support our truly independent journalism
By registering, you will also enjoy limited access to Premium articles, exclusive newsletters, commenting, and virtual events with our leading journalists
Already have an account? sign in
Join our new commenting forum
Join thought-provoking conversations, follow other Independent readers and see their replies