Formula One: Surtees drives through Channel Tunnel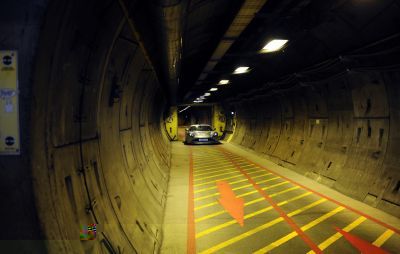 Motor sport great John Surtees had to keep the speed down for his latest challenge as he became the first person to drive a sports car through the Channel Tunnel on Tuesday.
Surtees, the only man to win world championships on two and four wheels, swept through the service tunnel in a Ginetta G50 EV electronic sports car prototype 15 years after the British-French rail link opened.
Despite having claimed multiple 500cc motorcycle world championships before winning the Formula One crown with Ferrari in 1964, the 75-year-old Englishman had to keep to the tunnel's 50 kph (31mph) speed limit.
"Speed was the last thing involved. It was a casual drive, shall we say," Surtees said when he emerged the other side at Coquelles in France.
Asked how it felt to drive through a 31-mile tunnel, he added: "You certainly wouldn't want to be subject to any claustrophobic feelings down there.
"The tunnel is very small in parts but it's amazing what a tremendous engineering feat it is. It's quite staggering."
Surtees, who performed the stunt as part of a charity drive, said he did not know how long it took to make the crossing as he kept stopping to look at the tunnel along the way - even at one point signing his name on the wall.
The veteran driver also paid tribute to his teenage son who died during a Formula Two race in July, saying he and his family were touched by the support they had received since losing him.
Henry Surtees, 18, died after being struck on the head by a wheel during a race at Brands Hatch, the day after claiming his first F2 podium finish.
"He was a bubbly young man with a tremendous smile. He was a lad who cared about people and was very determined in what he did, and someone who to us was very special," Surtees said.
ar/jdg/pi09
Join our commenting forum
Join thought-provoking conversations, follow other Independent readers and see their replies