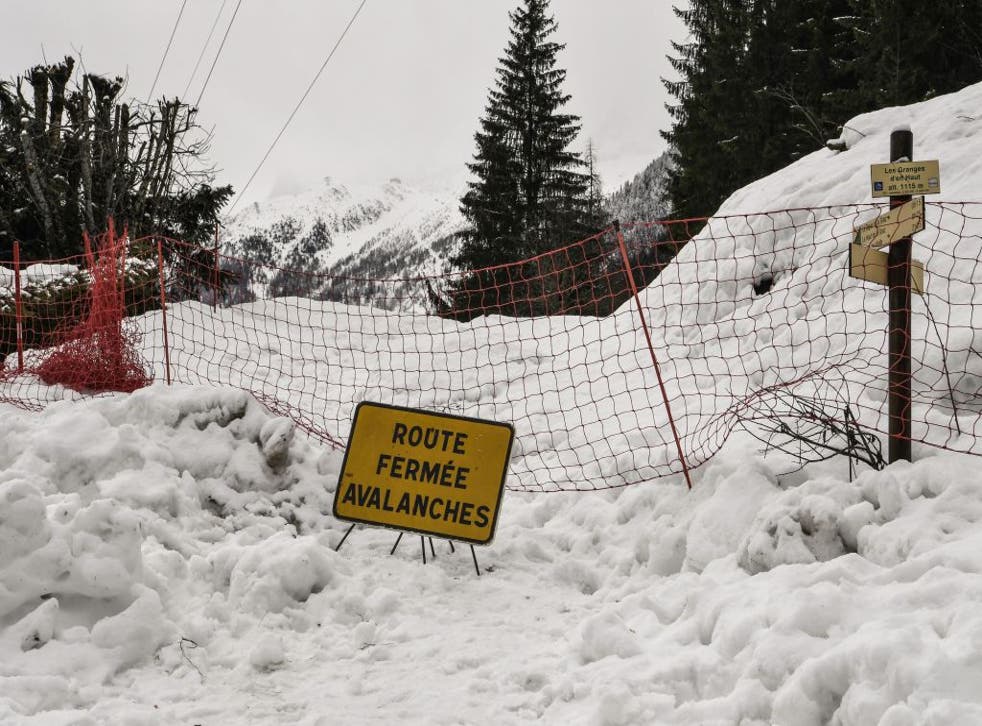 France tells skiers to exercise 'utmost caution' after avalanche claims two more lives
Minister issues warning to those going off piste in the French Alps
Those skiing and snowboarding in France have been warned to exercise caution after yet another avalanche in the Alps resulted in two deaths, while three other people are still missing.
The avalanche on Sunday 4 March brought the death toll in the French mountains to 25 since November 2017.
The two skiers, one French and one Belgian, died around lunchtime while skiing off-piste near Vallorcine in the Chamonix-Mont Blanc region.
Another avalanche around an hour earlier in the resort of Samoens swept away a Swiss hiker – his body has not yet been found, causing authorities to assume the worst.
"We are pessimistic about his chances as he has already been five hours under the snow," an Haute-Savoie regional official told AFP on Sunday.
In response, Minister of the Interior of France, Gerard Collomb, has warned those doing snow sports to be careful.
"As many avalanches have grieved our mountains, I call on all those who practice winter sports to take the utmost caution," he wrote on Twitter. "Following the instructions of the authorities is essential in order [for people] not to endanger themselves or our rescue teams."
The advice comes after a tragic few days in the Alps. On Friday 2 March the season's deadliest avalanche killed four skiers in the Mercantour National Park in the French Alps. They were skiing with a guide, who was held in police custody on Friday night; an investigation has been opened into possible manslaughter and unintentional harm.
In pictures: Deadly avalanche buries Italian hotel

Show all 12
The day after the incident, two Spanish skiers were killed by an avalanche while skiing off-piste in south-east France.
And in addition to the other deaths, two skiers in Planay in the Tarentaise Valley went missing on Sunday after being caught in an avalanche off piste.
Avalanche expert Henry Schniewind, founder of Henry's Avalanche Talk (HAT), tells The Independent: "By applying basic off-piste risk reduction measures the off piste is as safe now as anything else an average Brit would do on any average day. However, if one is not applying basic risk reduction measures, it can be very dangerous at the moment."
HAT's weekly snow report says: "Be very aware when skiing on high, cold, steep N'ish facing slopes where the best quality snow will be found this week. It's also where most of the wind slab is, and will be, forming on top of a layer of unconsolidated facets or 'sugar snow'."
Avalanches usually occur off piste, which in European resorts means anywhere not within the piste markers, as these areas are not avalanche-protected or patrolled. Steep slopes (those between a 30 and 40-degree gradient) are the most high-risk, as are those on the windward side of the hill where snow has been blown from one side of the mountain to the other.
Join our new commenting forum
Join thought-provoking conversations, follow other Independent readers and see their replies