Airlines fly bizarre flight paths to avoid French airspace amid national strike
Because the airspace covered by the French Area Control Centre at Brest extends so far west, airlines have had to file extreme flight plans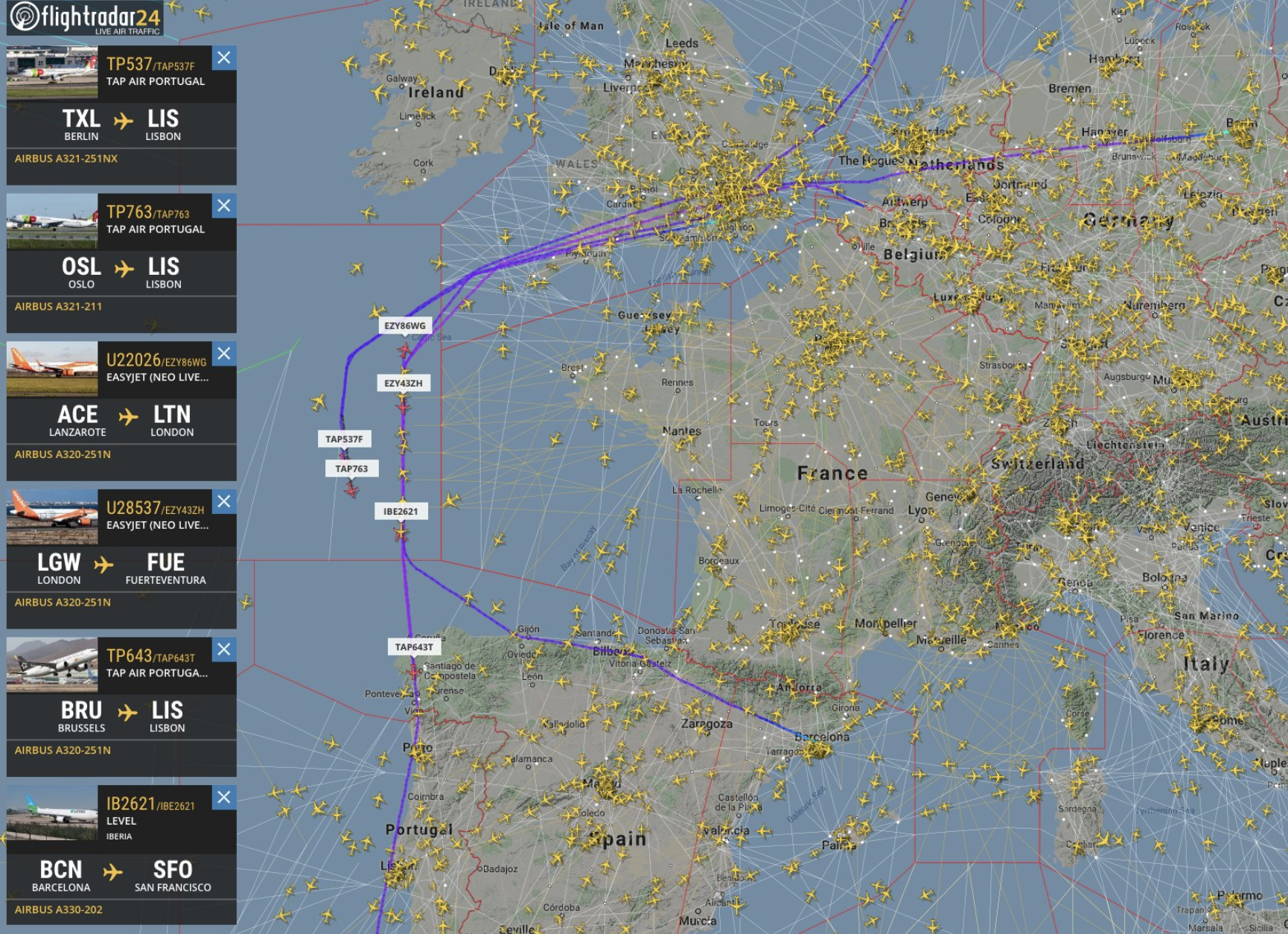 The air-traffic control strike in France has led to hundreds of flights being cancelled, including many that merely wanted to use French airspace.
For a second day, British Airways and easyJet have grounded flights from the UK to Spain and Switzerland, as well as to France.
Airlines have been told to reduce overflights because of the controllers' walkout, which is part of the nationwide strike in protest against President Macron's proposals for pensions reforms.
Many carriers between northern Europe and the Iberian peninsula are faced with cancelling flights or giving France a wide berth.
Some have chosen the latter strategy. But because the airspace covered by the French Area Control Centre at Brest extends so far west, airlines have had to file extreme flight plans.
World news in pictures
Show all 50
The live air traffic service, FlightRadar24, has created a map showing some of the more remarkable flight paths on Thursday, the first day of the air-traffic control (ATC) strike.
It shows a TAP Portugal flight from Berlin to Lisbon that flew over Cornwall and them another 300 miles out over the Atlantic in order to avoid the Brest sector. The Airbus then flew slightly east of south to reach the Portuguese capital.
Normally the flightpath would be mainly over France, from the Luxembourg frontier to Bordeaux.
The flight covered around 1,800 miles rather than the direct distance of 1,433 miles.
Another TAP Portugal flight from Brussels to Lisbon took an equally strange flightpath, beginning by heading for Essex, then overflying London.
The easyJet departure from Lanzarote to Luton also made a dog-leg, flying north towards Ireland before turning east once inside UK-controlled airspace. It took 35 minutes longer than usual.
In the opposite direction, the Gatwick-Fuerteventura flight followed a similar course.
From Barcelona, the direct route for the Level flight to San Francisco crosses the Pyrenees into France, then traverses the Bay of Biscay in French-controlled airspace.
But on Thursday it remained on the Spanish side of the Pyrenees and continued west for hundreds of miles into the Atlantic, then turned north to fly over Ireland.
The pressure group for leaving European carriers, Airlines for Europe, retweeted the FlightRadar24 chart and added: "We respect workers' fundamental right to strike, but ATC strikes in France continue to be a real problem when the rest of European aviation is trying to reduce emissions."
The air-traffic controllers are expected to return to work on Sunday.
Join our commenting forum
Join thought-provoking conversations, follow other Independent readers and see their replies