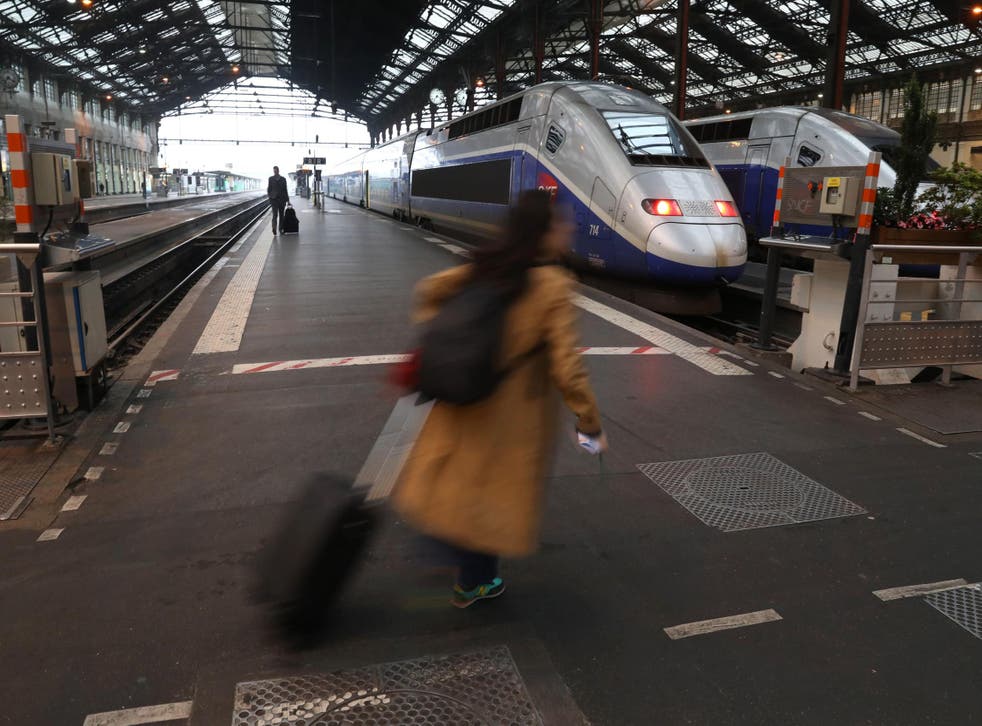 French strikes: Air France and SNCF are pitched against liberté
'From a British perspective the process in France is merely our own ancient history,' says Mark Smith, the rail guru known as The Man in Seat Sixty-One
Alongside liberté, égalité and fraternité, the French have long cherished mobilité.
The world's first national highway system was designated by Emperor Napoleon in 1811 as routes impériales. Route Nationale 1 between Paris and Calais still follows the much of the original course stipulated by Imperial Highway 1 more than 200 years ago.
France launched Europe's first high-speed rail line in 1981, and the initial TGV route between Paris and Lyon has blossomed into a national network that is the envy of Britain. The link between the French capital and Strasbourg is over an hour quicker than the comparable journey from London to Newcastle on the UK's flagship rail line.
But on Tuesday only a skeleton service ran on the TGV Est route. The same applied on other inter-city lines across France.
This was day one of a series of 26 days of strikes called by French rail unions to defend their working conditions and benefits. Staff will operate a "two days off/three days working normally" pattern until late June.
Hopeful passengers without a reservation for the few TGVs that ran on Tuesday were warned tous ces trains sont complets - not a seat was free on any of them. With an average of six out of seven services cancelled, at least 10 million journeys were wrecked.
Families heading home after the Easter break, commuters returning to work and hapless tourists were caught up in what is seen as an existential crisis for les cheminots: the railway workers of France.
Even by the generous standards enjoyed by many public employees in France, staff working for the national rail enterprise SNCF seem particularly well blessed. In return for ensuring the nation's high-speed mobility and often working unsocial hours, they are typically able to retire in their early 50s. They also have guarantees on employment protection and steady pay rises.
Naturally, SNCF staff are reluctant to cede any of these hard-won benefits. But the organisation for which they work is €45bn (£39bn) in debt, and within two years will face competition from leaner train operators.
"From a British perspective the process in France is merely our own ancient history," says Mark Smith — formerly a British Rail manager, now the UK's leading international rail expert and founder of the Seat Sixty-One website. "The job-for-life approach seems reminiscent of where BR was in the 1980s."
"It's clear French main-line rail routes will have to be opened up to competition, similar to that which has proved extremely beneficial to travellers in Italy.
"There, state-owned Trenitalia's head-to-head competition with open-access operator Italo has simultaneously driven down fares and driven up quality."
Trenitalia is now carrying more passengers than before Italo started; the competition has grown rail's market share and the losers have been domestic flights rather than either train operator.
The Italian enterprise has also expressed interest in operating within France from 2020, when lines are expected to open up to competition. Gare wars are about to break out.
"SNCF knows it won't be able to compete with the working practices it has at the moment, so the strike is make or break for them," says Mr Smith.
A similar mind-set prevails for many staff working for Air France. The national airline — still 18 per cent owned by the French government — cancelled one-quarter of its flights on Tuesday. Pilots, cabin crew and ground staff are seeking a 6 per cent pay rise that they claim is necessary to make up lost ground. The airline has offered 1 per cent.
The Air France group, which also includes the Dutch airline KLM, has a powerful position in Europe and saw profits rise by 42 per cent last year to €1.5bn (£1.3bn).
Yet the advantages that Air France has created since it established Europe's first regular transatlantic flight in 1946, with a link from Paris to New York, are being eroded.
In 1974, the new hub of Paris Charles de Gaulle (still the busiest airport in continental Europe) represented the future of flying. Today, in common with British Airways and Lufthansa of Germany, Air France faces mounting competition from Ryanair, easyJet and other airlines whose costs are far lower.
Both Air France and KLM are built on the hub-and-spoke model — which looks increasingly vulnerable to low-cost, long-haul competition from the likes of Norwegian and BA's sister airline, Level.
British Airways has cut costs very successfully — some say too ruthlessly. But only by achieving égalité — becoming as fit and lean as the competition — can legacy carriers thrive in 21st century aviation. Air France has long ceased to be the only option for mobilité within the nation and beyond. Soon SNCF will also feel the force of travellers' demands for liberté.
Join our new commenting forum
Join thought-provoking conversations, follow other Independent readers and see their replies