The Independent's journalism is supported by our readers. When you purchase through links on our site, we may earn commission.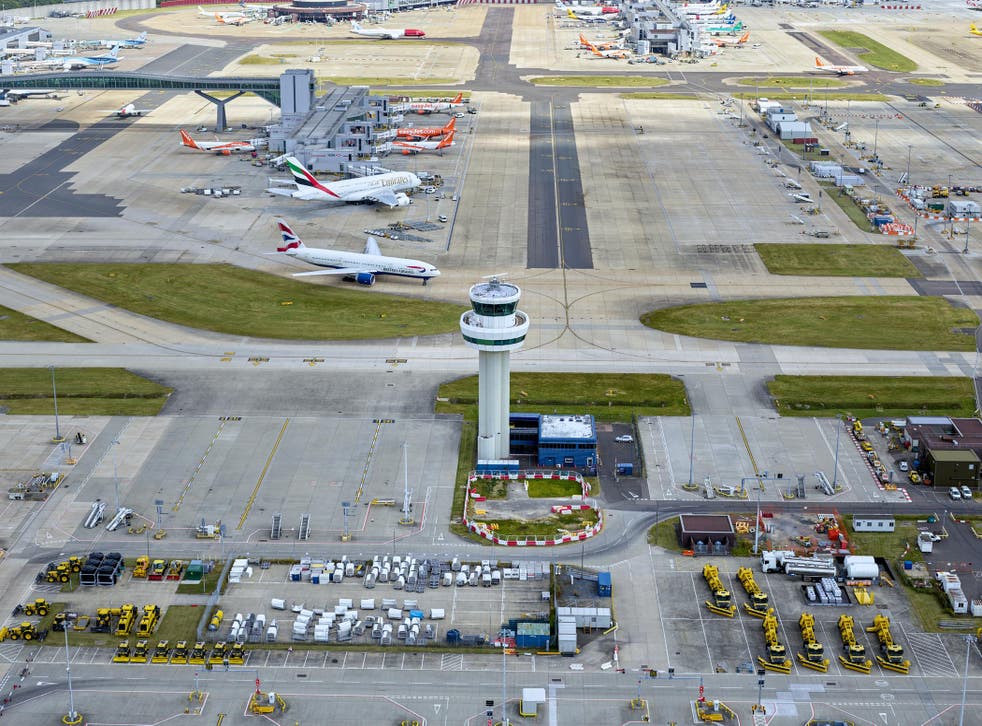 Gatwick airport opens North Terminal with strict social-distancing measures
'Keep healthy, keep safe and keep flying,' says Gatwick's Nikki Barton
The first easyJet passenger flight for 11 weeks marks some good news for Gatwick airport, which has suffered even more than its three big rivals, Heathrow, Manchester and Stansted from the Covid-19 crisis.
The Sussex hub is the main base for Britain's biggest budget airline.
Until the coronavirus pandemic began, Gatwick was one of the 10 overall busiest airports in Europe by passenger numbers, and had the busiest runway in the world.
But the collapse of air travel has seen the number of flight movements dwindle from the 2019 average of 770 per day to a handful each afternoon.
The biggest customer, easyJet, has not flown since 29 March. The airline resumes a skeleton network of flights on Monday 15 June.
The Sussex airport says it has introduced a range of measures "to protect the well-being and safety of both passengers and staff".
The chief executive, Stewart Wingate, said: "We are pleased to be in a position to re-open the North Terminal and we look forward to welcoming back easyJet as they restart flights alongside our other airlines.
"We want people to understand that airports and air travel is a safe environment in this Covid-19 travelling world."
Social-distancing procedures operate at check in, through security, in restaurants, bars and shops, and at departure gates. In some parts of the airport, one-way flows are in place.
Only family groups or people travelling in the same party can travel in lifts together.
All passengers and staff must wear face masks, which are on sale through vending machines.
The airport is telling passengers: "You will see protective screens in place at many places including check-in, boarding and gates.
"There are also additional cleaning measures in place. These include dedicated staff to clean common use surfaces, touch screens, hand rails, etc.
"We have also installed special 'PPE bins' in the terminals which are clearly marked for the disposal of face coverings and gloves only.
"Seating arrangements have been changed to ensure social distancing measures can be observed. Families and groups travelling together will, however, be able to sit together."
The collapse in air travel has led Virgin Atlantic to move all its operations from Gatwick, where the airline began in 1984, to Heathrow.
British Airways has also said it will cut flights to and from Gatwick, and possibly close its base.
But speculation that easyJet might exploit the slump in air traffic by opening services at the UK's biggest airport has been rejected by easyJet.
"We would only start flights from an expanded Heathrow as we would want to do so at scale," said a spokesperson.
Any new runway at Heathrow is now not expected to be in operation until the 2030s.
In 2019, 46.6 million passengers passed through Gatwick, with an average of 166 per flight.
The top 10 destinations by passenger numbers were Barcelona, Dublin, Malaga, Amsterdam, Madrid, Dubai, Orlando, Alicante, Geneva and Palma.
In April 2020, the highest number of travellers flew to or from Minsk, the capital of Belarus.
Meanwhile, Manchester airport is changing its rules designed to protect passengers, and no longer requires travellers to wear gloves.
The northwest England hub also offers the chance to pre-book security slots online, free of charge.
Register for free to continue reading
Registration is a free and easy way to support our truly independent journalism
By registering, you will also enjoy limited access to Premium articles, exclusive newsletters, commenting, and virtual events with our leading journalists
Already have an account? sign in
Register for free to continue reading
Registration is a free and easy way to support our truly independent journalism
By registering, you will also enjoy limited access to Premium articles, exclusive newsletters, commenting, and virtual events with our leading journalists
Already have an account? sign in
Join our new commenting forum
Join thought-provoking conversations, follow other Independent readers and see their replies